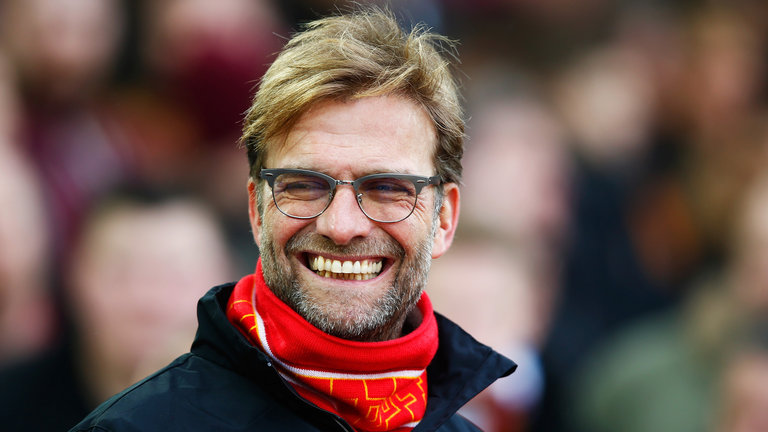 My main football anxiety these days is not whether Liverpool will win, although that's obviously still there, but whether any subsequent failure to win will lead to the kind of poisonous, counterproductive atmosphere that has surrounded Arsene Wenger these past few seasons bubbling up around Jürgen Klopp.
I mention it because so many of the fans I encounter outside of these (pay-) walls are utterly miserable bastards. They are defeatists, short-termists, knee-jerkist, reactionaries and in some cases, living in some alternate reality where being a massive club in terms of prestige and golden (but fairly distant) history is the same as being one of the economic and geographical über-elite right now; teams like Barcelona, Real Madrid and Bayern Munich, whose turnover dwarfs that of Liverpool's, and who – due to the presence of only two or three perennially strong teams in each country, and with their own personal wealth (such as the two Spanish giants having their own TV deals until recently) only making the gap larger – qualify for the Champions League every year.
People still talk to me as if Liverpool should be doing amazing things Because we are Liverpool! The same thing they did a decade ago, despite another fairly fallow ten years having subsequently passed, to put the club almost three decades adrift of its last league title. I have to write this kind of article every now and then in the hope that a few people will wake up to the reality of the situation, and that I may therefore have fewer annoying discussions. (Fat chance.)
Remember, when Manchester United dominated English football in the way that Liverpool once did, the financial rewards were far greater. They jumped onboard the Premier League and Champions League gravy trains as Liverpool slid into their sinking gravy boat.
United recently fell off their perch with a catastrophic changeover from Alex Ferguson (I mean, David Moyes?), and also in part, the difficulty of being a club expected to win every match based on history once that air of invincibility has passed. United have spent four seasons now trying to click back into the old ways, but it's even tougher when the side isn't quite right but people still expect. Even hundreds of millions and Jose Mourinho cannot quick-fix it. Even so, their wage bill, transfer spending and Mourinho's extensive knowledge of how English football works (compared to relative novices like Klopp and Pep Guardiola), means they should be doing much better than they are.
Their relative demise has also coincided with the emergence of a 'big six' in England, which means at least two big clubs fall outside the Champions League places, which weakens each of them a little, and which also means that there are six potential clubs for any coveted transfer target to join – whereas in Spain, for example, there is the clear hierarchy of Barca or Real Madrid; then Atletico; then no one/everyone else. (And of course, the crazy wildcard of Leicester meant three big English clubs missed out on the elite European competition this season.)
As I often point out, in Spain and Germany the historical giants have no such struggles with overcrowding at the top; there is no such sharing of wealth, and no mega-benefactor owners who have taken two mid-ranked La Liga or Bundesliga sides and turned them into the equivalent of Chelsea and Man City. (The only other clear example of this kind of insane external investment is Paris Saint-Germain, who have become another club who can offer a glamorous, metropolitan city, mega-bucks in wages and perennial Champions League participation, even if the French league itself isn't so great. But it seems that the modern player is happy to cakewalk a less-competitive league if it means being very richly rewarded, and also, playing in the Champions League every season.)
Always in the Champions League, these clubs don't have to lose out on elite players because they can't offer the "World Cup" of club football, which everyone wants to play in. It's always on offer. Bayern now win their title so much – after a period where Klopp helped halt them – it may be renamed Bayernsliga soon. If you go to play for Bayern you get a good standard of living and you go the "World Cup" every season. Same as in Paris, or Madrid, or Barcelona. Not so much in Liverpool.
I keep getting told that Liverpool are in the Top 10 richest clubs in Europe (they're 9th), but I remind people that the club is only the 5th-richest in England. It's like being the 9th fastest man in the world – you don't get to race in the Olympic 100m final, in the same way that the 900th-fastest doesn't and the 9,000th-fastest doesn't. You may be much faster than everyone else bar those eight, but you don't benefit from it if you're 9th-fastest in qualifying – only eight race in the final; and in England it's become all about the top four, precisely because of increased competition. A decade ago it was just the same four clubs, which enabled them all to get used to being in the competition (doing very well in it) and in turn use its wealth (and cachet) to help stay there, even if Liverpool and Arsenal were miles behind Man United and Chelsea in terms of finances.
Liverpool have qualified for the Champions League once in the past eight seasons, and yet people were telling me last night that Liverpool should still be considered amongst the very elite of Europe and therefore "should have a player as good as Philippe Coutinho in reserve" (which was in reply to my comment that only the mega-elite can even dream of having a player as good as Philippe Coutinho in reserve; and is even that the case? Maybe James Rodriguez could be an example, but there aren't many of the world's best players on the benches anywhere).
Liverpool grew dominant in the old days because they had (or turned them into) the best British players, in the pre-cosmopolitan era of the sport. Does someone from Glasgow or Dublin mind living in Liverpool? Of course not. But it's not going to be a premier destination for elite players from Brazil, is it? If Coutinho was doing this well in Spain or Germany right now, he wouldn't be thinking "I must go to Liverpool." Even Luis Suarez was gettable in part because his freakish number of goals were only in the "easy" Eredivisie (so a club like Barcelona wasn't interested them), and he'd just bitten someone.
The Brazilians Liverpool do have were bought young and cheap (Lucas, uncapped; Coutinho, an Inter Milan reserve), or they were a promising young-ish emerging talent playing at a mid-ranked club in Germany (Roberto "Jaws" Firmino) but who wasn't going to interest Real Madrid or Barcelona. Liverpool aren't going to be able to buy a fully-fledged Neymar; simply hope to find an undervalued younger version. (Even someone only 80% as good.)
But part of the reason Coutinho is still at Liverpool is because he's a key man – loved by the fans and the manager, and gets guaranteed starts when fit, etc. – but he wouldn't hang around if he was only a squad player (so, if there were indeed two of him, the one on the bench would leave).
No other Premier League clubs have squad players as good as Coutinho, so why should Liverpool have one, with a lower budget than four of the other five "big six", and with the fewest Champions League qualifications amongst that group since 2010? These are rare players. You don't have them in reserve. What Liverpool can do is find the hidden Coutinho, lost in someone's reserves; or invest time and energy in the 17-year-olds who are perhaps at a similar level to the Brazilian at that age. (Aged 17, Coutinho played 12 games for Vasco da Gama, in the second tier of Brazilian football, without scoring.)
What world are these people living in, I wonder; the people who seem unhappy with Liverpool just being 3rd, and not having all the best players in the world? Outside of utter perfection it seems that everything is reduced to shit. But to my eyes Liverpool have a sensible plan in place, and the club is going places – but at a steady pace.
(You can't always control the speed of your ascent, of course, but Liverpool in 2013/14 flew too high, too soon, and like Icarus, ended up as designer candles in Ikea. Leicester, likewise. It's often seen in promoted teams: it comes too soon. You can get that amazing burst of energy from things going well, but the inevitable implosion is equally dramatic, as you "revert to the mean".)
The one team who are consistently bucking the financial trend in England are Spurs, who sold their best player to Spain for c.£80m, apparently wasted the money on several young players (sound familiar?), got in a manager with a hard-working, hard-pressing ethos, and everyone sat back and allowed a bit of time and freedom for it all to develop. The departure of Gareth Bale has seen them eventually get better than they ever were when he was around, even though he'd still be their best player if he was at the club. Perhaps the point is that the rest were almost allowed to grow up as a group of equals in his absence, while the squad was deepened with the money.
Liverpool didn't appear to have spent the Luis Suarez money that well either, and there were definite mistakes: Mario Balotelli was a waste of fee and wages; Alberto Moreno hasn't pushed on as hoped; Rickie Lambert was too old and too slow; and Lazar Markovic never quite got the chance to show what he could do, whilst simultaneously failing to show it consistently in three subsequent loan moves, either. (All but £3m of the fees for Lambert and Balotelli were lost, with neither offering anything much at the club, despite being "peak years" players; Markovic hasn't offered anything much either, but the fact that he was 20 at the time of purchase means that now there's talk of £16m bids for him.)
However, Dejan Lovren has emerged as a fairly important player, albeit far from perfect; Adam Lallana has become a genuine first-XI asset; Emre Can, still only 23, continues to prove his critics horribly wrong; and Divock Origi, now aged 21, is a wonderful option to have on the bench – if not yet the finished article, but with the clear potential to kick on another couple of levels with experience (and who, let's not forget, has reached double figures in both his seasons at the club, which isn't bad going at all. He was exceptional against Bournemouth, after a great goal against Everton, but fairly poor at Stoke – although this happens with most younger players. And watching the second-half again, I thought he did a fair bit better with more experience around him, rather than as the one expected to carry the fight).
Is this collection of players better than having one Luis Suarez? Maybe not; Suarez was a phenomenon. But Suarez was also one more bite away from possibly a season's ban (in which case, these players are all better than a suspended player), and he wanted to go up to that next level; he didn't leave for Barcelona just for the weather.
Suarez wanted to be at the true current elite, and he went there and won the league and the Champions League. Being in the Champions League – as was finally the case –may have kept him at Liverpool, had Barcelona not come calling, and had his stock not risen so remarkably.
But even though Liverpool didn't reinvest his fee that well*, the club is in a better shape now than it was in the months after he left (*although it was the usual mix of flops and successes you'd expect based on my study of 4,000 Premier League transfers, aka Tomkins' Law. I'd also repeat that only c.10% of all transfers work out exceptionally well, and there's not yet been one of those from that spread-buying, but Origi and Can could possibly get there, if all goes their way).
Perhaps it was also a summer when there was too much player churn, although unlike last summer, the club was preparing for a Champions League campaign. The four relative successes from the summer of 2014 all took time to settle, and perhaps all needed a manager like Klopp to bring the best out of them; certainly Adam Lallana has benefited from a change of position and a tougher physical conditioning regimen.
Last summer's arrivals were better still, with Sadio Mané, Joel Matip and Gini Wijnaldum all improving the first XI as intended, which is quite a rare occurrence; and the two youngest signings, Loris Karius and Marko Grujic, sidelined with the wobbles and injuries respectively. (Alex Manninger was brought in as 3rd-choice keeper and is therefore discounted; his only chance to prove his worth being injuries to the two ahead of him, and that, as you'd expect most of the time, hasn't happened. As a transfer he is essentially null and void – an insurance policy that didn't need to be claimed on.)
[EDIT: I had a total brain-fart on Klavan. For the money, and game-time, I wouldn't call him a flop, and he's had some very good games, but also been fairly shaky at times.]
So, a 60% success rate on the summer arrivals (although two of the five were pre-signed in January); above Tomkins' Law of 40% success (rising to 50-60% for the mega-fees – albeit which none of these were), but admittedly here on a small sample of just five players. And of course, Grujic's age and injuries meant he was never intended for the first XI right away.
One of the problems is that with a modest-to-medium-high budget you can't easily focus on the XI and the squad. I hear it all the time: "Improve the XI!", but then there are injuries, and it's "Why didn't we improve the squad!?". To do both is very tough, at least in a transfer window or two.
Remember, Liverpool got to the top of the table in the first half of the season due, in no small part, to the investments in the first XI (with most of the money spent on Mané and Wijnaldum) making a huge difference; Mané in particular. But then when the injury crisis of January and the fixture logjam occurred, people had wished more had been spent on the squad. But the net gain, so far, from Klopp's mix of improving what he inherited and adding a small number of new ones, is a rise from 8th to 3rd. (Although finishing 8th, with the squad as it was, was in part due to reaching two cup finals and all the extra games.)
While the squad is not exactly large and overflowing, I'd argue that it's not as thin as people keep telling me, when compared against teams who could not offer Champions League football – or who were not usually regulars, like Manchester United, who were missing out for the first time in years (albeit now possibly a second). Chelsea, City, United and Spurs have all been in the Champions League recently, and often annually; and Arsenal have never been out of it, until now. That allows for the assembly – and continued maintenance – of a bigger squad.
Liverpool were not going to be in it this season, but also haven't been in it – bar one season – since Rafa Benítez was sacked, which has meant it's hard to carry around a squad for something you're not getting financially reimbursed for, and with not as many games played. And ahead of each season you never know if everyone will be fit (which, with hindsight, means investing in the XI would have been a better idea), or if there will be lots of injuries (which, with hindsight, means investing in the squad would have been a better idea).
(Of course, being in the Champions League allows you to have a bigger squad, especially if you're in it every year. You make more money and play more games. Your squad will clearly look thicker, and bigger, on paper. But the extra games can bring additional fatigue and injuries, and far less preparation time, so being in the Champions League can be a double-edged sword. It doesn't mean the next season will be easier. But it's a challenge that you have aspire to face, and the cachet can help lure better players.)
Also, to have added too many new players this season could have disrupted the group dynamic, especially with the risk of plenty left pissed off at not playing enough football. I'm not saying adding more players would have therefore been a definite mistake – just that you can't say how it would have gone. Right now, Liverpool are doing slightly better than I predicted in the summer (70 points, 3rd-5th-placed finish), so you can't really say that big mistakes were made – just acknowledge anyone can use hindsight to avoid the practical difficulties of judgement calls which can always go either way, with so much of each season unforeseeable, even if, when those things then happen, they seem obvious.
Adding Balotelli at the last minute in the summer of 2014 seemed like a good idea at the time to some (not me, initially), but after a couple of good games (which won me around a bit) he jibbed it off, and showed that adding can also detract. He was unprofessional, often lazy on the pitch and woeful in training, and his wages for doing next-to-nothing will have irked those playing their guts out for half what he was on. As I've also been noting recently, Newcastle added Tino Asprilla when nine points clear in February 1996 and the Toon duly collapsed, as if a perfectly weighted jar of marbles cracked when one big, awkward one was added. Ex-Millwall winger Jimmy Carter, in 1991, only detracted from Liverpool's title efforts, by being overwhelmed and ill-equipped, and as such did worse than someone thrown in from the academy might have (say, Steve McManaman, who only got in the team regularly the next year). Sometimes it's better to not add anyone, although in an ideal world you only add the right ones.
In reality, not only can you get it wrong, but you're then stuck with that player on a five-year contract and possibly wages he won't want to give up, which stops you from buying someone else. Some short-term fixes can become long-term problems.
So for all the talk of not enough summer signings, and the despair at no one being added in January, logic dictates that it can also be wise to wait for something better than to hitch your cart to the first available donkey. And if a couple of kids have to play some games in the first team in the interim, why not? (To quote Dolce, the famous Italian philosopher, it'sa not so bad, ah shaduppayourface.)
A sensible approach this summer would be to try and add two or three additional first-teamers, and two or three as-strong-as-possible squad players, with two or three academy graduates promoted to regulars in the 24-man squad too, and gradually build towards improvement, rather than the harum-scarum approach of throwing everything at it at once.
Klopp knows this; he knows how his success at Dortmund was built, not bought. Players were developed, youngsters given their heads. (Spurs are doing the same.)
It just has to be remembered that even when offloading imperfect players (like Martin Skrtel), the chances are their replacements could be worse, or certainly no better. Is Ragnar Klavan better than Skrtel? Probably not. And maybe next season we'll see some new midfielder replacing Lucas who will make us look back a little more fondly on the Brazilian.
Equally, you can't blame a manager for trying to change something that isn't working properly; the problem is it won't necessarily be better in reality, and could always be even worse. However, Klavan may not be an upgrade on Skrtel, but Mané is more than an upgrade on Christian Benteke, and the net product of all this is improvement.
But all I tend to hear, year after year, is that "The sky is falling, Player X isn't good enough". Then Player X proves to be good enough. Then: "The sky is falling, Player X will leave, he'll join Club Y!". Or "We don't want Liverpool to buy Player X", followed soon after by "The sky is falling, we needed to buy two Player Xs, we can't cope without Player X".
Worries
But I worry for the future of Klopp when improving from 8th to 3rd still isn't enough for some fans. Of course, not that being 3rd should be the ultimate aim, but any kind of marked improvement should be taken as enough, for now, as part of a process; learning to walk before trying to run. Arsenal fans may have got bored of playing Bayern Munich and Barcelona, but after years in the Europa League, or not even that, for Liverpool to play those teams again would be "eating at the top table" once more. For me, that's more than good enough – as that is, after all, where the top players want to be.
Wenger was a God at Arsenal. Now he's kicked about like the village idiot. It would sicken me to see sections of our support do the same to Klopp, but if it can happen to Wenger it can happen to anyone. Ignorance and outrage are the hallmarks of the social media age.
As with when Liverpool had Rafa Benítez, the aim has to be to cherish and support a top-class manager – a European elite – through the difficult transitional periods and through the bad times, in order to build something for the long-term. Liverpool fans spent Rafa's last season whining, moaning and agitating for a new manager. Then came Roy Hodgson.
And while that kind of mistake won't necessarily follow the German's departure (whenever that is), it's not that easy to find a top-class manager who fits in with your club's ethos, adopts the city as his own, and is happy to stick around to create something in his image; and, of course, is not constantly looking for the handful of bigger jobs in world football once at a club of Liverpool's size, so is prepared to put in five or six years and build. People mock long-term plans because sometimes they never get to be realised – but you have to aim towards them all the same (unless you can throw billions at it).
Liverpool are a big club that has attracted two hugely respected managers in the past 27 years, but the managers arrived on the back of successes (two very recent league titles and cup successes for both Benítez and Klopp) that were actually above our level at the time. Both took Liverpool to European finals in their first season; Benítez's was the club's first in four years (but first European Cup final in 20), and Klopp's was the first in nine. Both took the club to a domestic final in their first season. And both saw improvement in the league in their second season, even if the circumstances have changed in the meantime, with more competition now.
Liverpool's whole ethos, as a club, is being built around what Klopp is trying to do. That's why he was given a new six-year deal last year. So either we buy into it, and support it, or find ourselves flitting between flavour-of-the-month managers, with £20m payoffs going to them rather than into the team, and 'mixed-bag' squads arising as different managers demand different things from their transfers.
So, if Klopp wants to play Ragnar Klavan, then for fuck's sake let him play Ragnar Klavan. He's Jürgen Klopp, not Barry Fry. You don't like it? Well suck it up! It doesn't mean he's blind to the reality, but managers have to make do with what they have, and they have to stick to their principles and also their rules (see: Mamadou Sakho outcry).
Next season he might have a better solution, but for now, let him make the judgement calls that will, of course, sometimes fail and sometimes succeed. You have to judge managers on the bigger sample sizes, and right now Liverpool are third in the table, already with more points than last season; not third-bottom, as you could be fooled into believing by some of the rabid pessimism.
He needs to be given the time and space to overhaul the entire squad: keeping what he wants (so by "overhaul" I don't mean mass replacements), improving what he wants improved upon, in the knowledge that over time, the wheat gets separated from the chaff. He can gradually improve everyone tactically, technically, and let the younger players grow and develop.
Remember, Liverpool's squad by the season 2008/09 – the best XI we've had since 1990 (backed up by 25 wins, two defeats and 86 points, whilst making the quarters of the Champions League) – was via a gradual process.
Even then, with only half the squad cost of Chelsea and Man United, Benítez was never in a position to strengthen the squad and the XI. There were almost always compromises. With him, at that stage, it was the difficulty in finding pace out wide, and – as with Mané now – a Fernando Torres clone; and problems at full-back (due to the otherwise wonderful Fabio Aurelio's dire fitness issues).
Right now Liverpool have similar problems, although to a degree Mané has addressed the pace out wide (to the point where people who didn't even want him are mad that we didn't sign two of him), but also issues at full-back. The Reds also have other issues, but as with Benítez – and as with Gérard Houllier – it took time to put their best teams together, even if their best sides – 2002 for the Frenchman, 2009 for the Spaniard – won nothing. (Such is the randomness; Houllier's far worse 2002/03 vintage won a cup, and Benítez's far inferior 2005 side only went and blew the bloody doors off.)
Some players – such as with Momo Sissoko – will come in and they won't be good enough in the long-term, but they'll do a job and get the Reds to the point where they can find a Javier Mascherano. There will be new Dirk Kuyts – bought for one position where they are ultimately upgraded on (Fernando Torres) but where they are reinvented to become key assets in a different role (Lallana?). There will be youngish buys who play just a handful of games in their initial season (like Daniel Agger) who go on to become unquestionably good enough and ready (albeit hopefully without his bad luck with injuries; so far Marko Grujic, with four appearances and months of injuries, is fitting the Agger mould perfectly, although anyone can have bad luck on that front).
Also, unlike 2009, Liverpool have a thriving academy now, in part due to the overhaul made that very year, after a decade of good U18s sides but no standout players good enough for the first team. So people have to trust Klopp if he wants to give these kids a chance, especially after the stick Benítez got for never giving players like Jay Spearing more matches.
Klopp Playing two superb kids at Stoke is not "throwing in the towel" as I saw one person ludicrously suggest, but asking very young players to do a job, in the way that all young players have to start somewhere. (And had the ref given the clear 44-th minute penalty, the odds are that the Reds would go in at half-time 1-0 up, with no real time for Stoke to score.)
Ben Woodburn, who – like Trent Alexander-Arnold – started against Stoke, is an exceptional footballer for his age. (See my piece on them here.)
But Woodburn's education is more public than if he spent the next two years wrapped in cotton wool in the U23s (but gradually tearing it up against that standard of opposition). Indeed, Spurs bought Gareth Bale aged 17, and he took three of four years to blossom, getting some terrible stick in the process; but the games he played, when struggling – almost all of which were not won – were all part of his education. Again, those games were all part of the growth of a good Spurs team emerging just under a decade ago, despite having sold all their other best players (Dimitar Berbatov, Robbie Keane, Michael Carrick, et al).
At 17, Kenny Dalglish – the man who went on to become Liverpool's greatest ever player – wasn't terribly special, especially when compared with the player he went on to become. He made his Celtic debut at Ben Woodburn's current age, in a Scottish League Cup tie. But he didn't feature again in the remaining months of that season, and he featured only twice the following season, and only three times the season after.
Close to 20 years of age, and with three seasons in and around the first-team squad, the future King had just five league appearances to his name. Obviously early on he didn't play like the great he went on to become, or he'd have played every week. But at the same time he was clearly improving in Celtic's reserves. In Woodburn's case, if he has to have his education in the first team, then I'm totally fine with that. If it's in the U23s, I'm totally fine with that.
Now, this is not to say that Woodburn will be the new Dalglish. My point is that the next two or three years could see a massive development in his game (and as Klopp said, the youngsters aren't being played to be the best players on the pitch; people still seem to expect every kid to burst onto the scene like Michael Owen did, as if that's the norm. At times they will be used to do a specific job). Playing games is an education. Playing in first-team games is the best education.
Studies show that we learn most by being taken out of our comfort zone and faced with a challenge slightly beyond us. Matthew Syed's two books on this (Bounce and Black Box Thinking) are really good at explaining first how we learn from practice, and in the second book, how we learn from mistakes.
(And if Simon Mignolet has learnt from his mistakes, we may have a brighter future, after his best-ever all-round game for the Reds. But of course, some mistakes leave scar tissue.)
Another example. Jamie Carragher was schooled by wily strikers in his early appearances at centre-back; so much so that he had to be reinvented as a jobbing full-back, at which he improved over the years, without ever being totally remarkable. But in that time he grew up, got stronger, became a man, and learnt to bully wingers and lead from the back, while playing in the same back four as Sami Hyypia and Markus Babbel. No one watching those early appearances at centre-back would have thought he was a future leader of a back-line that would win the Champions League. But he went through his education.
Every time a new youngster plays he will gain knowledge, and possibly confidence. In time will gain the "at ease" feeling of being part of the first team; the acceptance it brings – allowing them to take the ball and do things, rather than just laying it off. We saw that with Woodburn's 30 minutes against Burnley, when he replaced Coutinho and so didn't have to just hand him the ball all the time, as he had done to senior players in his first few 10-minute cameos. He was instantly more proactive, given the responsibility of replacing the Brazilian in that game.
Amidst the towering chimneys that Stoke call a first team, his skill won the Reds a stonewall penalty that, of course, could not be given by Mike Dean (because a decree for the spring of 2017 says Liverpool shall have only terrible refereeing performances in March and April, starting with the game at Man City). Woodburn had the confidence to try that pivoting turn, having grown into the game after a nervy start. His skill, aged 17, bamboozled a wily Premier League stalwart with 18 caps for Holland, although at other times the youngster was muscled off the ball by the big bad men.
Alexander-Arnold, meanwhile, looks about five levels too good for the U23s, but aged 18 and very slight, he can't yet dominate grown men (especially Stoke, and the Land of Giants + two token midgets who make everyone else forget that there are nine 6-footers in the team). But that comes, with time. Look at Bale's physique when a teenager compared to now, or Jordan Henderson's. Boys become men, and then those with the greater ability and drive go on to flourish, as all the experience they've gained comes into play. Not all start like Michael Owen. (And even though Steven Gerrard looked great upon his full debut, after 50 games he had just one goal to his name. You would have said he's a pretty crappy goalscoring midfielder based on those first two years.)
But my fear remains that so much negativity surrounds the club, even when things are improving. Even bringing in two young prodigies is a signal for despair.
Klopp continually talks about the fans, getting behind the team, being positive. Aside from the travelling Kopites, Liverpool fans just seem too negative in general, and at Anfield, too anxious. My sense is that he's trying to educate the fans, too. Indeed, to be more like the mythical fans of yore.
I know it's mostly the internet, social media and phone-in shows, but the internet, social media and phone-in shows helped win the US election and take Britain out of the EU, often based on misinformation, which spreads like a virus around the "real" world.
My worry is that we'll vote Klopp out of Liverpool and elect the next Roy Hodgson. Please, God, don't let that happen – or anything remotely close.
NOTE: Please share our free articles, if you enjoy them. From now on, if free articles don't get enough shares then they will be switched to subscriber-only. If we get more subscribers as a result of a greater number shares, we can keep the site running for years to come.