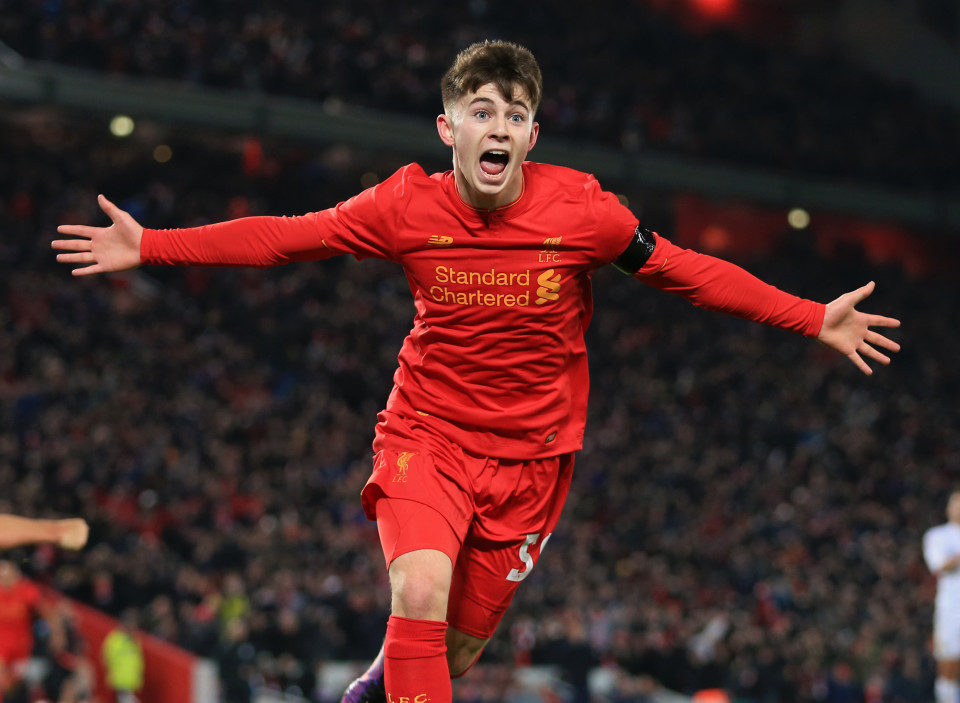 Can you hack it? Are you brave enough? Can you afford to wait for the maturation of an excellent crop of younger players? Or will you lose your bottle, and demand shortcuts, quick-fixes, here-and-now answers?
I don't write as much about the youngsters these days as I stopped watching them as closely as I did in the past; partly because it seems that it only leads to raised hopes that are often eventually dashed – after all, it's rare for a genuine first XI player to emerge from any academy these days, so that inevitably means that even the most promising kids don't turn out to be the saviours we hope them to be. The best you can wish for, most of the time, is a handy squad player, and/or a sale that brings in a few million – and maybe once in a generation an era-defining emergence, if you're lucky.
And to rub salt into the wounds, the one clear, top-class success from the youth ranks in the past 15 years wanted out a couple of years ago, aged just 20, and got his move to Manchester City. Of course, he was pilfered from QPR's academy aged 15, so I find it hard to feel any great sense of disloyalty from Raheem Sterling (although his agent's behaviour in 2015 was distasteful to say the least; you can want out, and agitate for a move, but some respect must be shown for the club, too). Still, a £50m sale fee on a £5m investment, after three years in the first team, cannot be sniffed at.
Things have been developing nicely for the Reds' academy in the past few years, and I've found myself paying more attention to the youngsters – many of whom I've studied playing for the U23s this season.
Changes were made to the academy in 2009 by Rafa Benítez, and then some promising youngsters started making their way through to the first team within a couple of years, although most ended up as squad players (and one of these, Jon Flanagan, emerged from the fringes of the squad to look, in 2013/14, like a rare success story – nailing down a place – before horrific injuries struck and his career stalled).
And Jesús Joaquín Fernández Sáenz de la Torre – more commonly known as Suso – was perhaps prematurely jettisoned, given his clear talent and subsequent rise to stardom at AC Milan (although if his attitude wasn't right at Liverpool, it's always hard to argue with shipping someone out on those grounds, if all efforts have been made to get through to the lad). Suso and Sterling were brought in by Benítez in 2010, and have been better than pretty much anyone who came through the club's system in the previous decade. Jordon Ibe, who arrived in 2011 aged 15, was another player better than anyone the club had in the same age bracket. His career stalled, but again, he had some good games for the Reds, and despite not pushing on as expected, still made the club a profit. But Sterling was always the clear standout.
Liverpool won back-to-back FA Youth Cups just over a decade ago, but without anyone from those teams looking particularly special; and indeed, none went on to great things. By contrast a certain Daniel Sturridge in the losing Man City side of 2006 looked head and shoulders above anyone in the Reds' XI. Equally, Liverpool won nothing when Sterling was in the youth side, but he looked a star in the making.
Right now, however, there's a lot to be optimistic about, with the Reds fielding very young XIs in the U23 league, with teenagers often looking a cut above older, bigger and stronger players. And while the kids struggled at times when thrown into the first XI together, such as in the FA Cup against Plymouth and Wolves, they also shone against Spurs and Leeds in the League Cup.
You simply cannot judge kids when it's almost exclusively boys against men. (Not to be confused with Boyz II Men, who unfortunately came prematurely to the end of the road.)
Logically, the U23 league is stronger than the old U21 league, given the extra two years on the limit, although it depends on how clubs treat it. Many players in their early 20s still go out on loan, because the competition is fairly limited when compared with the pressure, and crowds, of the Championship. And clubs like Chelsea are essentially farms, sending about 50 players out every season, and knowing they'll make a mark-up on them (which makes good business sense, but also seems soul destroying).
But what's interesting is how Liverpool are now keeping back many of their brightest prospects, leading to the possibility of several components of a team emerging over the coming years, rather than just a single individual. Crucial to this is Jürgen Klopp's proven faith in younger players in Germany; as well as Dutch wunderkind Pepijn Lijnders' role as a go-between for the youngsters and the first team, helping to facilitate things. The plans to move Melwood to the Academy site, and bring the whole club together in one location, makes perfect sense too, and is part of Klopp's vision of how a top club should be structured.
The remaining three-quarters of this article – looking at some specific kids – is for subscribers only.
[ttt-subscribe-article]