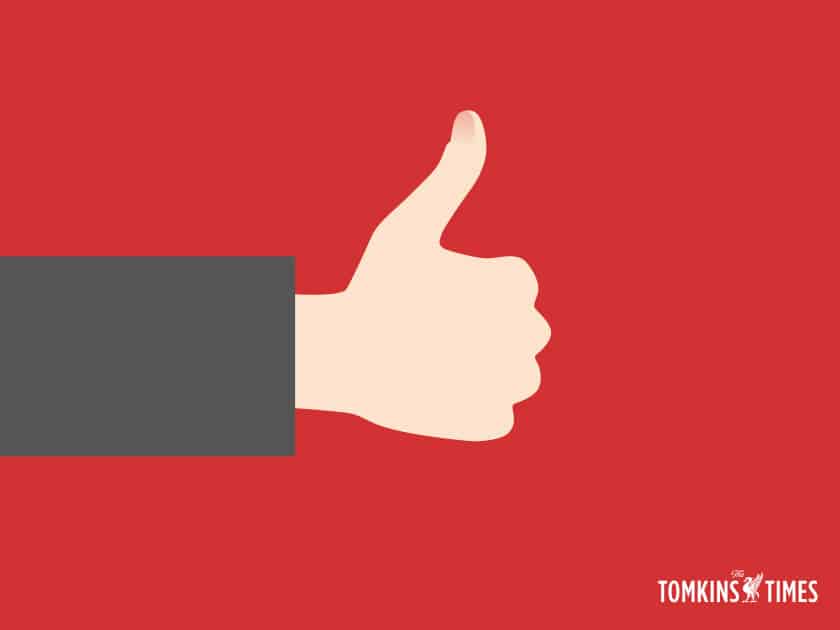 Reading Jonathan Northcroft's Sunday Times' piece on Jürgen Klopp and Pepijn Lijnders (the Q&A for which can be read here), it struck me that Liverpool FC has never had it so good. Well, at least not since the halcyon days of the 1980s.
Whether or not Klopp is a better manager than Rafa Benítez and Gérard Houllier were at their peak – and some may choose to debate the merits of three undeniably impressive managers – there is no question that the club is as sane and as healthy as it's been since the days when titles were won for fun (although by contrast, much of the fanbase remains absolutely fucking batshit crazy; certainly those who clog up my Twitter timeline. Hopefully the sane ones end up as subscribers to this website, otherwise my efforts in facing the flak are worthless).
The Reds currently sit 2nd in the league, after the club's best start in nearly 30 years, and on the brink of a third cup final under Klopp in 12 months. To be unhappy today is to be the kind of person who finds a five pound note and then moans because they've just dropped a penny down a drain-hole.
On the same day that Klopp's talent and long-term planning was made clear by Northcroft, Liverpool's youngest ever side – that's in 125 years – failed to beat 4th-tier opposition. And so ended the world.
It apparently showed that the Reds' squad is not as good as previously suggested, and that the kids aren't as good as previously suggested, and that nothing is as good as previously suggested.
But remember, this was without Sadio Mané (at the African Nations Cup), as well as Philippe Coutinho, Jordan Henderson, Danny 'I Keep Forgetting The Poor Lad' Ings and Joel Matip, all out injured.
With three games in seven days over Christmas, to be followed by a visit to Southampton in a cup semi-final on Wednesday and a vital trip to Old Trafford on Sunday, of course Liverpool's reserves didn't look as good as expected against Plymouth – because many of the reserves were actually rested, as they may well have to play the two big games in the absence of Mané, Coutinho, Matip and Henderson (and Ings of course; not that he's a first-team starter, but he is part of the now supposedly weak squad. It's no one's fault that he has suffered a horrific knee injury after just recovering from … a horrific knee injury).
What people don't understand is that if you field a team with an average age of 21 – which is almost unheard of – you probably don't win games of football, no matter how good the kids are.
Anything is a bonus; the aim was clearly to protect the more important players for the two crucial games, and to give the kids some game time, to learn, and often to learn through their mistakes (better made in a cup you cannot prioritise because you're 2nd in the league and in another semifinal than in a vital game).
Remember, this was not a youngster here or there being helped along by a load of older pros – this was a team including five teenagers, two of whom (Joe Gomez and Sheyi Ojo) had been injured all this season and were only making their comebacks in this game.
It was a team of half-reserves, half-U19s. That those teenagers are so promising is great, but they're still kids, not fully developed men with devilish tattoos up to their jawlines, like inky roll-necked sweaters of doom. (Heaven forbid, rather than looking like a badass biker, Ben Woodburn isn't even legally allowed to drink alcohol, and still has to ride a pushbike and deliver newspapers in the mornings).
On balance (re: expected goals), Liverpool should have won 2-0, and possibly had a penalty as well for a punched clearance. That they didn't is one of those things. Shrugging off minor setbacks is all part of succeeding in life (while giving up and throwing the baby away with the bathwater is simply bad parenting).
If you want to talk of Liverpool's depth, then look at Daniel Sturridge, Roberto Firmino, Gini Wijnaldum, Nathaniel Clyne, Ragnar Klavan, Simon Mignolet and Adam Lallana on the bench; and Dejan Lovren and James Milner not in the 18; and Coutinho, Henderson, Matip, Mané, Marko Grujic and Ings all unavailable, and then add Lucas, Emre Can, Divock Origi, Gomez, Loris Karius and Alberto Moreno from the team, and you're talking over 20 players … before you get onto the handful of very promising kids, and a fringe player like Kevin Stewart (an otherwise fine back-up defensive midfielder who appeared to let a 'worldie' from training go to his head and caused him to think he was Bobby Charlton).
It's not the strongest squad ever assembled in world football, granted, but it's what Klopp has wanted: not too many big egos, and lots of promising younger players, with everyone prepared to chip in and work hard.
Apparently having 44 points at the halfway stage and having the chance to reach a third cup final since last March is all a mirage, and nothing at Liverpool is that good after all. (I know I should avoid Twitter but it's part of how I make people aware that I'm still alive and trying to run a website.)
But as I said earlier, this is a Liverpool that has shed the dysfunctional issues that have dogged every manager since Kenny Dalglish's first stint ended. So much changed so quickly in the aftermath of Hillsborough, and it took its toll.
John Smith had stepped down as chairman in 1990, after 17 years of unprecedented success for the club. David Moores took his place in 1991, and wasn't exactly as successful; although that is not to say that this was all his fault (although the droopy moustache definitely was his own doing).
Graeme Souness did not prove a suitable replacement for Dalglish in 1991, and Moores' indulged his friend too much; sticking with him beyond what looked a clear cut-off point as the Reds drifted down the table. Roy Evans did a good job in reviving the club's fortunes, but not quite a great job, and then came the botched arranged marriage of Evans with Houllier.
Liverpool were eventually resurgent under Houllier, but the greatly-admired Peter Robinson retired at the turn of the millennium, and Houllier himself never seemed quite the same after his serious heart problem in 2001. Houllier also had issues with Steve Heighway at the Academy, with the conveyor belt of homegrown talent drying up in the late '90s. For most of the 2000s the Reds' best emerging youngsters were foreign, but often they also weren't quite good enough.
Rafa Benítez arrived in 2004 and brought the glory of Istanbul as part of a run of five highly competitive seasons in a row, until the wheels came off as the whole club, now under the cowboy ownership of George Gillett and Tom Hicks, became the absolute epitome of dysfunction. Steve Heighway was gone, as was Rick Parry, and the club was a total mess by the time Benítez was sacked. (So much so that some people missed Parry.)
Then came the Roy Hodgson debacle. The new owners, FSG, who inherited the problem of a lame-duck manager, then made a few new-kids-in-town mistakes, including appointing Damien Comolli as Director of Football; not that the Frenchman didn't get stuff right (particularly Luis Suarez and Jordan Henderson), but the emphasis on crossing to a big fella meant a ton of wasted money on Andy Carroll, Stewart Downing and Charlie Adam.
Just a couple of years earlier the misguided emphasis had been on "going English", with an English manager appointed and English players like Joe Cole and Paul Konchesky signed in part due to not speaking funny languages. Then came the weird dysfunction of Kenny Dalglish's league form in 2011/12, after such a bright start upon his reappointment (and two good cup runs in his one full season back at the club). Nothing made any sense.
No sooner had Brendan Rodgers been appointed – after Dalglish and Comolli were sacked – than concerns about his transfer activity were raised within the club; both the quality of his signings that summer and the eagerness to despatch with certain players before reinforcements had been signed.
That led to the creation of the transfer committee, and yet more dysfunction. After one near-as-hell miss of a season, the whole uneasy dynamic dissolved into the manager essentially buying his picks and the committee getting theirs; and then the manager virtually ignoring anyone he didn't choose. Just to top it off, the king of dysfunction – Mario Balotelli – was signed in 2014, perhaps as the poster boy for how a club can unravel.
It turns out that neither Rodgers' nor the committee's buys were the mistakes that many (myself included) thought – Rodgers' picks of Adam Lallana and Dejan Lovren – that I felt unconvinced by after they'd had a season at the club – just needed to get up to speed under a different (harder-pushing) manager in an altered system; and likewise, Roberto Firmino and Divock Origi were golden nuggets once in the hands of an elite boss who was prepared to give them time (and greater fitness).
And so finally – finally! – there seems to be nothing but sanity and unity at Liverpool Football Club. You may not care much for the owners, nor for the transfer committee and/or specific members – and you may want more money splashed around – but vitally, Jürgen Klopp is happy with how everything works and who he has to work with. If the owners were keeping money away from the manager then I'd understand the frustration, but Klopp doesn't want to improve teams by just purchasing players. How do I know? Because he keeps saying so.
The owners may seem fairly distant and standoffish, but they're not over here, telling Klopp who his left-back should be, and giving half-time team-talks; and they're not coming out with outlandish statements or bickering amongst themselves. FSG have Mike Gordon and the promoted Sporting Director Michael Edwards as their eyes and ears, and whether or not you think the setup is ideal, there seems to be nothing untoward filtering out of the club.
Nothing. No superstars throwing strops; no controversies; no divisions between this set of French or Spanish-speaking players and the English-speakers; no barbed comments by the manager about people at the back of the room; no leaks about James Milner using someone else's towel and shampoo; and Mario Balotelli shipped out of the club.
And on top of this, the club has not had as good a set of youngsters in almost two decades, irrespective of what you think one single game tells you.
The revival of the academy began when Benítez overhauled it in 2009, since which point – starting with Kenny Dalglish in 2011 – promising kids have been coming through again. This began when the club began buying promising 14-and-15-year-olds, circa 2009/10. Heighway is back at the club, imparting his vast knowledge, but crucially for me, not steering the ship.
Klopp works closely with Alex Inglethorpe at Kirkby, and the precocious Pepijn Lijnders links the two worlds. All I can sense is harmony, and while harmony in itself guarantees nothing (a load of idiots in harmony is just a choir of idiots), it's one of the key elements to success; and a lack of it has been part of the reason why the Reds have had such a tumultuous time in the Premier League era.
How the Reds do in the FA Cup in 2017 is almost irrelevant; almost like the competition itself which is only of any note if you do well in it. The League Cup is less important still; but when you're in the semifinal it suddenly becomes more of a priority.
To expect to challenge on more than two fronts is pushing it unless you spend the megabucks on a massive squad (which Klopp doesn't want to do), and so with a League Cup semifinal, and the title still just about within reach, something has to give. The same happened last season, when the FA Cup was also 'sacrificed' because of League Cup and European progress, and a crazy fixture list. (By sacrificed I don't mean defeat was hoped for – just that the outer reaches of the squad got some game-time.)
This week Klopp told Jonathan Northcroft of his nascent philosophies, when barely out of his teens and coaching Eintracht's U10s side, and its instructive of his approach ever since:
"I never had a philosophy or something but I had this team. After the first season the club asked, 'How many new players do you want?' I said, 'I don't need new players.' 'But every year we change.' I said, 'Well, this year don't.'" The grin again. "My first decision in coaching — to keep the same squad for the following year. I was 21."
And:
"First you should try to be successful. At Liverpool we need to be successful," he says, "but you should try to be more independent of the money. Because in a world of money it looks like everybody in football has more than they need. Each club can buy who they want, but in the end it is always short-term thinking. The world can change and that's why you should create your own values. On the money side and the attitude side: what do you really want? What do you stand for?"
It doesn't matter how many times Klopp says things like this; people just don't hear it. They don't hear him when he says he likes to work with the transfer committee as it mirrors what life was like at Dortmund. They appear to have no actual idea of what he's all about.
As I've said on here many times, so many fans wanted Klopp because he was successful and funky and cool – and the face of modern football – but then they don't want him to do the things that made him successful and funky and cool. They wanted the success, and the glasses, but not the process. The process involves breaking some eggs; they just want the omelettes (or the chickens).
It may end up the Klopp's Liverpool are overpowered by behemoths in the hunt for the major silverware in the way that his Dortmund ultimately were by Bayern. And remember, there are more behemoths here. But even so, Klopp's Dortmund were fucking good, and they made the people happy. And that's all we can reasonably ask for.
Subscribe to TTT for £5 a month to join in the great debate. It's not at all like Twitter. Also read lots of subscriber-only articles, like our latest scouting piece, on Quincy Promes.