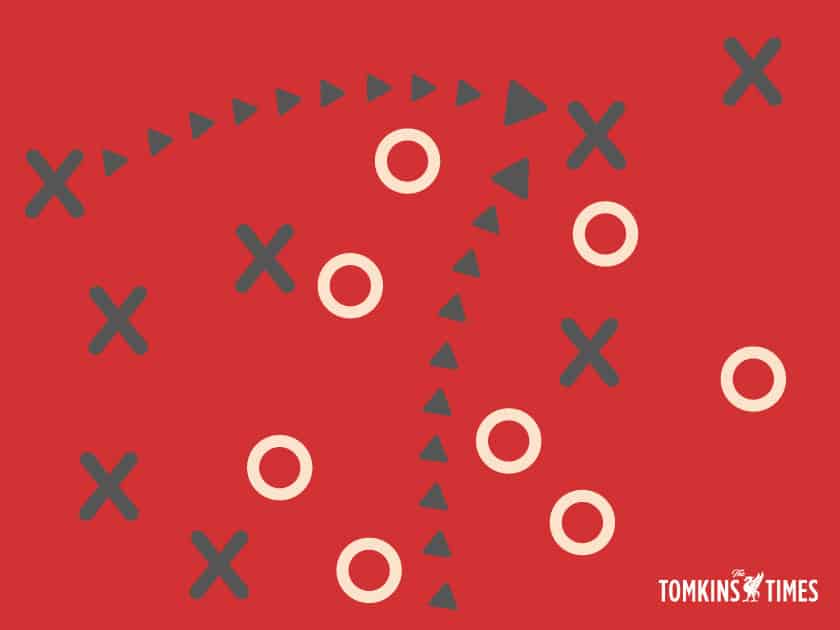 By Ed Ames.
In my last column (Struggles and Strategies Against the Low Block), I mentioned how positional rotations were a major key to Liverpool's success against man-marking systems. I also suggested several strategies that would improve their performances against a zonal low block – some of these have been employed or improved over the previous weeks. In this column, I will focus on the ever-increasing fluidity and expand on the positional rotations mentioned previously.
This fluidity has been a key part of Liverpool's attacking play this season. As mentioned previously, it can be detrimental if not implemented successfully. A lack of co-ordination between players can create wide-open channels for the opposition to counter into. Against Hull, this was not the case.
Because of Hull's tendency to orient more to the opposition player than zonally, Liverpool's fluidity in attack was expectedly tough for them to handle. What was particularly impressive, though, was the potency of Liverpool's counter-press despite this fluidity. The combination of the two gave Liverpool deadly attacking quality, whilst also ensuring they were well-positioned to regain possession quickly if it were lost.
Jordan Henderson had his best game yet in the deepest midfield role, but the midfield was also suitably structured to allow for an aggressive counter-press in all directions. This stability allows the forward players to take more risks (in their movement and on-ball decision making), safe in the knowledge that the ball can be quickly counter-pressed and the attack can soon continue.
The shape: 4-3-3, but not as you know it
There was much discussion about the shape that Jurgen Klopp would utilise going into the season. Many were convinced he would settle on the 4-2-3-1 he used at Dortmund, but what he's elected for resembles more of a 4-3-2-1. Despite this, the shape is in constant flux because of constant attacking movement and positional rotations.
It's all about the players. As a manager, you have to use the skills of the players… It's about showing them the spaces we can use" – Jurgen Klopp on MNF.
The fluidity of the shape no doubt comes from the position-less nature of many of Liverpool's forwards. Of the current front six, none of the players have a defined 'best' position. Instead, they each have fairly unique skillsets that necessitate particular movement patterns. Because the shape is so governed by each player's profile, there is an asymmetry to Liverpool's build-up: the left and right show very different movement patterns.
Jordan Henderson: pivote
One of the key questions for Liverpool coming into the season was regarding the deepest midfielder. Emre Can was clearly Klopp's favourite for the role, but he wouldn't be able to play there all season. When Can was then injured, Jordan Henderson was tasked with becoming the team's 'pivote'.
For years, Henderson has thrived on late runs into the box and aggressive forward pressing. So this transition did not seem natural. His performances have been contrary to that and his understanding of the role has improved with each game. His skillset suits this deeper role within this ultra-fluid Liverpool system.
Hull often positioned Abel Hernandez near Henderson. In years past, being unable to influence the game with the ball would have totally nullified his threat. This is no longer the case. With the emergence of Joel Matip as Liverpool's key build-up initiator (more on this later), Henderson can use simple movements to create space for Matip to push into with the ball. This is particularly easy when the opposition only play with one striker in initial pressing phases, but represents an improvement in his understanding of early build-up.
Henderson is closely followed by Hernandez – but he recognises this threat and makes a sharp backwards movement to give Matip an extra second to make his decision.
The other key movement pattern Henderson utilised whilst man-marked was drifting towards the right – therefore dragging Hernandez away from the centre. This created a space for Wijnaldum or Coutinho to drop deep to receive the ball.
Later in the game, the stringency of Hull's man-marking on him decreased (perhaps because of his good movement). When this happened, he used clever positioning to move outside the cover shadow of the Hull presser and ensure he was available as a passing option. Despite playing only 74 minutes, he racked up 115 passes – a testament to his availability in build-up, but also his ability to recover second balls. His positioning when the team had possession in the final third was one reason the team's counter-pressing was so successful.
The left side: a roaming Coutinho
Much of the left-side movements of Liverpool's build-up is governed by the whims of Philippe Coutinho. Despite being initially positioned on the left-wing, he has license to drift deeper into a central midfield position to receive the ball. Wijnaldum is generally positioned in this area in early phases, but Coutinho drifting into his zone triggers a forward movement which can pull his marker away if the opposition are man-oriented in defence. Wijnaldum has improved his impact in early build-up phases since joining Liverpool, but his forward movements have always been a major strength.
Coutinho is more capable of progressing play with the ball at his feet, and if play is timed correctly, he can often receive the ball with momentum whilst moving infield. This makes it very difficult for a man-marker to stay with him, but also presents many 1v1 opportunities against other defensive schemes too.
This trigger helps to ensure the players are well-spaced, which helps create staggered passing options for James Milner if he receives the ball on the touchline. Despite some good performances, 1v1 dribbling is clearly not one of Milner's strengths. Therefore, ensuring he has these options available is vital in reducing the likelihood he succumbs to opposition pressing.
The rest of this article is for Subscribers only.
[ttt-subscribe-article]