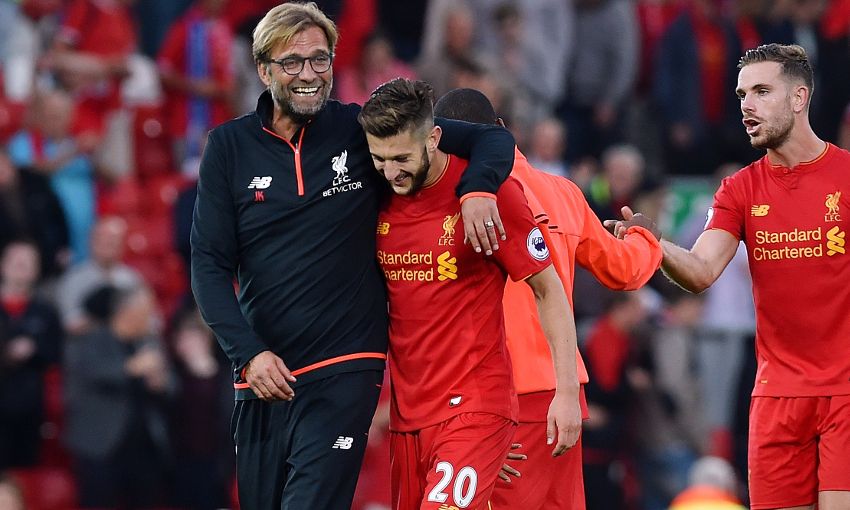 While his touches were not vital in winning the game – those came from Dejan Lovren and Jordan Henderson, with a killer assist from Philippe Coutinho – this was yet another powerful, meaningful and technical display from Adam Lallana; a player who, to me, was only ever going to accomplish the third of that triumvirate of adjectives.
I owe Lallana an apology of sorts, although I think he himself will admit that his first two years at Liverpool were mediocre at best. He began improving last season, but ever since the preseason game against Barcelona – where he began his tenure as part of a midfield three – he has looked a yard quicker, and considerably stronger.
Lallana now epitomises everything that's good about this Liverpool side. In the front three, with his lack of pace (and also über-fitness), he'd drive me insane; he'd slow the game down, take the ball for a walk, beat his man, beat him again, Cruyff turn him, drop his shoulder, roll his studs over the ball and beat his man another dozen times, only to find himself ten yards further back. His qualities on the ball – the near-perfect close control – were always clear. But he seemed so wishy-washy; indeed, I'm sure I've described him with that very term before.
Apparently he's a good character, and something of a leader, which seems odd as he just doesn't look like one. Again, maybe the past impressions partly gained from a Nivea advert added to my difficulty in moving past his weaknesses – but not every leader has to be a big ugly bastard who screams phlegm-strewn instructions and headbutts the dressing room wall before the match, at half-time and at full-time, win, lose or draw.
As well as reducing the over-egging of various puddings, Lallana needed to add goals and assists, and right from that prestigious preseason game he's done just that – setting the tone with a brilliant midfield robbery against the Catalans.
In a weird way, he's more constructive – more dangerous offensively – played further back, and facing the play (the subscriber-only part of my post-Leicester piece was all about this, and how Klopp has moved several players back one 'row'). Liverpool now have technical players – Lallana, Wijnaldum and Henderson – facing the play, and defending by running hard and closing down, rather than carrying a destroyer/bruiser in there who clatters people but can't join in the attacks.
Lallana also shows that even into a third season, at the age of 28, perceptions can change. A lot of credit must go to the player, for it's him on the field (and working so hard in training), but also to Klopp, for getting the player back to the hard-pressing fitness levels he had at Southampton, and for redefining his role. Lallana had years to adjust to life at Southampton, but he arrived at Liverpool with a here-and-now price-tag. We never got that, and it was part of the reason things fell away under Brendan Rodgers, but the player is now totally reborn.
It's never nice being proven wrong as a football writer but it's great, as a fan, when being proved wrong benefits your team (and we must all acknowledge both our mistakes, and also the potential for players to improve. It's probably rarer for someone to do so at such a late age, but Jamie Vardy is another example.)
Likewise, Jordan Henderson's fitness was an issue before this season, due to a serious heel condition. Hopefully people will now see that he's a much better player than many give him credit for (as they conveniently write off his great form from 2013/14), even if he'll never be even 80% of what Steven Gerrard was at his best. But he doesn't need to be, as this is a wonderfully-functioning fluid Liverpool midfield that presses here, pops up there, and plays in devastating triangles. Again, Henderson isn't an archetypal captain, but sometimes it's good enough to lead by the example of tireless effort, rather than raging like a lunatic.
And let's remember, Liverpool have just gone to Chelsea and won without Roberto Firmino, Emre Can, Mamadou Sakho and the first-choice goalkeeper, whose introduction will now come against Derby County in the cup (not that Simon Mignolet has done a lot wrong this season, but he still looks so nervous in possession. Equally, as I said when Karius got injured, it would be tough to throw the new guy in partway through the season). When Klopp said he didn't want to spend anymore money than he did in the summer, maybe people can now see why.
Danny Ings – like Sakho and others – can't even get in the squad, although he, like Joe Gomez and many other long-term absentees, needs extra time to be ready for this kind of football. It's no country for infirm men, Kloppoland.
The best thing about this season is that every time a key player drops out there's no discernible change in quality (bar the Burnley game, but I labelled that a blip at the time and stand by that; and maybe Sadio Mané's pace was missed that day. And even then, Liverpool were not as bad as the scoreline suggests). Coutinho missing? No problem. Firmino missing? No problem.
Within the first five games Liverpool have gone away to two of last season's top three, plus faced the champions at home, and now gone away to the previous champions. Result? Ten points. It was a deserved win at Arsenal, a deserved win versus Leicester and a deserved win at Chelsea. And it should have been a deserved win at Spurs.
It's the toughest start on paper that I can recall for Liverpool – the quality of opposition and the weighting of away games at 4:1 (and even the two cup games have been away) – and yet to average two points per game from this hellish fixture list (four away, four top teams faced) is testament to how far Klopp's side have come in less than a year; and how much the new additions are bringing to the equation.
Of course, the trick will be to retain this kind of intensity in the lower-profile games, but Klopp's side have been steamrollering the elite for 11 months now. And the success in those big Europa games last season made it virtually impossible to pick strong teams in the league, leading to these perceptions of inconsistency.
Remember, some of the defeats to minnows last season were in Klopp's early games, with players learning the system (and getting fitter), and later, with a makeshift team, due to heavy rotation. And as much as the cups took it out of the league campaign, and left Liverpool empty-handed come May, I think it proved a good learning experience for the manager and his players – all those extra games giving the German ample opportunity to assess his first team and to also throw in some kids and reserves. It gave him a chance to use the fast-improving Kevin Stewart as an example for anyone who works hard.
And the balance of the side, and the way it shape-shifts, looks more suited to facing packed defences; indeed, Leicester are hardly noted for being wide open, and Chelsea also looked to sit deep with numbers. Liverpool just put six past two notable defences, by dragging them this way and that.
By having two semi-forwards in midfield who can defend with running – closing the space, denying opponents time on the ball to get their heads up and pick passes if they are lucky enough to have possession – allows Klopp's side to be more constructive in possession. Indeed, Liverpool's possession football this season has been excellent, and something of a surprise; it's certainly more than just counter-attacking.
Having James Milner as a full-back also turns him into a more special player – at most clubs he'd be too good to "waste" there, and yet his qualities are still clear to see, wherever he plays.
And of course, although a bit lax on the Chelsea goal, Joel Matip brings a midfielder's presence of mind to the centre-back role, where, by virtue of being 18 feet 9 inches tall, he's also pretty useful in other ways.
Gary Neville made a point of talking about how Liverpool are still vulnerable defensively this season, but we must remember that the Reds have faced Arsenal, Spurs, Leicester and now Chelsea, who, with Hazard, Costa and Oscar, are always likely to create something at home. You will never play a perfect game, everyone in position for 90 minutes, against such elite forward lines. Liverpool managed to control the tempo and slow the game down in the final stages, even though it's difficult for any team to shut up shop completely in this hectic, frantic league.
I have to admit that I didn't expect ten points by this stage, given the fixture list. To draw at Arsenal, Spurs and Chelsea would have been notable, and yet to then beat Burnley and Leicester on top of those three draws would still only lead to nine points.
And weirdly, even though the Reds dropped points at Burnley, they haven't given anything to top four rivals, bar a point to Spurs who, at home (and as title challengers last season), probably ought to have been favourites. Arsenal and Chelsea have dropped three points against Liverpool, and Spurs two.
While not perfect, there have definitely been far more positives than negatives this season, as I ramble on into the Friday nighttime (forgive me any typos, but this is an odd time to write about football). Liverpool have a style of play that makes sense, and a desire to win games. They can speed games up and, if needed, slow them down (well, a bit). The goals are being spread across the team, rather than relying on one or two individuals.
Surely this can only bode well.