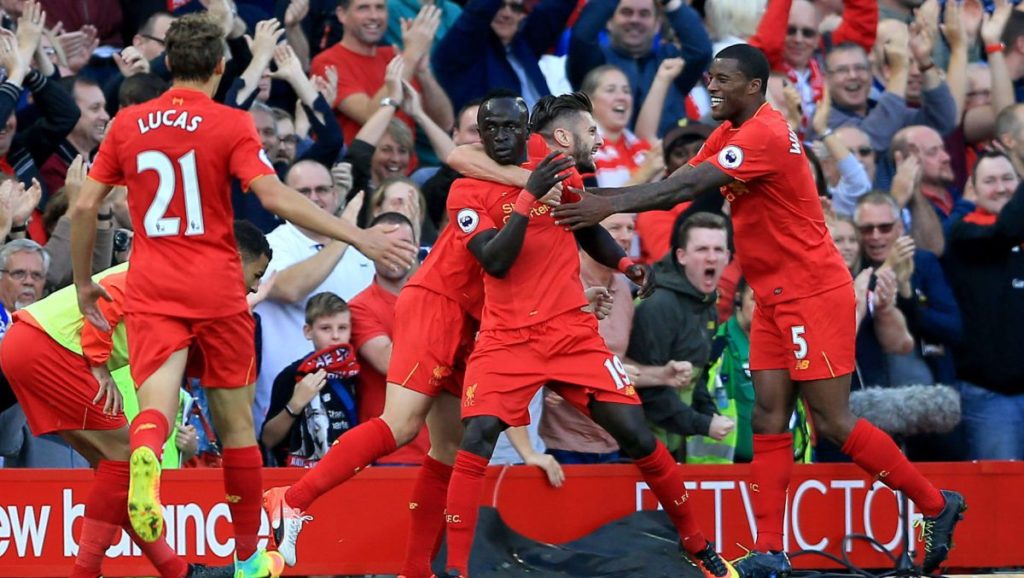 During the summer I noted on this site that, excluding the first couple of months of following his arrival, almost every time Jürgen Klopp fielded a strong team in his partial debut season he got a performance (and usually a win).
The immediate form after he took over was very mixed – in part due to fitness issues, and tactical misunderstandings – but the later form was almost always excellent, except when he had to resort to weaker line-ups to balance the insane number of games.
I think this created the narrative of inconsistency, which is something of a myth; especially when considering that a team on Liverpool's budget will rarely excel every weekend and midweek when in Europe as well as reaching a domestic cup final. As I've said before, Liverpool average a win rate of around 50% in the Premier League era, and maybe this rises a little over 60% in really good seasons; it's never 80% or 90%, let alone 100%.
(And even the elite teams have an aberration or two every season, often early on; not that Barcelona would ever lose to a promoted side before mid-September, or even, say, whilst I'm working on this article.)
Indeed, the myth of inconsistency was bolstered by people talking as if three away games to start the season – Arsenal, Burnley and Spurs – were representative of a normal league table: when a) the games were not the usual mix of home and away but all away, and b) they were, on average, tougher than normal, with visits to two of last season's top three, plus a promoted team of hard-working battlers, fighting fit and fresh before they run out of steam in the winter.
Now – and has this happened before? – we've seen Liverpool play all of last season's top three in their opening four games, with the 2015/16 champions arriving at the vastly improved Anfield, and another away game – at the 2014/15 champions – to follow next (to shift the home/away ratio to 1:4; or 1:6 if including the two League Cup away ties by the time of the Reds' second home game).
People have talked about Liverpool being a better side away from home, but my sense is that Klopp had worked this summer to improve the home form as much as anything else. (Which I will come onto.)
When I analysed Klopp's XIs from last season, and how they did when he wasn't having to call upon squad players who he probably wouldn't have chosen (several of whom he subsequently moved on, while others were youngsters being blooded), there seemed to be a pattern of big wins; or, in the case of the Europa League final, at least the chances to have racked up the goals to put the game to bed.
(And finishing is somewhat random: take Daniel Sturridge's efforts that were saved by Kasper Schmeichel yesterday: on another day the close-range 'lift' over the keeper goes in, because a different keeper – or even the same keeper on a different day – may make a different decision or be slower to react, or not spread himself quite as fully as Schmeichel did in familial style. The striker obviously doesn't always know for sure what the keeper will do and vice versa; just like anticipating a penalty, where it's shown that a keeper cannot save one hit into the corners unless he dives before the kick is taken – i.e. pure guesswork, perhaps partially based on the player's history and his run-up – it's almost a game of paper-scissors-stone. Be aware that any time a striker keeps his shot low and the keeper saves it, the reaction is "he should have lifted it over him". But if he tries to lift it over him and his effort is saved, then suddenly he should have tucked it under him. And yet how many goals are scored by hitting it straight at the keeper – something you should apparently never do – and then it slips through his legs? Loads. I guess my point on this digression is to judge "good finishing" whether or not it goes in – because as with the penalty example I just mentioned, you will see many examples of an average kick that goes in because the keeper dived the other way based on guesswork described as "great".)
I found it interesting that last season, even without a super-sharp Sturridge, and with Origi and Firmino still bedding in, the Reds were able to put three or four past Man City, Borussia Dortmund, Chelsea and Arsenal, plus six past a Southampton side that were no mugs. For the most part, these were not games where the Reds took all of their chances to lend some flattery to the scoreline (although if I recall correctly, the City game seemed one when most chances were clinically taken).
The Reds also put three past a defence-oriented Manchester United side over two legs in Europe, and could easily have had double that amount. (Plus four against Everton, five against Norwich and six against Villa, even if these weren't tough opponents, with Everton strangely lame in what is usually a feisty game.)
I repeated this assertion earlier this season, after the Reds had put four past Barcelona in pre-season, even if the Catalans weren't at their sharpest and it was only a friendly, and then four more at Arsenal – which is not something we're used to seeing.
To score four again, this time against the reigning champions, leaves me with the sense that there are the seeds of something very special, and that this is not a freakish big-scoring win here or there, but an actual trend. Liverpool are now the league's leading scorers in 2016, and that's without buying megastar strikers; and that obviously doesn't include some high-scoring cup wins, too.
Equally, at this point there may be some level of inconsistency – it's a young squad (although an older XI than usual was deployed against Leicester), still within the manager's first 12 months, and without the kind of mega-investment that richer clubs can use to bypass aspects of the building process – but it's important not to throw into the mix the stodgy results of last season achieved with shadow XIs, in between huge cup games, as if they were representative of Klopp's progress, or blots on his copybook.
I also don't believe Liverpool are as bad defensively as some suggest; not least because the opposition have scored from an unusually high percentage of their shots – which has to revert to the mean – often to punish some often minor positional errors. (And while I'm on the subject of errors, I thought Lucas defended superbly against Leicester, but had the kind of slip that can befall any player in any area of the pitch – but was of course the major error of the season so far.)
I actually think that this is a beautifully balanced team that Klopp has assembled, as I will go on to explain in some detail; albeit a side/squad that is isn't without some understandable weaknesses, given that almost all teams (bar the truly generation-defining sides) have areas that can be improved upon or exploited by opponents. But we also have to accept that improvement often needs time, too.
Klopp has preferred to build without mega-signings, choosing to work with a core of what he inherited while adding some new dimensions (and depth) – but even if more cash had been splurged, we could now be looking at different weaknesses, such as a lack of unity (the "Di Maria effect" of star players who don't want to be there) and absent understanding based on the higher churn of players, as well as the loss of what last season's squad learned as a unit and as individuals working with Klopp for seven months. Every new player added would be a gamble of sorts, not least in how it would still often be 50/50 as to whether he succeeds. Every additional new player would have to get used to the new dynamics.
And it's not like Klopp inherited a mega-squad that was massively underperforming, as has happened this summer at both Manchester clubs, and at Chelsea – clubs where perhaps a spark is all that's needed. So this was never going to be Liverpool springing to a 90-point season in one summer, even if more players had been bought with the money that was there for the manager to spend.
It's horrible to say that this is a "transitional period", as no one wants to hear those words, but this is just the second month of a Jürgen Klopp Liverpool side that he helped shape (rather than just train). To me, this should be the transition from an erratic collection of players (as far as Klopp's needs are concerned) assembled by various managers and scouts/analysts to the one where it has his stamp. It just probably won't have the all-conquering nature, at this point, that some fans seem to expect, or the consistency and machine-like drive of his Dortmund side at its peak.
But I do still find it extremely reminiscent of the early periods in the tenures of Rafa Benítez and Gérard Houllier – the last two Liverpool managers to really build something vaguely sustained – in how an ethos and identity have been installed, and four or five first-team players have been added to give the side new dimensions and eradicate some previous weaknesses.
Both of those managers needed time to create their best sides: Houllier's team peaked in years three and four, while Benítez's won trophies in years one and two, but were a better team in the Champions League final of his third season, and his fifth season saw a vintage that would have won the league (86 points, top scorers, best goal difference) if not pitted against an especially strong Man United side. (This is all ifs and buts, but my point is that that was a great Liverpool side, and sometimes your success can hinge on the quality of opposition, which varies from year to year; had Cristiano Ronaldo had missed as many games as Fernando Torres did that season then the odds of a Liverpool title would have massively increased.)
And while a lot of Liverpool fans talk of the title right now (which is of course a natural desire), my wish is simply to see the Reds at the kind of competitive level they were from 2000 to 2002, and from 2004 to 2009. It's obviously complicated by the greater number of contenders these days, but if the aim last season was to stand up, the aim now is to walk; with the 'running' maybe next season.
And to me, the 'running' means being title contenders (if not favourites) whilst winning a trophy here and there; or, fighting for the top four whilst competing strongly in Europe, which is always a tough dual-challenge. I'm not sure that this season is definitely too soon (barring doing well in Europe, which is off the table), but it should be about marked progress.
And if anything, as seen with clubs promoted via the playoffs – and certainly with Brendan Rodgers' Liverpool – sometimes the success can appear to come too soon. Rodgers' Reds made a remarkable leap in his second season, but there was none of the drama and silverware of a build-up over, say, three seasons, where methods become deeply ingrained (as was seen with Houllier and Benítez) and there is a machine-like quality, as previously mentioned about Klopp's Dortmund in years three to five.
The title bid of 2014 was an attempted smash-and-grab, as obviously had to be undertaken when things started going so well – with Suarez sensational and an unexpected number of games being won (a bit like Leicester last season); and when you can't turn away from the possible success unfolding before your eyes – but perhaps the lack of a sustained period of building up to a title challenge made it more of a flash in the pan. Rather than having a great side, or an excellent tenure, Rodgers ended up with 'just' an excellent season. I'd like Klopp to be about more than that.
So far with Klopp I've seen a lot of evidence – albeit within a small sample of games – of Liverpool being better than last season. I have a sense of gradual development.
There is evidence of improvements in various areas, if not anything nearing perfection. And it may just be my skewed perception, or early season optimism, but I have a much better feel about this team and its many strengths than I've had in most of the recent seasons. Aside from Klopp himself, it's not built around one or two men, but a team ethic and gradual development.
Klopp's Brand of Balance
The second half of this article is for subscribers only.
[ttt-subscribe-article]