On June 6th, The Tomkins Times subscriber and contributor Tony Mckenna (macattack) produced this epic comment exploring the benefits of giving a manager enough time.
It won the inaugural TTT Comment of the Month competition resoundingly, despite stiff competition from other great comments.
Here it is again, reproduced in its entirety as a stand-alone article:
Liverpool Local Radio Announcement July 1972:

"We interrupt this programme to bring you breaking news. Liverpool Football Club have decided to end their long standing relationship with Bill Shankly… sacking the Manager with immediate effect. The Club has thanked Mr Shankly for his contribution and service, but now feel that after seven years without a major trophy a different direction is needed prior to the start of the new season. It is not yet known what will be the fate of his backroom staff…there has been no announcement in relation to Bob Paisley, Joe Fagan or Ronnie Moran…(Fading) we are on the streets of Liverpool getting the reaction of local fans…".
No one can say emphatically what makes a good manager. Some believe, in fact, that they actually have no influence on success at all. Others claim that they do; at least to some degree. These are just the polar views within football fanbases with no definitive sanction for either.
Unfortunately, there is no cast iron guidance from experts and researchers. Despite drawing on evidence bases they replicate the same debate of attrition. This renders necessary the task of further exploratory research.
The explosion of Big Data in football means we have grown more knowledgeable about how the game works. Statistics may have caused schisms within the football fanbase, with Luddite extremism represented by those who refuse to engage in statistics at all. Nonetheless, even at a basic level, none could deny that if you want to buy a new striker, it is kind of useful to know what his current goals per game ratio is. But, on the issue of managers, could the proliferation of data have also distracted us from what have, historically, been other key measures of success? This commentary proposes to raise those entities to prominence so that they may receive due consideration.
Yet, there seems to be a preventative and wholly misguided obstacle to the realisation of such entities. Short-termism is football's undiagnosed disease.  What is more, where success is concerned, a prevailing culture is based on a shocking inability to apply the basics of probability on the part of football owners and fans. A mathematical misinterpretation that even primary school children would not make.
Soccernomics Versus The Numbers Game:
The publication of 'The Numbers Game' (Anderson and Sally) was a refreshing entry into the football debate arena. It meant that Soccernomics, (Kuper and Szymanski) would no longer hog the floor. Amongst other matters addressed, the authors have all wrestled with the question about whether football managers matter. And they differed. Quite significantly.  The former argue for at least a 15% edge on what good managers can effect, whilst the latter see no relevant contribution at all. Backing their hypothesis, Anderson and Sally highlighted the previously debunked 'Great Person Theory', reviving the notion that individuals have, and still can, change history directly as a result of their personal influence. They apportion this attribute to football managers drawing a parallel with top Chief Executive Officers (CEOs) in business organisations.
Kuper and Szymanski are proven vigilantes when it comes to their work being challenged. True to form, the updated version of Soccernomics went head to head with the authors of the Numbers Game:
"They say that managers matter rather more than we say; and they point to studies of chief executives making a difference in other industries. However, football isn't like most other industries. For a start, CEOs in other industries tend to stay in their jobs much longer. In 2011 the average tenure of chief executives of companies ranked in the S&P 500…was 8.4 years."
True. But stop right there and ask the question. Is it not the case that football should be like other industries?
Bill Shankly was not sacked in 1972 despite the fabricated News bulletin at the head of this article. Thankfully. We all know what happened subsequent to July 1972. It was the best of times. But in today's modern game, seven years without a trophy would certainly see a manager being sacked. It is frightening to think of the trophy haul that potentially may have been scrubbed from Liverpool's Honours list if Shankly had incurred that fate. Of course, we would never have known.
That said, with the benefit of hindsight, we may have an opportunity to reflect upon important precursors for success; ones that are currently omitted from the debate agenda: stability and longevity…which, in turn, help to foster communication.
Stability and Longevity:
Stability is an often quoted word without due diligence paid to the extent of the significance it plays in life itself. That is before we even speak about the role it plays in group formations and, by association, within organisations.
Coming into the world as utterly helpless infants, totally dependent on others for our needs, stability is supremely necessary for our successful development towards maturation. Disruption and disharmony will serve to undermine that development. We rely heavily on prime carers for our existence; how we interact and communicate with those people is crucial if we are to thrive. Moreover, the stability needs to prevail for lengthy duration. This may offer a suitable analogy for the development of football clubs.
Four pillars prop up football clubs: the Owners; the Players; the Manager; and the fans. Only one of these is a constant. If the fanbase is steadfast and loyal, change is inevitable in all other aspects. Who owns your football club is subject to change in any fan's lifetime. Players age, move on, or retire. Managers are sacked, and also move on, or retire. And if managers are sacked, the central tenet of this piece is that maybe they are sacked too lightly, too early and too hastily.
People do have to be adaptable to change in organisations. However, too much change in a space of short time can be debilitating, especially with a constant churn of personnel. Chelsea's success may not have been derailed after Mourinho's first sacking; subsequent managers held the reins successfully. But they did retain the same owner and, more crucially, the consistent unit of playing personnel; the group that Mourinho christened his 'Untouchables': Terry, Lampard, Cole, Cech and Drogba. This matters. Eventually, and as we now see, the challenge is to replace them.
The lull in Shankly's silverware acquisition also needs to be viewed in the light of the fact that the previous '60s team was being broken and a rebuild was necessary. The process is beautifully illustrated in Steve Horton's 'Ending the Seven-Year Itch'.  This book is criminally underappreciated, not just in relation to Liverpool, but in the business of football clubs in general. Here we see the talent Shankly had for recruiting superior players with the ability to relate to them in terms of forging excellent working relationships.
On this note, The Soccernomics authors provide a second riposte to the Numbers Game. The claim, however, that individual talent is more crucial in football than it is in other type of organisation is suspect; being undermined by one single word:
"…individual talent probably matters more in football than it does at, say, Tesco."
Probably? The wind careens in a direction far away from the realms of corroborating evidence bases. This is unhelpful to the ordinary fan who relies on respected researchers and writers to provide direction. Moreover, the hypothesis that an organisation, like Tesco, can rely less on individual talent smacks of artistic assumption. To be fair, it is something that only Tesco can comment upon.
The authors are referring to the talent of individual players where the best cost more money as a prerequisite for success. This notion is widely accepted but it says nothing about the ability of a manager who helps to source the best players; in short, a talent for optimum selection. Indeed, both Szymanski and Kuper already allude to the virtues of Brian Clough and Peter Taylor's recruitment strategy whereby they gleaned an edge in the marketplace. Another ingredient could be added to the mix: the emotional intelligence of managers to be able to relate to players and get the best performances out of them; here, communication and a talent for such may be key.
Ex-players who played under Clough and Shankly, for instance, have gone on the record to cite the charisma of both men; with respect, empathy and admiration clearly evident. An aptitude for man management is also often enthused and relayed. For example, Keegan recalled that Shankly was like a father figure to him. It takes great interpersonal skill to earn such respect from another human being. The connectivity may have an explicable context.
Communication:
Deloitte and Touche Human Capital surveyed American CEOs to determine the most significant HR issues for successful organisations. A resounding 95% cited "effective internal communication". However, a mere 22% believed that it was being delivered effectively. This figures.
There is a classic scene in the movie 'Cool Hand Luke', where Paul Newman shouts to law enforcers: "What we have here is a failure to communicate!" Then, they shoot him. Metaphorically speaking, this is what also happens in organisations.
Inevitably, organisations posit people in a hierarchal structure where power increases with each echelon higher up the scale. For those lower down it usually pays to accord with the viewpoint espoused by seniority. Even if it is wrong. Refusal to tow the company line makes employees vulnerable. This too often applies even when the oppositional view has validity.
The first law of any organisation: if it makes sense, it won't get done. And it usually won't get done because the dissenter has contravened the belief system of Senior Management. This cannot be.
Power is an aphrodisiac that all too often makes people dizzy, flushed with endorphins, and detached from mortal reality. Being wrong is unthinkable for those with a god complex. Listening to alternative viewpoints is not an option; or even accepting a hypothesis for critical analysis; and bigwigs will especially recoil from the notion of consulting, on an equal basis, with staff who are junior to their own lofty positions.
Conversely, the employee who contrives to sanction company policy, flattering the egos of management in the process, will often enhance their own career prospects. Workplaces have uncouth parlance for this practice: brown-nosing; sucking; creeping; arse licking. Meritocracy is not the usual order in organisations. This detracts from the essential openness required for constructive debate with people who may actually have much to contribute. Progress misses an opportunity.
Rafa's greatest achievement at Liverpool was possibly not the obvious happening in 2005; but rather what he achieved, in totality, under the working conditions of the club. There has never been a greater breakdown in communication, at Liverpool Football Club, than during the Hicks & Gillett era. Not only were both not in sync with Rafa himself, the escapade was elevated to ridiculous heights when the two Americans even refused to sit together. How Rafa must have suffered.
None of the above was the status quo when Shankly managed Liverpool Football Club. Great he was, but certainly no elitist, being flexible towards consultation and listening to others. These qualities would bear fruit in a hugely historical sense. In 1973, Liverpool suffered a crushing defeat on the European stage, to the crack Yugoslavian team Red Star Belgrade; a team who played a short passing game not yet adopted at Anfield. Shankly pondered the style but was consumed with self-doubt. Nor was it a unilateral consideration. Jonathan Wilson, (Inverting the Pyramid) singles out the seminal juncture in Liverpool's history citing the Boot Room meeting that, along with Shankly, included Paisley, Joe Fagan, Ronnie Moran, Tom Saunders and Reuben Bennett. It was a collaborative process; and one where effective communication led to decision-making of the most supreme kind.  And so it came to Pass…and Move.
In the same book, Wilson comments on observations made by Szymanski and Kuypers about the Boot Room and its importance to Liverpool's overall success:
"…the economist Stefan Szymanski and the Business Consultant Tim Kuypers claimed Liverpool's success in the seventies and eighties was a result of their organisational structure, of which the boot-room was a key part. 'The 'boot-room,' they wrote appears to have some kind of database for the club, not merely of facts and figures, but a record of the club's spirit, its attitudes and philosophy".
If the Soccernomics guys eulogise the effectiveness of such a unit, one wonders if they may re-consider the longevity of the personnel who comprised it. Revisiting the question: maybe football should be like other industries and that managerial staff should remain in their jobs longer? After all, those facts and figures, the club's spirit, attitudes and philosophy, all run the risk of being discontinued, changed and lost, as new people arrive at the helm. Such a loss is symbiotically dependent on what the definition of success is.
Was Wenger Right?
Wenger was under siege last season from many disgruntled supporters. But it is not just recently; the discontent has been brewing for some time. The angst has been based on a lack of trophies, particularly the hiatus regarding a title win, since a brace of FA Cups has done little to mollify the 'Wenger Out' brigade. At one point the beleaguered manager defensibly stated that a fourth place finish was equivalent to winning silverware; this was met with laughable disdain from many of his detractors.
But was he right? Clearly, Wenger has a remarkable record in terms of consecutive top 4 finishes; something that has surpassed the achievement of the other troika making up the one-time cited 'top 4 clubs': United, Chelsea and Liverpool. Respect should be due for that alone. Certainly, most fans would desire that same consistency since it has led to regular Champions League qualification.
Then there is the revenue gained. The most important aspect of any football club is its economic viability and sound financial affairs. Disagree with that, then consider Rangers, Leeds, Coventry, Bolton et al. Liverpool fans can also easily forget the situation under Hicks and Gillett because the worse outcome did not actually happen. But we were standing on a potential sinkhole with the collapse only being averted once repair endeavours responded to the emerging cracks. We were already hovering precariously above the relegation zone with reportage of possible point deduction as penalty for the toxic mix of financial shenanigans.
Not only do Arsenal boast a luxurious new stadium, they are also the top London club in terms of revenue earned, eclipsing that of Chelsea who have recently declared retrograde outcome with revenues down on the previous year. Arsenal's enviable position has been achieved under Wenger's tenure. It should count for something but obviously it has not; many fans perpetuate a fixed focus on trophy accumulation; or lack of. Now here is the blind spot in football's wing mirror.
Improbable Probability:
Ask a group of primary school children can you share two sweets between 30 people. A bellowing 'no' will follow. However, this is a simple illustration of what football owners and fans fail to consider; and the former supposedly being astute business people at that.
Let's face it, the big clubs at least will tend to prioritise the Premier League and Champions League. But if success is measured in just two arenas it means a complete ignorance of the amount of competitors all espying the same allure. Truthfully, the probability of attaining either of those trophies should be divided by the sum total of all the other clubs chasing the same thing. The complexity mutates if one was to factor in the incidence of injuries or suspensions for key players at crucial times. Not to mention the bad luck that can occur during games: players sent off;  missed penalties; poor refereeing decisions; players slipping at the wrong time; etc etc. None of these occurrences can be blamed on the manager. It is not too difficult to appreciate that the measure of success in football is terribly flawed.
But this is how football clubs set the barometer. It will usually differ from club to club depending on the size of the organisation. For United, City, Liverpool, Chelsea and Arsenal, a serious challenge for the title is desirable. Failing that, a top 4 finish. Already we see a problem. Mathematically, those five clubs cannot all win the league nor finish in the top 4. That is with having failed to include Spurs, or even mentioning Leicester, and an ambitious West Ham for that matter.
Whatever the barometer, if it is not met then the manager usually walks. But removing the perceived problem is not necessarily a solution-focused approach. Despatching Moyes in favour of Van Gaal is a clear and very recent example. In turn, the risk is then the issue of a new guy familiarising himself with the squad and all the other personnel that staff a football club. The communication dial is back to zero and needs to be built upon with all the uncertainty this brings. And, with Van Gaal, we have learnt that he was not the best communicator United could have sourced.
Wenger's achievements at Arsenal should probably be considered as huge. Historically, the amount of trophies won, though fans may be unwilling to concede, is probably more than can be expected of most clubs in the time frame the Frenchman has been at the helm. Chelsea's resurgence may not have helped Wenger, as a capital rival, but then this was a club that had been waiting half a century for a another title win. Wenger has also had the misfortune of a contemporary in Ferguson, an outlier; but even this outlier bears an historical caveat: recall how long it was before the Scot attained success at United. Due, in large part, to the incidence of the Class of '92.
Klopp the Kommunikator:
It is not the case of lowering expectations; but rather the need for realistic expectations. Take Klopp: two titles over the next 10 years would be better than none with four different managers in the same time frame.
If a decision ever did loom about the German's future then, hopefully, consideration will be given to his personal qualities, as well as his knowledge about the game itself.
When it comes to communication Klopp may be on a branch higher up the tree of life. He is rich in emotional intelligence and peerless in that regard. Most misunderstand him. Consider the guffaw when millions harked at him for 'celebrating a draw'. Except he wasn't. Rather, he was ensuring that he and his team paid tribute to the Liverpool fans; in short, communicating gratitude with the attendant connectivity that this implies. This is Shanklyesque.
Likewise, consider how his players have responded to him. The game against Norwich, following Lallana's winner, saw a touchline dash as celebratory players gravitated towards Klopp, knocking the German's glasses askance in the process. This is a guy who has not even had command of that group for a full season. Factor in also a player who is no longer even resident at Anfield:  Steve Gerrard has publicly stated that he would have loved to play for him.
If not play for him, then maybe he can work with him in an understudy managerial capacity. Add Carragher, and others, in similar fashion emulating the tried and tested efficacy of the unit that was the famous 'Boot Room'. Hopefully, Klopp will retire from Liverpool one day as opposed to being sacked or purloined by some other predator club. In that event, we have a readily available backlog of managerial replacements already schooled in the clockwork mechanics of what makes Liverpool tick.
The skill of Communication begins with Klopp; the affinity with the fans is cemented giving a foundation on which the ex-players can build should they accede to the helm. Communication…reinforced by stability and longevity. Not to be broken.
In any case, the current model for choosing a manager is merely a game of international musical chairs, whereby managers can never really establish a lasting rapport with fans if they are never in one particular seat for long. A journeyman may beat his chest pledging loyalty and undying love, stroking the club's crest. Then he pops up at a bitter rival. That is just describing Mourinho's travails en route to United. Now there is a person by no means flawless in the communication department. We shall see.
A New Statistic:
If communication is important in organisations, and there is evidence that it is, then its preserve through stability and longevity in personnel may be crucial. This is important enough for football clubs to consider at least. As we have seen, organisations do prize the value of communication but they dramatically fail to practise its virtue; sometimes what passes for communication is just a semblance of the genuine article. At Liverpool, in Klopp, we currently have a bona fide proponent of the art. He should be given time to implement its influence.
Where success is concerned we may need to be more realistic. We may even need a new statistic. The statistic that arrives at the following equation: the number of trophies won by a team alongside the following variables: length of time a club was under the same ownership; the same manager was in post; and the percentage of appearances by the same key players.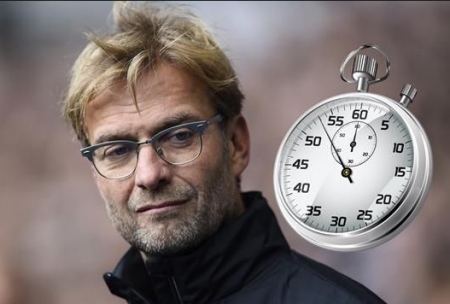 It is all hypothetical. Until someone builds the appropriate database and applies it. But if they do, it does, at least take us away from everything else that has already been applied. For the time being, football clubs may be doing it all wrong. Maybe at Liverpool Football Club we could start a trend of doing things differently? Above all, appreciate that progress is not a smooth trajectory. Meantime…managers may actually matter to significant enough percentage degree. Let's hang on to what we've Klopp.  ????
"The single biggest problem in communication is the illusion that it has taken place."

George Bernard Shaw, Leadership Skills for Managers.