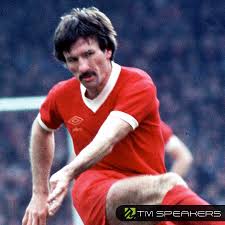 by Chris Rowland.
Liverpool scored from a corner!
Just the other day, I mean.
Steve Heighway took it. There was a thumping header. You know the one. Rome, 1977.  It means Liverpool are back in front, 2-1, in the European Cup Final after a shaky spell following Moenchengladbach's equaliser.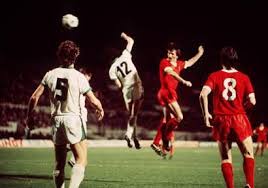 'That' header …
All those thousands of Reds fans in the Eternal City, many with Eternal Hangovers, trying to get back to Anfield for the Friday night after That Wednesday, to see the testimonial of the man who scored it.
Many thousands made it back in time. 35,694 fans made it in total, to honour the local boy and new-found goalscoring hero – as well as saluting the new European champions.
Scoring goals was not, of course, what Tommy Smith is known for. Preventing them was. More than that, preventing them with a certain, what shall we call it, physicality?
'The Anfield Iron', they called him, and stories of Smith's hardness are legion. When legendary Spurs striker Jimmy Greaves came out at Anfield once, Smith handed him a piece of paper. Greaves asked what it was. Smith replied: 'Just open it.' It was the menu from the Liverpool Infirmary.
As Bill Shankly put it, succinctly as ever:
There was an element of notoriety about it which I think he quite enjoyed, but if any opponent cared to put that reputation to the test, Tommy didn't disappoint them.
"Tommy's gonna get yer, Tommy's gonna get yer", goaded the Kop to any opposition player brave or stupid enough to start throwing his weight around. No empty threat this. Any trepidation the opposing attacker might have felt would have been entirely justified. First the admonishing finger wag and the slit-eyed stare from that chiselled Charles Bronson face. Then the treatment. Probably followed by another finger-pointing, Smith's calling card. 'Don't come near me ever again in your life' was the message. He probably said as much.
Back in the days when every side had a legendary 'hard man' – Norman Hunter at Leeds and Ron 'Chopper' Harris at Chelsea were only the infamous ones – Smith could 'handle himself' as well as anyone.
The rest of this article is for Subscribers only.
[ttt-subscribe-article]