By Daniel Rhodes.
Mastering the art of buying stars before you pay a star premium is the hidden gem of football scouting, and something very few clubs – especially in the Premier League – do very well. The current champions Leicester City might be an exception to this, having signed Mahrez, Vardy and Kante for peanuts. They probably have a market value somewhere around the £90m mark (for all three).
Liverpool have signed Marko Grujic, a fairly unknown midfielder from Serbia. Centre-back Joel Matip, on a free transfer, but a more well-known name; and finally Loris Karuis, a goalkeeper who was barely linked with the club, especially compared to Timo Horn or Marc-Andre Ter Stegen, and only known by those who pay particular attention to the Bundesliga.
One thing I've realised (in the very short time) since watching such a wide variety of players in such different leagues, is how tough it can be to get a sense for a player. If there was more time available I'd continue viewing the clips, but add it to watching full matches so I get a sense of their tactical behaviour, and movement off the ball.
Viewing the Danish top division, U17, U19, and U21 international football, Serie B, the Championship, and the development league in England, the huge gulf in standard between the various levels of football is possibly the key factor when drawing any conclusions. It is a massive caveat. It is the most important point; and is probably the reason why the potential fees being discussed for Bastien (£4m) and Mor (£6) are so small.
Stats Profile:
Bastien: 19 years old, Belgium U21 international, who spent last season on loan at Avelino in Italy's second tier. Owned by Anderlecht. Midfielder.
He's managed two goals and one assist in his brief career of 3,400 minutes across various youth levels and Serie B. In total, he takes 1.2 shots per 90 minutes, which is good for a central midfielder playing deeper, but would need more improvement if he's pushing further forward. In terms of creativity, his record is poor, having only created seven chances across all minutes, or 0.3 key passes per 90. Three interceptions per 90 shows his game has a more defensive edge to it, although looking at the videos below you'll see his energy when closing down opposition defenders and their goalkeeper. One point was his decision-making about when to press, and often wastes a fair bit of energy trying to close down a player who has plenty of time. Looks like his main assets at this young age are his energy and pace. Looks very quick, and incredibly mobile. Also, on his shot videos below, he's clearly two-footed.
Mor: 18 years old (turns 19 in July), recently picked for the full Turkey squad, born in Denmark and represented their youth teams upto U19, plays for C Nordsjaelland in the Danish Super League. Attacking midfielder. 
I'm even more reluctant to include some of his stats because of the tiny sample (900 mins), with two goals and two assists. Just under three shots per 90, which is good for an attacking midfielder, but his real skill seems to be dribbling, at pace, in tight spaces, with close control. Over a period of ninety minutes, he is involved in a 1 vs 1 with his opponents or attempts a dribble 15 times. Usually in the final third, as the image below illustrates.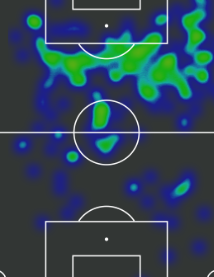 He's also attempted 1.6 (or 22 in total) throughballs per 90. Which is 0.6 more than Lionel Messi (1), or 1.1 higher Mesut Ozil in the Premier League with 0.5 per 90. Again, the small sample is key here, but at such a young age, to be threading passes with the vision below, is incredible. Of course they aren't all successful, but some players don't even have the vision to try them, which is why the volume of them is so sparse in football.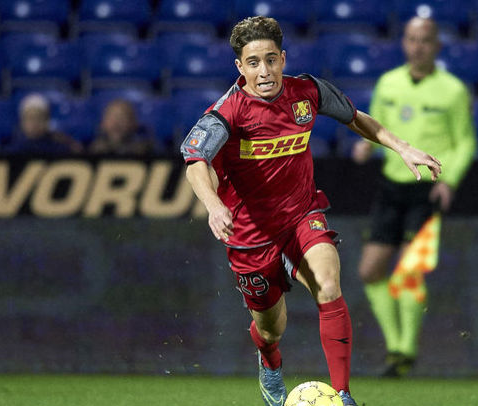 The rest of this post is for subscribers only, and includes some video analysis using professional scouting software. Bastien's videos are split up into: Pressing, Shooting, Interceptions and Defensive Positioning. Mor's are split into Shooting, Dribbling and Throughballs. And shooting is certainly a weakness in his game. Which is welcome, to save my sanity, because I'd already fallen in love with him…
[ttt-subscribe-article]