We asked our ever-growing panel to assess the performances this season of players in the first team group. Using the sweepstake method to allocate a player against a writer (and we were all delighted with our eventual allotted choice!), we now offer you this personal view of the players this season.
(NB – we will still be running our annual 'Should they stay or should they go?' series this summer, but that's about their future with the club rather than their past, like this one).
By James Keen (TTT Subscriber jimtheoracle).
This was a tricky one.
I'll be honest when the draw was made I didn't have a clue what to say, I had so many plans when the idea was first proposed. A barrage of images. I wanted Kolo, I'd have employed an extended shower curtain running gag. Or Moreno, I see him as a wonky eared mongrel puppy and believe me I'd have stretched that metaphor to beyond breaking point. I had 1000 passionate words about Can's hair, who doesn't go weak at the knees over that magnificent coiffure? I'd even have taken Benteke, strong, powerful, skilful but apologetic and polite about it. Lucas? What is there to say about Lucas?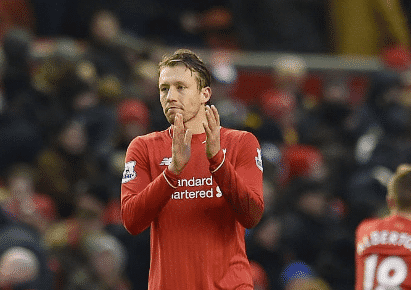 Unlucky!
Anyone?
Unlucky!
Maybe I could talk about how I feel when I watch him play? Mainly I feel scared, scared that he'll take someone out. I have the same trepidation when he goes after an opposition player just outside his own box that I did with a young Gerrard. Screaming, pleading, don't do it! It's not a tactical yellow when it's just outside the box! This was the scene in my living room seconds after Lovren scored that wonderful, orgasmic winner against Dortmund. Lucas performs one of his textbook fouls on Lukasz Piszczek (perhaps he was annoyed he can't spell his name correctly) breaking play up and disturbing the rhythm of the opposition, except it's the 93rd minute against a better team, this is right in Gündoğan's range. Fortunately Gündoğan misses and the party starts but Lucas could have cost us, he has a habit of giving silly fouls away and it's a problem.
I feel scared that he'll have a great game and he'll inveigle himself into the team for a few weeks until yet another manager realises he's nowhere near mobile enough to be a central midfielder of any substance anymore, that his fouls and snark in midfield without the kinesis of his youth is a liability. His zenith was undoubtedly those months in 2011 when he looked to have established himself as our most important player. A midfielder of great power and tactical acumen; a man at the base of an improving side, he was going to be there for years to come. Unfortunately that side didn't improve like we'd thought and although Lucas has been in our midfield for years it hasn't been in the way I imagined then. As a fan I have been feeding off that purple patch when he looked genuinely like one of the best in the league, and yet in the subsequent years have slowly realised he will never be that player again.
The rest of this post is for subscribers only. 
[ttt-subscribe-article]