By Chris Rowland and Daniel Rhodes.
W/c Monday 4th April 2016.
Welcome to our weekly round-up, a diary of news and events on the site, matters relating to LFC and the world of football generally.
The Week in Football – Liverpool FC:
Monday:
Jürgen Klopp described not securing victory over Tottenham as a 'knock' – but one that he considers normal in the development of his side (LiverpoolFC.com):
"On a special day, we are really strong.

"We are the last who have to learn to believe, because the crowd is behind us and everybody enjoys the game. It's not allowed to take breaks in the game and obviously we had them – the goal we conceded is a good example.

"But it's not the first time in my life that I have to build up something and it's always like this. On this way you always get knocks, otherwise it would not be a way, it's only an explosion. And that's not football.

"[There were] a lot of good things and a few not-so-good things. A draw is a point more than before; it's not what we wanted but it's what we got. We have to carry on."
Liverpool's performance in Saturday's draw with Tottenham proved this team is on the right track, according to Jordan Henderson. (LiverpoolFC.com)
"Even though we lost to Southampton, in the first half of that game we were brilliant. In patches we were very good again against Spurs. We just needed to be a bit more patient with the ball at times.

"We matched a very good side who are going for the title, so that shows what we can do. On another day we would have won the game. It was a good game of football to play in.

"Spurs are a very good team and we saw that. But we did well and created some good chances. If we had been a bit more clinical we could have got the three points, but in the end a draw was a fair result."
Henderson also said he is hoping the heel injury that has affected his season will soon be a thing of the past. (LiverpoolFC.com)
"I feel as though now I'm starting to get back to the physicality – that's a big part of my game. When that's correct then everything else seems to flow much better. I felt good against Spurs.

"When I was away with England I think I put in one of my highest performances of the season [against Germany] in terms of the physical side of the game, which was pleasing for me.

"I got confidence from that and I just need to continue to work instead of trying to play catch-up all the time."

I feel better physically all the time and I'm getting back to where I want to be."
Borussia Dortmund striker Pierre-Emerick Aubameyang, 26, is ready to show Jurgen Klopp he has moved up another level as he prepares for a reunion with the manager he says "made" him. Dortmund face Liverpool in the Europa League quarter-finals with the first leg in Germany on Thursday. (Mail)
Today's 'and finally' –  the iconic open top bus that paraded Liverpool's Champions League-winning side through the city after their triumph in Istanbul in 2005 is now available to buy as a Lego toy. (Liverpool Echo)
Tuesday:
James Milner has talked up Liverpool's chances of pulling off another big win this season when they face Borussia Dortmund in the Europa League.
"We don't fear anyone and we've proved this year we can beat anyone," he told Liverpoolfc.com.

"We have to make sure we're on our game and if we do that we've got every chance of going through to the next round."
Striker Jerome Sinclair's future at Liverpool remains uncertain, with the 19-year-old keen to leave in search of more regular game time. (Liverpool Echo)
Thursday: 
Watch both sets of fans sing 'You'll Never Walk Alone"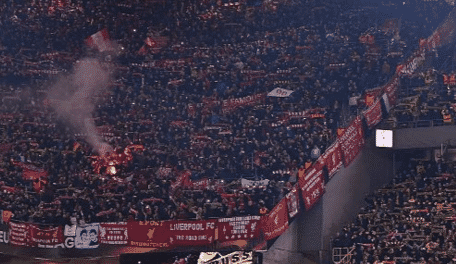 Dejan Lovren suggested the Reds' defensive discipline was the key to their draw in Germany, against one of the best attacking line-ups in Europe (having outscored Bayern Munich this season):
"We knew it would be a tough game, they were keeping the ball really well."

"We had a couple of chances in the first half maybe to kill them but in the end I would say it was a good result for us with an away goal.

"We need to do even better at Anfield, definitely, but I'm satisfied today.

"It was a great job from everyone today, we had great discipline in defence – all 11 players.

"It was quite noisy, we couldn't hear each other, but it was a great defensive job."

"With our supporters we have a man more on the pitch."

"It will be a great game again, it was great tonight, but we need to play better and keep the ball more than tonight. I'm confident in our team."
Divock Origi was also full of praise for his teammates and manager:
"We were playing a big team and, as the striker, I had a big responsibility but I felt the support of everybody from the coach to my teammates and the fans.

"Everyone tried to help me as much as possible and it showed in my performance. I only knew [I was starting] when I saw the teamsheet, which was today.

"I was happy to play in such an important game, which is what you strive for as a footballer."

"We worked a lot tactically and [Klopp] knows my qualities and told me just to use them," he added.

"Everyone said I should play to my qualities, which is getting in behind the defenders and taking them on one-on-one and of course, importantly, scoring. I'm very happy that I could do this.

"I saw Millie going for a header and I read his game a little bit and went deep and the ball came to me.

"I could feel the defender was close and usually they open their legs, so I tried to shoot it the other side and it went in."
Friday:
Jürgen Klopp confirmed Jordan Henderson is facing a spell out of action after sustaining a knee injury during Liverpool's draw with Dortmund.
Here's the match stats from the game last night: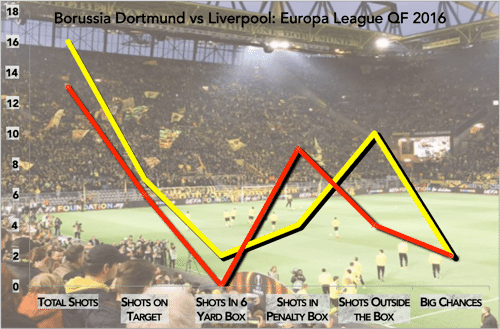 Borussia Dortmund tweeted this picture of Liverpool fans in the city before their Europa League quarter-final first leg on Thursday, which ended 1-1. Liverpool were allocated 3,400 tickets for the match but more supporters are thought to have travelled for Jurgen Klopp's reunion with his former club.
The Week in Football – General:
Monday:
Chelsea announced the appointment of Italy manager Antonio Conte as their new manager.
Interim Blues manager Guus Hiddink will urge his ­successor to see youth as the future and ensure that the talented players emerging from the club's academy have a clear pathway to the first team. (Telegraph)
And former Chelsea boss Jose Mourinho has emerged as a top target to take over as manager of the Syrian national team.
Those who backed Leicester City to win the Premier League title with Betfred have cashed in, with the firm paying out after the Foxes' 1-0 win over Southampton. (Racing Post)
Tuesday:
An Italian prosecutor has requested a six-month suspended jail sentence for Antonio Conte over his alleged role in match-fixing, the Italy manager's lawyer has said.
Conte, who denies any wrongdoing, is accused of "sporting fraud" by prosecutors in the city of Cremona. The case focuses on 2011 when he was in charge of Siena in Serie B.
The 46-year-old ex-Juventus boss agreed a deal on Monday to manage Premier League side Chelsea after Euro 2016.
Head over here for the full story.
Some of Manchester United's younger players see manager Louis van Gaal as "a grandpa" whose management style is outdated. (Mail)
But Dutch newspaper De Telegraaf reports that Louis van Gaal will remain as Manchester United boss next season – and will be given £80m to spend in the summer, most of it to be used on a striker.
Great news there for Utd fans …
The rest of this round-up is for Subscribers only.
[ttt-subscribe-article]