Heading into this game, Dortmund had something of a minor injury crisis with their first choice centre-backs and key midfielder Gundogan injured. While the German playmaker remained out of the game, both Hummels and Papastathopoulos were back with the former being recalled in the starting XI.
All this meant Tuchel had the chance to mostly play with his first choice team, albeit with Gundogan out and Kagawa remaining on the bench. Being a Europa League clash, the Dortmund manager rotated as in previous rounds and used his veteran 'keeper Weidenfeller in addition to giving Bender another start at centre-back.
Liverpool were also close to their supposed best line up with Klopp taking the decision to keep both his starting forward Sturridge and the returning from injury Firmino on the bench.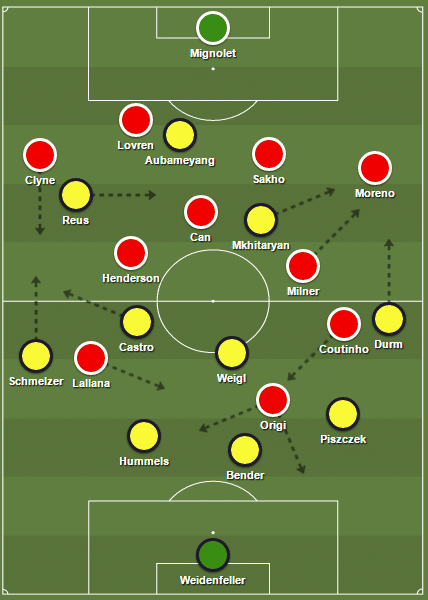 Dortmund – from a fluid 4-3-3 to a structured 4-2-3-1
Obviously, the absence of Gundogan would've prevented Tuchel playing his absolute best line up and continuing with his most fluid and attack-minded 4-3-3 formation. But it was still a strange decision to see him go so far away from it and name what was always going to be a much more structured and rigid 4-2-3-1 shape instead.
Instead of having a rotating and fluid midfield unit full of creativity and added threat from deep (due to Kagawa and Gundogan playing ahead of Weigl), here the hosts had the drastically restricted in terms of both movement and passing capabilities Castro-Weigl pair who played in the same line, with Mkhitaryan stationed ahead of them in a bit more right-of-centre position. Then instead of having the fluid front three, similarly to the midfield one, full of rotation and constantly roaming all over the final third space players, Dortmund had a natural right-footed left-back as the right winger with Reus keeping his position wider than usual down the left and Aubameyang trying to work the channels on his own up front.
The chosen line up hinted strongly at a massive shift from the possession-based and fluid 4-3-3 to a much more direct and rudimentary 4-2-3-1 given the presence of so many dribblers and runners and the lack of genuine ball-players (bar Hummels and Weigl). The absence of both Gundogan and Kagawa also was a huge sign of the shift in playing style, given they are the team's only true playmaker and creator, respectively.
Given how Dortmund approached the game following the kick-off, it looked like they were happier stopping the opposition scoring goals than fully committing to their usual attacking style. On one hand, this could easily be explained with the general change initiated by Tuchel since the winter break, which sees Dortmund looking to shore up their defence instead of going all guns glazing in each game (as was the case from August to December).
The rest of this post is for subscribers only.
[ttt-subscribe-article]