By Paul Tomkins.
Okay, so it's a bit longer than a month, but the 2nd of March to the 20th of April has to be up there with the best 'months' I can recall as a Liverpool fan, outside of the remarkable May months that have seen the biggest trophies won. No trophies have been decided in this period of time, and the euphoria hasn't matched the title run-in of two seasons ago, but it's just been an incredible run of results, based on the opposition, the excitement and the comebacks.
I always overlook things when writing this kind of piece in the immediate aftermath of a great win (there's no point in spending two days researching everything and missing the zeitgeist), but I think that playing Manchester United over two legs is such a rarity – the first time, indeed, in Europe – so it's unusual to play them twice in such a short space of time, and even rarer to 'beat' them twice: the first time 2-0, the second time a 1-1 that essentially worked as a victory for the Reds.
There was that hugely memorable week or two under Rafa Benítez when beating Manchester United 4-1 at their place, Real Madrid 4-0 at home was added to with a 5-0 thrashing of Aston Villa when they were pretty good. And 2000/01 got better and better, although most of the excitement came in May, and in this case I'm talking about runs before the kind of climax that this season could yet have.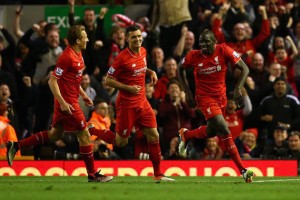 Then there was the 14-game run between January 28th 2014 and April 20th, with a (now familiar) 4-0 victory over Everton, a 3-0 win at Old Trafford, a 3-2 victory over Man City, a 4-0 win over Spurs at Anfield, and the 5-1 thrashing of Arsenal, with the "excitement" of the nervy 3-2 win over Norwich to end on. Some incredible results, but that was getting on for three months.
In the same period of time – reducing it to a month and a half – it goes down to just eight games, from the Everton thrashing to the 3-0 win at Old Trafford, with Arsenal in between twice, with a 5-1 win and 2-1 cup defeat (plus a 4-3 win at Swansea). That was still pretty special, with the early 4-0 lead taken against leaders Arsenal in February quite surreal.
This run of 11 games may not be as one-sided as some of those, but these have been hard to beat for the sheer thrills:
Liverpool 3 Man City 0

Crystal Palace 1 Liverpool 2

Liverpool 2 Man United 0

Man United 1 Liverpool 1

Southampton 3 Liverpool 2 (okay, not so good)

Liverpool 1 Spurs 1

Dortmund 1 Liverpool 1

Liverpool 4 Stoke 1

Liverpool 4 Dortmund 3

Bournemouth 1 Liverpool 2

Liverpool 4 Everton 0
A run of eleven games, with seven of them in bold to symbolise huge occasions – games against elite opposition or derbies of hatred (no longer a need for an "and/or" there) – and with one of the others a record-breaking comeback with 10-men from a goal down (the first ever time the Reds have come back from a goal down at half-time after having someone sent off).
Obviously it includes the Reds' own collapse at Southampton, albeit after one of the best halves of the season, when 4-0 at half-time wouldn't have flattered the Reds. A second remarkable comeback – against Dortmund – seals the excitement levels. Two ultra-rare comebacks in a run of just 11 games?
The run started straight after losing the League Cup final to Manchester City on penalties. In the hands of many other managers, such a setback would be the end of the season – indeed, winning or losing the League Cup final can kill many seasons, due to the odd nature of a final being decided in February. Under Jürgen Klopp, it's been a springboard to get better.
I said earlier in the season that you have to give a manager like Klopp time, because although he's a master motivator, he has a strong tactical identity (even if he's not necessarily a tactical maestro), and like the methods of this Saturday's opposition manager Rafa Benítez, these things aren't instilled into teams overnight. You may get a bounce, but usually it takes a few months for them to get their ideas across to a sufficient level, especially if they are working only with someone else's players. You may get some good results early on, but no consistency.
They rely on patterns of play: defending and attacking as a team, which requires understanding and hours of training-ground work, as opposed to five-a-sides; fitness to work hard and press tigerishly, which must be built up if inheriting mid-season from a manager who isn't quite so interested in that; and experiences – defeats as well as victories – from which to learn, and on which to pin belief. Both managers use rotation, so they need to make sure everyone in the entire squad is up to speed.
And they are training-ground managers who work on the players' technique and decision making, with ceaseless drills and instructions that, if the players can handle them (and take them all in), help in vital moments on the pitch; not quite muscle-memory, but appreciating the tactical nuances and being able to put them into play. It may not be Barcelona under Pep Guardiola, but it's more sophisticated than getting everyone behind the ball and hitting the channels.
At first, the players were running their socks off for Klopp, but not necessarily knowing where and when to run. Then they hit a wall, due to fitness issues, and injuries set in. The middle part of the season was a massive collision of tons of football and a heap of injuries.
And yet, even before Klopp has even put his stamp via the transfer market, this is the best Liverpool team since 2008/09.
The front six were excellent in 2013/14, and Luis Suarez was head-and-shoulders above everyone else in the league. They were better, as players, than the front six Klopp can call on, although Klopp's collective are younger and still improving. Klopp didn't inherit a genius like Suarez, nor an icon like Gerrard who, though melting, was superb for four or five months in the deep playmaker role, in his last hurrah.
Brendan Rodgers didn't get lucky or fluke the run that year based on having the Uruguayan, but he had almost no cup games to contend with, and that helped keep the injuries down to the minimum. The joy of this latest run is just how many changes Klopp has had to make, and how it hasn't seemed to matter.
That 2013/14 side was wonderfully exciting, but it was half a team: the front half. This almost cries out for a pantomime horse reference, with the defenders having their heads up someone else's arse, but they were offered precious little protection – no centre-backs looked any good under Rodgers due to the openness (and we remember Skrtel for his goals at the other end). And yet … it almost worked.
This, however, feels more substantial. While not perfect at the back, the team feels more solid. It feels cohesive, unified, whole.
And Rodgers was ultimately undone by the arrival of Mario Balotelli, a kind of symbol of all that's wrong with modern football: a great talent, and apparently a nice bloke, but whose lethargy moves with him from club to club like a virus.
Football is infinitely higher profile than years ago: more televised games, far greater media coverage (go and look at an old newspaper before the 1990s); there's the internet; there's the fact that there are a far greater number of cameras and tracking technology so that not even a nose-spit gets missed; and so on. And at the same time, players are paid increasingly ludicrous wages, and shunted around by mega-agents like pawns in a game.
This leads to the twin dangers of fear and complacency. Add to that the large turnover of players at clubs, some of whom may not even want to be there, and it can be hard to get a consistent identity, and a sense of a "team". It's just a collection of disparate parts, all wanting different things, some of which includes setting of fireworks in their bathroom.
And that's why Klopp is such a brilliant manager for Liverpool – he has ultra-modern tactics, but he totally understands how to bond a team, and to inspire it. Some can read up about man-management, but Klopp simply has the natural gift.
There are plenty of great managers who aren't so tactile and, at times, downright jolly, but Klopp, while bonding the team, also berates the living hell out of them. And yet, at the end of the match, he goes and hugs them. Players get dropped if they're not playing well, not for any personal animosity. There's no sense of agendas, which can propagate resentment.
In a season of big-club implosions, unity has been shown to be vital. Until this season, unity would only get you so far, but things appear to be changing. Leicester and Spurs have kept some continuity, with the big player turnovers of the past (essential at the time to get the quality in) no longer necessary.
Perhaps we have reached a tipping point where the super-expensive teams can no longer compensate for a lack of heart and effort with bought-in quality, especially if they end up misfiring in the transfer market. It often takes players time to adapt after moving clubs, and at the biggest clubs there is just generally less time for anything.
The rich-club malaise is perhaps, in part, due to a triumvirate of managerial problems: not quite exceptional enough (although if Pellegrini wins the Champions League, we'll have to reassess that); not a good fit for the club and its fans; and so explosive that the club (in west London) was almost torn apart by internal ructions that poisoned the waters. Chelsea were the one club who had the right manager, in terms of calibre and fit, but in his case, his time to self-implode was nigh.
Indeed, maybe there's a fourth reason, for the 4th-richest club: stagnation, after 20 years in the job, and how each campaign gets derailed in a rut of never quite being hungry enough, or good enough, at different times of the season – with Champions League games, and domestic cup runs, impacting on their ability to really go all out for the title. At Arsenal, there's always a wall that they hit, usually with a spring-based fixture pile-up, and often with the players wilting.
Some high-profile Arsenal fans wanted Klopp as their manager, but I never felt he'd be a good fit there. That said, his football is more than just 'heavy metal'; there are classical elements too. It's like Beethoven's 5th played by Megadeth at 78rpm.
It's beautiful, but it's just utterly relentless. In some ways it's summed up by James Milner: marathon running, stray quick passes into touch, and crosses that are works of art (unless taken from the corner spot).
Or Adam Lallana, who is lightweight, can't finish with any reliability, but runs everywhere and creates space and chances. These two open things up for the greater cutting edge of Philippe Coutinho, Roberto Firmino, Daniel Sturridge and Divock Origi, plus emerging youngsters like Ojo, who has John Barnes' mojo. The Reds annihilated their Mersey neighbours last night. It's the first time I can ever say that 10-0 wouldn't have flattered the Reds.
We experienced a win that was undermined by just how awful Everton were, and at the same time, made even better by just how awful Everton were. The worse Everton got, the more joyous it became, even if it started to seem too easy, and less like actual sport. I'm not a big fan of showboating, but when you're 4-0 up, and one of their players has tried to break the leg of one of yours and seemed proud of it, and their fans are singing sick songs, then fuck it, go showboat. Lallana, you may now roll your studs over the ball; Coutinho, you may now play headers and volleys on the flank; Sturridge, you may now shoot whilst looking in the totally opposite direction.
I guess we'll know how much all of this means for this season once the two games against Villarreal are out of the way. But even if the Reds falter, how can anyone not be inspired by this season, and Jürgen Klopp? It's been a season that's seen the emergence of fine young players, the evolution of already established players, and the moulding of a manic style of football that takes the breath away.
And the German has barely got started.
This is a free article. Please help support the production of content by subscribing to The Tomkins Times. This site will only survive and thrive if people get behind it.