Liverpool's Euro magic, by Chris Rowland.
So tweeted Luis Garcia, himself a central figure in another legendary Anfield night, after Liverpool's stunning fightback against Borussia Dortmund last Thursday.
A remarkable aspect of the night was that Liverpool were pretty much eliminated not once but three times – the beast that will not die! At 2-0 down in the blink of an eye, and again when, just after Origi had rekindled hope, Reus snuffed it out again. We were done for again. Definitely this time. Three goals to find in about half an hour, without conceding any more to this jet-heeled counter-attacking machine that would surely tear holes through Liverpool's tattered rearguard we we pressed forward for goals.
But then Coutinho's goal, a thing of beauty, and the miracle may just be back on. There is a flame that never goes out. By the time it was 3-3, you could almost overlook that we were still losing on away goals as stoppage time arrived. Credit for the fightback, but it surely couldn't happen again .. could it?
But haven't we seen this movie before?
Because it wasn't Liverpool Dortmund lost to.
I think we all know that that they're a better team than us, though not by that much, further along in their project, the finished article to Liverpool's work in progress – hell, there are no players in the squad even signed by its manager yet.
But there is a force, once unleashed, that can render such superiority meaningless. On certain occasions, magic seems to materialise in the Anfield air, as if some celestial force has been set loose into the night, swirling above the floodlit arena, making the unthinkable possible and emasculating those that dare seek oppose it.
As I posted on the site last week:
Like Milan in 2005, what Dortmund failed to cope with is a developing situation, a confluence of circumstances that coalesces into something of a supernatural, irresistible phenomenon. When all those factors – Anfield, past lessons, belief – come together, it doesn't matter how good your team or individuals are, how experienced in such occasions they may think they are, there is no human or collection of humans that can navigate the unnavigable. Although we were always behind, I just kept thinking 'how will Dortmund react if we start closing the gap, getting close, and the atmosphere cranks up correspondingly? How cool will they be then?'

To be honest, I thought them less likely to crack than Milan. But they're still human. They cracked.

The trouble with LFC's magic is, it can't be conjured up at will. It can't be summoned if you're 1-0 down in the league against West Ham or Palace. There have to be exceptional circumstances for it to happen. But when it does, there is no opposing it. It will prevail. And the more it happens, the more we – players, fans, managers, opposition players and fans – believe it can happen, and the stronger the magic becomes.
Dortmund manager Thomas Tuchel said afterwards, still in a state of shock: 
"I can't explain it, it was not logical. It was very emotional. At the end at 3-3 everyone here believed it was meant to be, it was destiny.

"If you have such a strong belief then things can happen.
Jürgen Klopp spoke in similar terms.
"Something happened in the stadium". "You could hear it, you could feel it and you could smell it."
Over in Germany, Spiegel Online, too, was taken in by the atmosphere at Anfield:
"It can come across a bit strange when footballers evoke magical powers and make it seem as if not their own mistakes but supernatural powers had brought about a defeat.

"But among the football-faith community the legendary Anfield Road stadium is not considered a sacred site for nothing, and on this memorable night everyone felt what mighty magic can be summoned here."

"Even those who have watched the club for centuries agreed that Dortmund has never achieved this kind of intensity."
Jamie Carragher tweeted afterwards:
Very few clubs capable of these nights,it's not the players it's the club's DNA
You can't say that nobody could have seen it coming – it was far from the first time it's happened at Anfield. For a start, a poster on The Tomkins Times definitely saw it coming, to an almost spooky degree. This spookily prescient comment from subscriber Divilmint was posted before the match, in response to Dortmund manager's pre-match quote:
We don't want to score one, we want two or even more. We want to see what is possible in terms of our potential.

"We do not want to feel our boundaries. This is the pressure and I love it."
Divilmint's response:
I think Tuchel has potentially taken care of tonight's team talk with these comments. Talking about LFC in Europe, at Anfield as some kind of yardstick by which his side can measure their awesomeness? He really mustn't have heard about us. Anfield Nights like this are when and where the fairy tales get written. The only potential BVB need to worry about tonight is that this is the night they potentially find out that they are not as good as they thought they were. Tonight they potentially find out that you can have some of the best players in the world, disciplined and drilled into a relentless footballing machine and it still isn't enough.

Potentially tonight is the night poetry kills theory, art defeats reason and magic defies science.

For a man who doesn't want his team to feel their boundaries he really has brought them to the wrong place. Tuchel's biggest concern might be that Liverpool could be dangerous like a cornered animal. The thing is, it's our corner and we are a bloody big animal. BVB will be stifled, closed in on all sides by an atmosphere probably unique in world football and they will not like how it makes their air taste thinner while breathing fearlessness into the men in red.

Oh they'll feel their boundaries all right. That atmosphere is going to press right down on them from all sides and squeeze the oxygen from their footballing souls. No boundaries?Poor man has no idea what's coming.

He talks big now but as the game unfolds the realisation will slowly begin to dawn that a force he can't explain and can't quite quantify is taking a hold on the game. Tactically he won't be able to counter it and if you ask him afterwards he'll probably only wordlessly shake his head but the penny will have dropped that at Anfield, on a European night and with it all to play for it matters not that you have already proved to the world how good you are, or how many teams you tore up in your own league. Skill, self belief, confidence, practice, reputation, determination, none of that counts for anything because once that penny drops, once the realisation dawns that when you are at Anfield & playing in Europe then it doesn't matter what plan you showed up with, Liverpool FC have you exactly where they want you to be. Then things change. Men become supermen, the unlikely becomes inexorable and the hardest two lessons in European football get learned. Firstly, at Anfield magic is not only real but flourishing, and secondly that magic belongs to us, not to them.

At least thats how I see tonight panning out! And who's to say it won't?

Not like it would be the first time…..
And that's the point – it wasn't the first time the odds have been overturned at Anfield in Europe.
What is it that sometimes happens inside that stadium? Where did Liverpool's enduring propensity for high octane nerve-shredding drama in European games come from?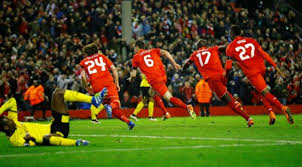 Lov is in the air …
Another post on the site, this time post-match from Mike B, who was at Anfield for the Dortmund match, also referred to this:
Immediately after the minute the atmosphere was there, but as soon as the game started, even before that first goal, there was a collective coming down to earth when we saw how sharp Dortmund were, deflation following the first goal, then a gradual collective effort of will to do what we should to build up the atmosphere – totally punctured by the second. Everyone around me was saying 'well, that's it then' – as was I.

As others have said, the 'problem' seems to have been that whereas the sentiment behind a crowd come-back normally is 'come on, we can beat this lot!', there weren't many there that thought we could – they looked that impressive.

What was so amazing about the crowd, then, was that you could sense a collective growing realisation that – just like Klopp said to the players – it may not be likely but it's possible, and the only way to make the possible actual is to force yourself to believe. You could feel this especially at the start of the second half – this is our moment – this is our chance to make a difference.

And very quickly what seemed to start as an effort of will took on a momentum (!) and belief of its own – to such an extent that even when it went to 3-1, people were saying 'we can still do this' rather than 'that's it then'  – as was I!

A privilege to have been there.
It was a privilege to be at Anfield in 1977 too. You can't mention magic Anfield nights in Europe without mentioning the name St Etienne in the 1977 European Cup quarter final. It is still widely cited as the best ever atmosphere inside Anfield, the beginning of the Anfield European phenomenon and the high watermark against which all others should be assessed.
It certainly had all the ingredients; a 1-0 defeat away in the first leg, a very good French team on the park blocking our way to the promised land of our first ever European Cup that would come a few weeks later in Rome; the centre of Liverpool and around Lime Street station a mass of colour as first the blue of Everton went on their way to the 29th replay of the league Cup Final against Villa at Hillsborough, to be replaced by thousands of green-clad French chanting 'allez les verts'. And of course the red of Liverpool. There were officially over 55,000 inside Anfield, but anyone who was there, with steam rising from the Kop's compressed body heat, over 20,000 people almost soldered into a single huge organism, thinks differently.
Keegan levelled the tie after less than a minute. It was a cross, it drifted in at the far post. Then the calm before the storm. Still 1-0 a half-time. We couldn't afford to concede or we'd need three, and knowing that makes you nervous. We duly conceded, a fine shot by Bathenay after 55 minutes – two more goals now needed, the startling start now a distant and irrelevant memory. Ray Kennedy got one of them, super sub David Fairclough came on. Just one more goal needed, a frenzied Kop driving Liverpool on. With less than ten minutes left, Fairclough ran through clear on goal at the Anfield Road end, slid the ball under the keeper and induced seven or so minutes of bouncing, boiling bedlam – even in the Main Stand and the then-Kemlyn Road Stand. They took some rousing those buggers, even then when everything was better! They were roused that night alright. St Etienne visibly wilted. They all but ceased to exist. This was a force you could not stop. Even if you were a better football team (they weren't, but it wouldn't have helped at that point if they had been).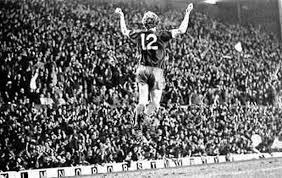 Cry 'havoc', and let slip the dogs of war
There are those who argue that we got a foretaste of what was to come a year earlier – a dress rehearsal if you like – in the first leg of the 1976 UEFA Cup Final at Anfield against Bruges.  Just under 50,000 saw Bruges take a 2-0 lead inside the opening 15 minutes before a shocked Anfield. Echoes of Dortmund …
In the 59th minute, Liverpool got one back. Five minutes later they were 3-2 up. Cue wild hysteria. Kop bouncing, Bruges wide-eyed in submission in a far foreign land. The turnaround did not just apply to the score, but the whole psychology of the two teams. Liverpool went to Bruges and drew the second leg 1-1 to claim their second UEFA Cup in four years. The Big One, Ol' Big Ears, was next, and that St Etienne game the pivotal moment in that campaign.
Even earlier – too early even for me! – in May 1965, in Liverpool's first ever European Cup campaign, they reached the semi-final. With Liverpool having won the F.A. Cup for the very first time in the club's history only three days previously, the Kop was packed an hour and a half before kick-off. Over 54,000 saw Shankly's Reds – a second Division outfit three years earlier – take on and dismantle the illustrious powerhouse of Inter Milan at Anfield in the first leg, before a deafening Anfield.
By 1977, the magic seed had been planted, and years of European success followed before the hurt of Heysel in 1985 ended it.
Yet despite the long intermission, the seed did not die, only lying dormant, waiting. In 2002 under Houllier, another epic Anfield European night accompanied the manager's return from his heart surgery. Needing to beat Roma 2-0 to qualify, we duly did. Another crowd epic. Another memorable atmosphere accompanied the triumph over Barcelona with Gary Mac's penalty, and of course there was that crazy final against Alaves in Dortmund's stadium,a 5-4 win with a golden goal in extra time.
But it was under Rafa Benitez that the magic was truly reawakened – and again, it took a set of particular circumstances to create it. Needing to beat Olympiakos by two goals at Anfield to qualify through the group stage of the 2005 Champions League, the Reds instead went in 1-0 down at half-time to Rivaldo's free kick.  You know the rest – 1-1, then 2-1 on 80 minutes, and as the wave rose to engulf the Greeks, Steven Gerrard in the last minute, 3-1. You Beauty.
But that was just the prelude. To the many who weren't even born for St Etienne in 1977, the semi-final 2nd leg against Chelsea in 2005 remains the pinnacle for occasion and theatre. Chelsea fans who were there know it's true, deep inside, even if they publicly deny it. There WAS no denying it. Again, all the astral signs were aligned. A Champions League semi-final doesn't really need any extra spice, but this was an-all English semi-final, Benitez v Mourinho, 0-0 from the first leg in London, and an opposition that was clearly a stronger side than Liverpool's at the time – just perfect for being the brave, dangerous underdogs on their own intimidating patch. Enter the aforementioned Luis Garcia (of COURSE it was in Jose, get over it! And the ref confirmed afterwards that he would have given a penalty and sent Cech off if the goal had not been awarded), and a cacophonous, tumultuous Anfield which reduced the opposition team's superiority to irrelevance. And we went off to Istanbul and Chelsea went out, that's what it's all about … oh, the European champions….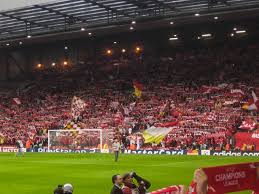 Not a plastic flag in sight …
Speaking of Istanbul – not technically Anfield, but close to it on the night – and the half-time rendition of You'll Never Walk Alone has passed into folklore as the inspiration for the second half miracle recovery – the recurring theme of overturning mountainous odds. But my admittedly Efes-blurred recall is that our half-time singing wasn't quite the rousing epic it's been portrayed as. Rather, it was just singing to keep out the cold inside – well we were 3-0 down – in an end with no roof. The rather thin sound, rather muted and downbeat, even though produced by many thousands, rather dissipated into the night air, I thought. The crucial point, I suppose, is that Benitez and the team heard it.
The point is, the more it happens, the more it's likely to happen, the miraculous almost becoming part of the club's muscle memory, for players, coaching staff, fans and, crucially, the opposition's too, worming its way into their collective psyche, distant but unsettling. But then it gets nearer, and nearer, before reaching full-blown panic as it begins to rise up and engulf them, an unpowered boat adrift in a raging sea that will swallow them as the final, inevitable denouement looms. We almost expect it now.
The same argument used to be applied to Ferguson's United when they kept scoring late winners. The more late goals you score, the more you believe you can score a late goal.  And the opposition know it too, so they don't feel safe when they should.
And that's what it all comes down to; belief. But belief based on experience, on what you know can happen, rather than what your fantasist inner might concoct for you. You have to believe in it, or else it can't happen.
There were other non-European comebacks from adversity – the 2006 'Gerrard' FA Cup Final against West Ham, two 4-3 home wins against Newcastle, as if to emphasise that lightning can strike twice. Or indeed seemingly endlessly.
The most memorable Champions League Final, the most memorable UEFA Cup Final, maybe the most memorable recent FA Cup Final, now one of the most memorable Europa League ties – not just most memorable for us but of all time.
There is something about this football club that delivers a saga, time and again. As fans we seem to be right for it, and less good at the everyday and mundane – like asking a skydiver to jump off a 3-foot high fence! We've become football's adrenalin junkies. And it's in European football at Anfield where it manifests itself most. As fans we don't even behave the same ourselves on those occasions, the same arl fellahs that spent the previous weekend's league game with arms folded, complaining at how bad we've become or how X is the worst midfielder we've ever had, become flag-waving, flare-holding men possessed on European nights. It's become sort of expected of us now, there's a reputation to live up to.
Anyone ready to go again?