By Chris Rowland and Daniel Rhodes.
W/c Monday 21st March 2016.
Welcome to our weekly round-up, a diary of news and events on the site, matters relating to LFC and the world of football generally.
The Week in Football – Liverpool FC:
Monday:
If you can bear it, read Jürgen Klopp's assessment of the Reds' defeat to Saints yesterday here:
"We lost formation in the second half and we couldn't avoid these long balls to Pelle anymore, who is always fighting for second balls. If you are then not compact you have the problem that they are better in the game.

"In the moment when they scored their first goal, it was clear that something would happen in the game. If we could have played better then 3-1 was possible, I don't think we had the chances for this, so it is like it is. In the second half, Southampton deserved the three points."
Klopp refused to accept that the exertions against Manchester United on Thursday could have had such a profound effect on his team's performance level.
"Usually after a European game very often you have problems in the first half," he added.

"I've seen it a lot of times, but in the first half we had absolutely no problems.

"We could have done better and there were a few situations where we had to, but it's a football problem and nothing else.

"We can learn from it, of course, and we will – but today it's too late because we lost."
Liverpool's players are jetting off to Tenerife for a warm-weather training camp.
It's just for those not on international duty, and the Liverpool Echo says those heading for warmer climes are expected to include Jon Flanagan, Kolo Toure, Steven Caulker, Tiago Ilori, Jose Enrique, Joao Carlos Teixeira, Cameron Brannagan, Jordan Rossiter and Kevin Stewart, as well as a number of Academy youngsters.
Tuesday:
Jürgen Klopp does not want his Liverpool team to forget about the opening 45 minutes against Southampton on Sunday, despite the disappointment of the final result at St Mary's. (LiverpoolFC.com)
"We can say we have to have more killer instinct in the first half or we have to play better in the second half. Both are true and both we will try in the future.

"Two things are important – we didn't get the points and that's not too good; on the other side, we saw how well we can play football, which we should not forget.

"I know the result is not what we wanted but we have to accept it this season, we have to take what we can get and not think always now the top four, 'yes, no, perhaps, I don't know'.

"Play football like we did in the first half, score goals and everybody will enjoy it and then everything is OK."
Joe Allen, 26, features on the front cover of Chicken & Egg – a welfare and food publication – and tells the magazine he has 14 hens and two cockerels at home.
Wednesday:
Benteke decided it would be a sensible course of action to criticise his club manager whilst on international duty:
"[Klopp] has told me to be more involved in the game. That seems to me one of my qualities: I like to combine, I like to get the ball. But maybe I don't ask the ball in the right positions and maybe that's why the team-mates don't find me. "I've taken his remarks into account and I was ready to change my style like he wanted it. I'd thought that Liverpool had bought because of my qualities. It's ideal to stay yourself, to keep your identity, while you adapt to the style of the manager. And if that doesn't work out, it doesn't work out.

"He still tells me that I'm a striker who can do everything: score goals; holding-up the ball, play one-two's, heading. If I have that many variations in my game, why don't I play? But, he makes the choices and I have to respect them."

"What's annoying me the most is that I would have never signed for Liverpool if I wasn't the manager's first choice. Everything was there to play a good season at a big club and it started well,"

"I am the first to admit that I haven't shown enough my worth for a team like Liverpool. On the other hand, under Brendan Rodgers, I knew I would get the opportunity to show my qualities, to show that I was worth the money and that I deserved to wear the shirt of Liverpool. But now?

"Since I went to England in 2012 I've never been on the bench for such a long period. It hurts, especially since I never was as fit as now. That's why I try to grab my chance when I get five or ten minutes playing time. I don't want people to blame me for a lack of professionalism.

"Even my father, who initially was worried about my status, told me that I can't do a lot about my situation. I've talked with Eden Hazard and Marouane Fellaini and they all answered the same: if a coach does not count on you, you can't do a lot about it."
Thursday:
Today we have two new sets of quotes from Reds' players on international duty, this time from Ward and Sakho – spot the difference between these two and that of our £32m striker:
Ward
"My ambition on the club front is to be Liverpool's number one and I will keep trying to do that as long as they want me at the club," said Ward.

"Hopefully that will happen sooner rather than later.

"Competition is healthy, I am at a great club and I want to make an impact there."

"I am working towards something special with Wales," said Ward.

"There is a major tournament I want to be involved in at the end of the season and if I get my chance I have to make the most of it.

"You cannot take it for granted, because until you are on that pitch it is not done and you are not a capped international.

"But to get your first senior cap would be a proud moment for me and my family."

"The loan spell was something Liverpool and myself felt was needed as I had not played much first-team football coming into this season.

"It went really well and it was a bit bitter-sweet coming back as we were fighting for the league and I was playing week-in week-out.

"Getting called back is a bit of a different challenge than being a number one.

"You have to work harder in training and push the man ahead of you because you want his jersey.

"I feel I am nearer that number one spot now.

"It gives you the experience of pressure situations that you cannot get in training.

"You mature in good games and hopefully it will stand me in good stead.

"Winning my first cap will help in that regard too. But I do not want to settle for one, I want to get as many as I possibly can."
Sakho
"Yes, it's nice to be in the selection," Sakho told RMC. "With the coach at Liverpool, it goes differently for me. In football, a lot can happen off the field. The most important thing is to stay focused, serious.

"The former coach [Rodgers] made the choice. I have accepted. I always remained myself, smiling in training."

Sakho praised Klopp's impact at Anfield but, when asked whether he had been unhappy at the club before the German's arrival in October, Sakho said: "Honestly, no.

"I still feel good at Liverpool. When I was in France I didn't gauge the real impact of this club and its history. Once you've set foot inside, it's fabulous.

"The atmosphere is healthy. The team is young and talented. Honestly, I really like it in this city, with its supporters and magnificent stadium. I'm someone who likes stability — it suits me perfectly."

The 26-year-old, who joined Liverpool from PSG in 2013, said Klopp was "really close to his players and all the members of the club."

He added: "He's very genuine. When you see him you think he's very expressive but, like he said to us from the start, it's not really to be nasty with us. On the contrary, it's to encourage us."
Divock Origi was removed from the Belgium squad after suffering an injury in training that is expected to keep him out for seven to ten days. But is likely to miss the Spurs match.
Friday:
Liverpool confirm their fixtures for the pre-season International Champions Cup:
The Reds will be one of 10 clubs competing in the tournament, joining the likes of Barcelona, Real Madrid, Bayern Munich and Paris Saint-Germain.

Also confirmed as taking part are AC Milan, Inter Milan and Celtic, as well as fellow English clubs Chelsea and Leicester City.

Liverpool's ICC fixtures are as follows:
July 27: Liverpool v Chelsea – Rose Bowl; Pasadena, California. 8:30pm Pacific time (4.30am BST, July 28).
July 30: Liverpool v AC Milan – Levi's Stadium; Santa Clara, California. 7pm Pacific time (3am BST, July 31).
August 6: Liverpool v FC Barcelona – TBD European venue. 3pm BST.
A bench, in Liverpool, has been dedicated to ridding the city of that rag we shall not name, love it (ECHO):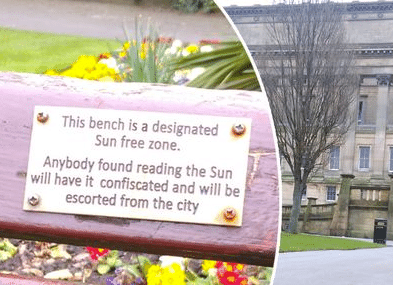 The Week in Football – General:
Monday:
Stoke goalkeeper Jack Butland, 23, says he signed a new five-year contract at the Britannia Stadium because he believes the club will qualify for European competitions in the future. (Daily Telegraph)
The rest of this round-up is for Subscribers only.
[ttt-subscribe-article]