By Paul Tomkins.
This season looks like one big conspiracy to make me look like a complete idiot – not that I can't accomplish that quite successfully on my own at times. No matter what I seem to write lately, something pops up to disprove it. As such, I thought I'd run through a few examples, and try to work out what the hell has been going on.
I look for patterns in football, and write about them as I discover them. And then those patterns get shredded. That said, I'm not the only person being made to look a fool by Leicester – the most obvious example – even if they haven't hit the point where nerves set in, and crumble, as expected.
Then again, they should have hit the point where nerves set in. It's if that doesn't apply to them – although it only happened to Liverpool in 2013/14 in the final four games – nerves setting in against Norwich in the 35th match, but a win was scraped; then losing to Chelsea and throwing away a three-goal lead at Palace in the penultimate game. Of course, at the time there was a strong, title-winning side who weren't slipping up – Man City. Leicester "only" have Spurs – a young side not used to winning things – on their tails. Even so, Leicester are about 99% guaranteed a top four finish, which in itself is insane.
Leicester were, after all, 5,000-1 to win the league. Has any sporting success been achieved at such long odds? A horse could be shot and churned up into glue and dog food, and then eaten by chihuahuas, and still have better odds in the Grand National.
Leicester won't simply glide under my 'Title Zone' analysis – they'll obliterate it. This is based on the £XI – the average cost of the team over all league games, with inflation taken into account.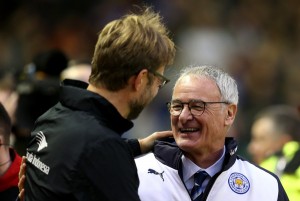 They cost less than a tenth (£20m) of what it's taken teams to win the past 11 titles (£240m, in 2015 money). I had previously said that the three mega-rich clubs just won't all mess up in the same season. Well, they have. And the next two, in a league of their own outside the rich three – Arsenal and Liverpool – have also fallen short of expectations (domestically, at least).
And even Spurs (£113m) sit at less than half the £240m 'magic' Title Zone mark. Spurs are also younger than any Premier League-era champions, at an average age of below 25 – under which none of the previous 23 winners have been. You can win things with kids, but you rarely win things with mostly kids. The best teams aged under 25 tend to do is 3rd, although in other countries, like Holland and Germany, 23 can be "old enough" – see Dortmund under Klopp.
Then there's my observation, first made several years ago, that ever since the end of the 1980s, "new" title winners tend to make a base camp close to the summit the year before the all-out assault. They finish 2nd, or if 3rd, a very close 3rd, and then regroup, add a bit more quality, and move on up. Leicester have arrived from nowhere, and would be making the biggest jump to the title since the 1970s. (The largest jump since 1978 is seven places.)
Of course, finishing 2nd may be evidence of a team overachieving, followed by an inevitable fall, rather than automatically going on to become champions.
I thought Jamie Vardy was hopeless – one of the worst strikers ever to grace the big stage – and sensed that Harry Kane would be a one-season wonder. While I'm still not sure about Vardy's long-term sustainability, given his age, Kane is now a bona fide top striker.
Kane reminds me of Alan Shearer, in that I appreciate his incredible goal return, but find something missing in the way that he scores them. It's almost machine-like, which is of course great if he's in your team – I'd obviously love Kane if he was at Liverpool – but it often seems to be a case of just hitting the ball very hard; which, in itself, is not at all easy to do with accuracy.
Last summer I thought that Brendan Rodgers could turn things around at Liverpool, although I'm much happier with how things now stand, given the way he appeared to be alienating committee buys who could have helped the team do better (or, if he wasn't alienating them he simply had poor judgement).
And most recently, just before Marcus Rashford arrived on the scene, I said that you just don't get prolific 18-year-old strikers anymore – that it's much harder now, and that it hasn't really happened since the 1990s.  Of course, Rashford may just be doing a "Macheda", who has scored just 25 goals in the seven seasons since he, somewhat annoyingly, burst onto the scene at the same age (another example being Francis Jeffers).
That said, five in eight for Rashford, including goals against Arsenal and Man City, is about as good as you can hope to get as a start. One thing I have said before, mind, is that youngsters often start with a bang – great form, whatever the position – but then rapidly tail off; consistency is still most usually acquired only in their early 20s. And it remains true that most strikers only start exceeding 10-goal seasons once they are in their 20s. But at the very least, Rashford looks set for a career as a Premier League striker, even if he fades from view at United.
Even Roy Hodgson – Mr "33% Win Rate" – has edged up to 60% with England, just to spite me. He's still not at the 67% of his predecessor, Fabio Capello, whose record is the least Hodgson should be aiming for given the quality of opposition in qualifiers, but the 'owl' has come a long way since his early sub-50% rate with the national team. (Still, nothing will shake me from the belief that his were the dullest six months of Liverpool's post-Shankly history – on the pitch, at least – or that he simply didn't 'get' the club and its fans. That said, I never once stated that he was a terrible manager, just a terrible fit.)
I can claw back some self respect with my assertions about too many cup games taking points off a league tally, with Leicester and Southampton, two of the top three form sides of 2016, having played hardly any cup football at all; just like Liverpool in 2013/14. But it's a leveller, and not a magical, illogical way for rubbish teams to become good (Aston Villa, Sunderland and Newcastle haven't played many cup games either).
Those who have played a lot of cup games – Liverpool and Man City in particular – are both well below league "par" right now, while those on unusual cup runs – Palace, Watford and Everton – have all slipped down the table since the FA Cup became a possibility. Stoke's league form since going out of both cups has been five wins, a draw and two defeats, which is Champions League form (pro rata 76 points over 38 games).
But Spurs have also played a lot of cup football, even if they've now bowed out, and just have the league to focus on. Even so, 16 cup games is not an extreme amount; Liverpool averaged over 20 a season under Rafa Benítez, and have already played 20 in 2015/16, and are guaranteed to at least hit 22. (Also, I haven't followed Spurs' cup line-ups that closely, but certainly games 15 and 16 were with weakened sides.)
The Reds played 20 last season, and this was a steep rise from the five of the season before; and my analysis shows that steep rises in the number of cup games, as well as playing extreme amounts – 20 or more in a season – tends to have a detrimental affect on league health. It's a different rhythm of games, with much greater physical demands.
The way Leicester play – in no way open and naive – you can see them doing okay in the Champions League next season, if they can successfully stifle teams and hit on the break, but the sheer number of fixtures is what kills form, unless the squad is ultra strong (rotation is mostly required to cope with an excess of fixtures). If Leicester's success has been in part due to keeping a settled side – again, much like Liverpool in 2013/14 – then more games, and more injuries (which go hand-in-hand), will take their toll.
Keeping key players fit is a big part of success; for all the value in squad players, everyone has those three or four men who are irreplaceable. Man City simply can't call on another Aguero or Kompany in their absence – just weaker alternatives. Leicester have barely been without any of their key players, and they certainly can't have someone almost as good as Vardy and Mahrez just hanging around the squad.
Of course, should they go on to win it, an exception after 11 straight seasons doesn't prove too much, other than – for now – it being a radical outlier. The interesting thing about Leicester (or Spurs) winning the title is all the other clubs saying Why can't we do this? And maybe that can lead to increased panicking. There are 17 clubs above Leicester in the £XI rankings, so that's 17 clubs who will be asking "how?" Fans will be even less patient, thinking their club should be doing the same.
Newcastle and Sunderland are both within the top 10 in terms of their £XI, and Aston Villa are 13th. All of those teams now have managers who inherited a mess, but given the resources, the mess should not have happened in the first place. Leicester rank 18th, which would put their "par" in the relegation positions – yet lead the league. They do so with a much-maligned manager who, at 64, has never won a league title, with an attack spearheaded by a  striker who was still non-league in his mid-20s.
It makes no sense, other than unity and organisation can go a long way; a good goalkeeper spreads confidence; and attacking players who take their chances (including a high number of penalties) can be the difference on any given day. Indeed, this was probably the recipe for Man United's final title win under Alex Ferguson, which relied on van Persie's goals and de Gea's brilliance, with the stuff in between not quite so special. Sometimes 1-0 wins seal the league.
Whatever Leicester have done well – and it has to be a fair few things – has been helped by their easier schedule. In terms of cup football, my analysis of all Premier League club seasons since the turn of the millennium showed that, on average, teams performed to one league place beneath their expected finishing position, based on their £XI rank. Some finish above it, some below it, but the average is minus-one league position. (Clubs with fewer cup games therefore averaged above their £XI rank.)
So far this season, the average for excessive cup games is again minus-one league position. This is the average for the ten teams who are either in Europe and/or on long domestic cup runs.
However, this average is based on Liverpool being 9th, when even winning one of their two games in hand would put them 7th; so that could skew it slightly.
Also, this is an average league position with Everton, Watford and Crystal Palace all still in the middle of large slumps that have seen them fall several places in the table; so those falls may not be finished, and their final finishing positions may be worse still. When mid-table – apparently safe from danger and unlikely to break into the Champions League – more emotional and physically energy naturally goes into the chance of glory. Everton fans may be upset right now, but they won't remember if they finished 12th, 13th or 9th if they win the FA Cup. (For them, 7th is par.)
West Ham are currently six places above their £XI rank, and while that may continue – they are one of the clear successes of the season – the FA Cup may also distract their focus. Let's remember that a league table isn't fair and reflective until everyone has played every other team twice, home and away. (And even then it can't account for luck, refereeing decisions, unprecedented injury crises, etc, that aren't evenly distributed; but it evens out a bit – and it evens out to the best of any season's ability only after all 38 games.)
However, despite not liking to make absolute predictions in a game where nothing is ever quite that simple, I will state that there's almost no way that Man City (-2), Chelsea (-7), Man United (-5) and Liverpool (-4, with possibility of -2 when they've played the same games as the others), as a collective, will be as poor in the league again next season. It just won't happen. (Almost certainly.)
The only big worry I can see is that City's team, even after investment in younger players, is still a fraction under 29 – the 2nd oldest in the Premier League. Spurs are the youngest, with Liverpool the 2nd-youngest. City will have an elite manager, who will get more out of the players, but their best players remain older, and/or injury prone.
You'd also have to expect Everton to do better, with new investment and their younger players amongst the best in the country (although as a team they're well over a year older than Liverpool); but they may see someone like Romelu Lukaku going "on strike" in the way that John Stones didn't, to get a move. So they may be integrating key players to replace ones that are hard to replace.
As an aside here, it's worth noting that Lukaku struggled at Chelsea, and like Kevin de Bruyne, was offloaded by Jose Mourinho, with the manager rarely trusting young players – with his belief in the short-term boost rather than building anything.
Everton initially taking Lukaku on loan was shrewd, as it eased the pressure on the player – there was suddenly no price tag to live up to. Once they paid big money for him he was already settled. I would bet good money that had Christian Benteke only been on loan at Liverpool (or cost the £8m Villa paid) he would have felt less of a burden on his shoulders, but of course, justifying a price tag is all part of the pressures footballers have to be able to cope with. At times he has looked like the proverbial deer caught in the headlines, particularly when through on goal when, in a Villa shirt, he'd have taken those chances.
As for next season, I would argue that Leicester will definitely be worse, no matter what happens – if they win the title they'll have a hard time defending it (extra games; impossible feat to live up to; maybe a summer spent partying too hard), and if they don't win the title they'll possibly enter a period of depression, as the dream will be over and lightning won't strike twice. This is surely their one chance at it. It also feels like a comedown to play away at Bournemouth three days after being in the Nou Camp.
The same will possibly be true of Spurs, although they are better set up for longer-term success than Leicester, who average over 28 years of age, and who are likely to be stripped of their best assets by voracious predators. I just think it's hard to overachieve consistently, and that most clubs yoyo between a good season and a not so good season. Teams bounce up, then bounce back down again.
But I'll leave you with this certainty: Arsenal will top the league before Christmas, finish 4th, and exit the Champions League in March.