By Mihail Vladimirov.
With Leicester not having any major injuries and Liverpool rotating heavily for their FA Cup game, both teams' starting XIs were predictable. There were no surprises in Ranieri's or Klopp's selection decisions.
The Foxes continued with their regular starting XI with Okazaki once again preferred as Vardy's support up front in their usual 4-4-2 formation. Meanwhile, the Reds welcomed back every player that was rested in the West Ham game on Saturday with Lovren keeping his place at centre-back to resume his partnership with Sakho. Interestingly, Klopp decided to go 4-2-3-1 but with Henderson on the right flank.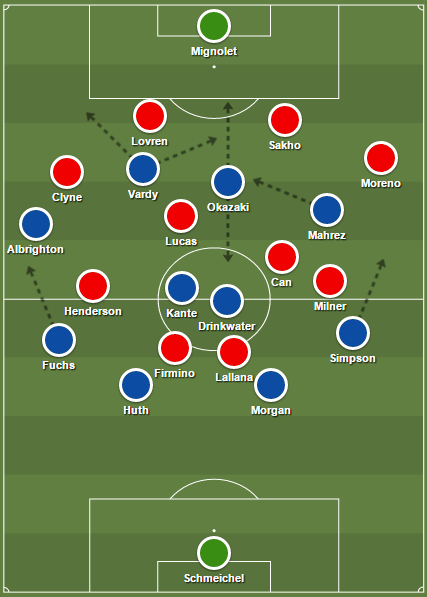 Leicester's surprising starting approach yields early benefits
There was absolutely nothing surprising in Ranieri's choice of line up or starting formation – both were exactly as per usual. Nor was there any surprise in the positioning of certain players – everybody played in their usual zones and displayed their regular movement patterns. And yet the Foxes managed to spring a major surprise in relation to how exactly they started the game.
Obviously, the only aspect left for Ranieri to do something unexpected was his overriding strategy and approach to the game. On that front Leicester are similarly predictable when it comes to starting formation and personnel. The Italian manager typically has them playing a reactive type of football home or away, based on keeping men behind the ball (mainly to compensate for immobile centre-backs and as a whole average defensive unit), invite pressure from the opposition and then roar forward on the break whenever possible, looking to involve their two star men – Mahrez and Vardy – as often as possible. In this game, all of this was also evident, but Ranieri added another layer on top of all this.
Not since the heavy defeat from Arsenal towards the end of September – Leicester's only thrashing up to now – did Ranieri use a clearly proactive approach featuring an advanced defensive line and ferocious pressing from high up. He did in this match.
Arguably, this had less to do with his side having the benefit of nine full days of proper rest and preparation (including a few days off for the players). Usually, Leicester have been playing once per week for the whole season (bar the occasional cup game), thus having so many free days prior this game was less of a reason to see Ranieri prefer such an approach. Therefore, it's safe to say that the main reason – if not the only one per se – was that the Italian simply anticipated Klopp's starting XI (which wasn't tough given the injuries and the heavy rotation for the West Ham game) and decided such starting strategy was the right thing to do.
For this game Leicester added to their usual traits such as work-rate, tenacity, industry and an extremely direct style of play (the Foxes have the third lowest possession and worst passing accuracy in the division) with the aim to press aggressively, from high up the pitch, and in numbers. Right from kick-off, whenever out of possession, the hosts quickly morphed into a 2-4-4 unit with all bar the centre-backs swarming forward to close down energetically inside Liverpool's half.
This not only helped keep the tempo of the game high, which is how Leicester like it as it allows for the possibility of quick turnovers and rapid counterattacks; but the high intensity resulted in Liverpool continually being forced into poor passes and cheap giveaways of possession (hence the high number of interceptions and ball recoveries posted by Leicester).
The high line was the logical byproduct of wanting to press so aggressively from inside the opponent half. It allowed Leicester to push their whole team higher, closer to the opponent which enabled the required compact shape for such energetic pressing. As a result the home team's players didn't need to travel big distances to press, nor they were doing it individually.
The other obvious benefit of Leicester playing with such a compact shape and with such an advanced defensive line was that it compressed the space in the midfield zone and made the playing field smaller. This was especially useful given that Liverpool played with so many players who naturally look to drift around and roam between the lines. Not only did the Reds lack that pacy threat in behind, but with Leicester having the compact shape that congested the midfield area and minimised the zone between the lines the space where Liverpool's attackers naturally thrive was well occupied. In addition, with the home side pressing so ferociously the visitors had little time on the ball to calm things down or pick out their passes better.
Several times the Foxes won the ball quickly and counter-attacked rapidly, involving hitting the ball forward and sending plenty of players forward to chase it and cause havoc. This created sort of a relentless, if rather chaotic, pressure which at times seemed to overwhelm Liverpool and force them into panicked clearances, poor defensive actions and sloppy passing.
As soon as the first minute, Leicester had a chance to score following their pressing-oriented approach. Leicester won the ball following a poor Sakho pass from the back and within a couple of passes found Mahrez in a good shooting position only for his shot to fizzle just wide. The Foxes' best chance during their pressing-initiated period came in the eighth minute when Drinkwater dispossessed Henderson with Okazaki passing to Vardy before heading into the box to receive a good cross and head the ball in straight at Mignolet. Had this chance being converted, Ranieri's starting approach would have received the perfect justification.
The rest of this article is for subscribers only. 
[ttt-subscribe-article]