By Chris Rowland and Daniel Rhodes.
W/c Monday 11th January 2016.
Welcome to our weekly round-up, a diary of news and events on the site, matters relating to LFC and the world of football generally.
The Week in Football – Liverpool FC:
Monday:
Jürgen Klopp has told outgoing Bayern Munich boss Pep Guardiola he will need a squad of 35 players to cope with the fixture demands if he come to the Premier League. (Mirror)
He said:
"In Germany, when you tell people that if you draw in the FA Cup, you play again, they say: 'What?' Here you have penalties and extra time, but only after the second game.

"That's the thing, it's the number of games, football, football, football.

"Pep is so experienced. I'm sure he will buy a few players and have a good team, 35 players or whatever."

Klopp, who is working outside his native Germany for the first time after leaving Borussia Dortmund at the end of last season, said he had found plenty of reasons to be positive about life in England.

He said: "What I can say about here is very positive: Great country, great people, the food is much better than everybody said. OK, the weather is not great – like everyone said!"
New signing Marko Grujic almost did not go through with the transfer – because he was so scared of getting in the MRI machine for his medical. 

"I am very claustrophobic, so it was very scary for me to lie for one hour in the dark in the MRI scanner," he said in an interview with the Liverpool Echo.
Jurgen Klopp has cut short keeper Danny Ward's loan at Aberdeen and brought him back to Anfield.
Tuesday:
Divock Origi has had knee surgery and is out till the end of February (posted by Dr Gonzo): http://gu.com/p/4fyz6?CMP=Share_iOSApp_Other
Liverpool signed QPR defender Steven Caulker on loan until the end of the season. The 24-year-old was on loan at Southampton.
Wednesday:
Jürgen Klopp looked ahead to back-to-back Anfield fixtures with Arsenal and Manchester United and ​declared​: 'I love this!' (LiverpoolFC.com)
"Yes, I really love it, but that does not mean I don't like all of the other games!

"But a week like this, it's not one where you have to say to the players, 'Come on, be concentrated' and things like this. Everybody is in the race, everybody is fully focused on these games and that's cool.

"I'll enjoy the work this week and hopefully I can enjoy the games!"
Steven Caulker admitted the speed with which Liverpool completed his loan switch left him operating on adrenaline – and is relishing the challenges that lay ahead as a Reds player. Interview with Caulker on LiverpoolFC.com here.
Thursday: 
Klopp believed his team deserved to get at least a point from Wednesday night's match against league leaders Arsenal:
"It was a great football game, how it should be. I think people will talk about this game, maybe not too long because on Sunday it is Manchester United, but it's not easy to forget.

"The beginning was really good. Not perfect, of course, but not too far away from it because we knew how they play and at the start we were better in the game and played really good football.

"We made our first goal, forced it in this situation; the first shot in the box from Emre and it was not easy to see for Petr Cech because there were a lot of legs in the box. Roberto was fast enough, especially in mind, to make this goal.

"We have to defend set-plays better; it's an easy thing to say but we have to work on it and we will work on it. We will analyse it, of course, and we have to do it better.

"We made a brilliant second goal and we stood in the game. The goal of Arsenal wasn't too big a shock for us, and we made a perfect second goal and were really in the game.

"Then a little bit of losing control and especially around the second goal because Giroud was on the ground after a challenge. We stopped the game a little bit but it wasn't stopped and they used the situation to make another easy goal.

"We lost control and it wasn't too easy, we lost the ball easily. They are strong on counter-attacks, everybody knows this and so we had to defend.

"In the second half we were again in the game; it was a little bit more open than the beginning of the first half but we came back into the game. At the end, it was brilliant from Giroud but in the beginning we have to defend it better – it was not too difficult. We have to be more concentrated in situations like this.

"Then you need a little bit of luck and we had it. We changed players and it was a perfect ball for Christian, a perfect header and a perfect finish. I think it was a well-deserved draw in an all-time spectacular game."
Liverpool's December Player of the Month, Dejan Lovren, confirmed he will be back in training soon and ready for selection:
"I'm very satisfied with my injury, it's going really quickly again,"

"I cannot say exactly but I'll be back soon, hopefully this week. We will not take a risk for one or two games. We still need time, but I'm coming back.

"[There are] so many games and, unfortunately, so many injuries also. The Premier League is so tough but we have a good squad, a big squad and a new player in, so it's good."
Friday:
In the pre-Manchester United press conference, Klopp referred to importance of derbies with a typical Jurgen-ism:
A game against Manchester United is a little bit like Dortmund-Schalke. You can play the whole season the way you want, but in these games you have to be prepared and you have to be there and show your best. Obviously it is important for the table, we are close together and both teams need the points to stay close with the top teams in the table. For this, it's important. But it is Manchester United. If we were 20 points in the lead of the whole table, it would [still] be important. That's how I understand derbies. I love derbies, to be honest. It's the salt in the soup. They are the best matches to perform in.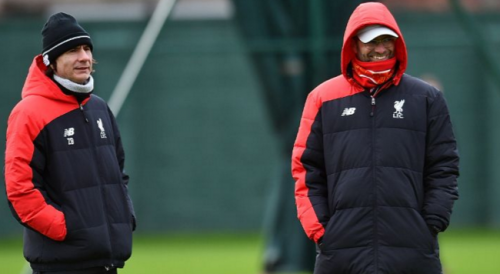 The Week in Football – General:
Monday:
Harry Redknapp has called for the Premier League to work more closely with the Football Association to help preserve the standing of the FA Cup. (Telegraph)
The rest of this round-up is for Subscribers only.
[ttt-subscribe-article]