By Mihail Vladimirov.
For this game Allardyce made four changes – two of them enforced, and two due to tactical reasons. O'Shea and Fletcher weren't fit enough to take part in it, so Brown and Defoe came into the starting XI, at centre-back and centre-forward respectively.
Meanwhile, with Cattermole able to start the game and Rodwell again available after suspension, the manager took the opportunity to field his three defensive-minded players in the centre, with M'Vila retaining his starting place in a 4-5-1 looking formation. Mannone, making his second Premier League start for the season,  kept his place too with Pantilimon again benched,.
On the other side, Klopp couldn't really rotate his starting XI too much. With Origi injured and Ibe just coming back from illness, the biggest question was not who would start but whether there would be a change in the formation. As it was, the German manager kept the 4-2-3-1 formation he used against Leicester with Benteke replacing Origi up front.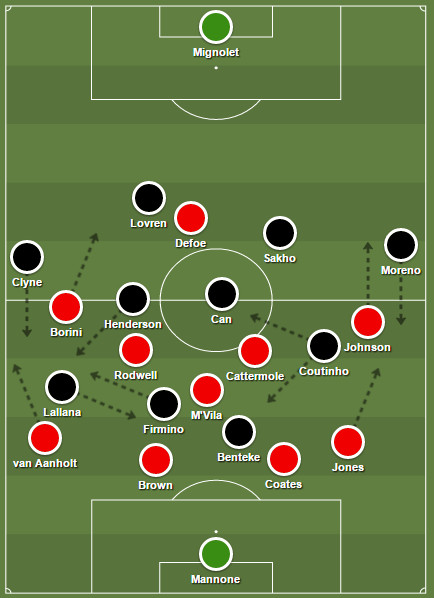 Sunderland making a game out of it
Arguably, the type and complexity of the whole match would hinge on how exactly Sunderland would approach it, with the following two key factors to consider.
Mentality-wise, there was the huge question of whether or not Allardyce's side would be properly up for the fight. If they were to start the game as disastrously as in their recent defeats (their apathy, total lack of concentration, and inability to resist the opposition on all fronts), the team's overall fragility would surely be exposed and, with the concession of another early goal or two, would have potentially put the game beyond them. However, if the opposite were to happen, the Black Cats could have hoped to produce a repeat of the trick their fierce rivals Newcastle achieved a few weeks ago; namely using sheer effort, determination and fighting spirit to match their clearly technically and tactically superior opponent. As we saw at St. James' Park, in such a context anything can happen.
Also, from a tactical point of view, the several possible permutations Allardyce was going to have to choose from (formation and personnel-wise), had the ability to influence the game differently. For example, starting with with a defensive-minded 5-3-2 would've been totally different to lining up in an attack-minded 4-2-3-1/4-4-2ish formation. The first approach would have surely made the game a war of attrition, with Liverpool put into a context where they would need to find a breakthrough against yet another packed defence. The second approach could have made the game much more open and end-to-end, seeing both teams having equal chance to score and concede goals.
As it was, Sunderland started the game as well as they could have hoped for (bar scoring a couple of early goals and seeing Liverpool down to ten men, of course), with arguably their best start to a game under Allardyce. The players' application was totally different here. Clearly matching the opposition for aggression and (more importantly) concentration showed that the hosts were geared up to put up a real fight.
Tactically, Allardyce's choice to field his three battling midfielders together and starting with a 4-5-1 formation clearly played a huge part in this. As a result the suspect defensive back four unit received better protection, and Liverpool's ball-playing advanced midfield trio were also being matched numerically and denied space between the lines.
Going forward, Sunderland also looked nicely balanced, something they rarely displayed in the past couple of years despite different managers doing their best on that front. The trio of ball-winning midfielders stayed compact and moved as one unit up and down the pitch. Out of possession they tried to press the ball and clog up the centre of the pitch, while in possession they also pushed up and tried to distribute the ball with quick forward passes. Due to the protection they offered, the players down the flanks were given freedom to quickly push on and participate in the attacking moves. There was also a nice diversity between the wide pairs.
Sunderland used Van Aanholt (the left-back) and Johnson (the right winger) as the main ball carriers, looking to quickly drive forward upon receiving possession. In contrast, Borini (the left winger) and Jones (the right-back) provided more of an off the ball threat. The former used his natural instincts as a striker to drift infield and quickly dart in and around the box, while the latter was seen bombing forward past Coutinho and often arriving late down the right flank completely unmarked.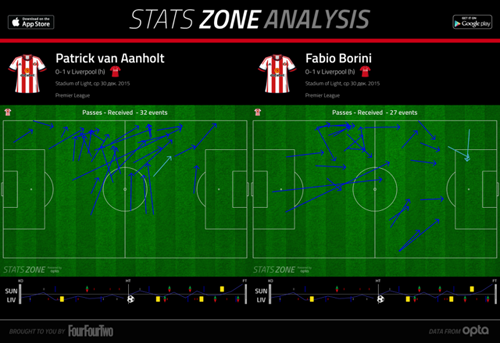 All this hinted strongly at Sunderland doing their best to make a proper game of it. Their new-found resilience and fighting spiriting meant Liverpool would have to work harder and count on more than their superior quality. At the same time, a few good attacking moves created by the hosts inside the opening 15 minutes suggested they were not merely aiming for a clean sheet and hoping for the best at the other end. For once they displayed the required balance between having enough resources to remain solid and break up the play, while also having a sufficiently diverse attacking threat to pose a danger going forward too.
Liverpool with a different attacking structure
Despite spending both his pre-game press conference and pre kick off tunnel interview stressing the importance of seeing his team stay strong, remaining solid, matching Sunderland for physicality and aggression, being lively and aware of any loose balls, and challenge hard for the second balls, Klopp would surely have been positively surprised to see a much more cultured version of Sunderland in this game.
Sure, with three ball-winning and tough tackling midfielders in addition to two big and strong centre-backs, the Black Cats had enough scrapers who can fight their way through and make the game a feisty affair. But the nature of the remaining five players (two full-backs, two wingers and the lone striker) meant the side was far from Allardyce's typical physically intimidating team, trying to make the game a war of attrition by seeing constant crosses from out wide and hoofs from deep towards an aerially dominating big target man, with a supporting cast scrapping and physically fighting their way forward. All of the attacking five players were short, slender, pacy and rather technical players, looking to play a more technical counter-attacking football rather than thriving in the hustling and bustling 'kick, hit and run' version of it.
Sunderland weren't even parking the bus. Despite all of their players bar Defoe being quick to get behind the ball when out of possession, they were also keen to press as soon as Liverpool reached the midfield zone, and break forward at every opportunity with good numbers of players (the attacking five plus at least one of the midfield three) quickly joining forward in support.
All this made the game more suitable for Liverpool to showcase their better technical qualities and supposed greater tactical capacity. But it needed Klopp's side to grab that opportunity and showcase their superior quality, which they did by showing some interesting structural changes in their formation and using the same personnel in different ways.
In contrast to the last game, here Liverpool were a lot more free-flowing and fluid in their movement and how their shape morphed going forward (despite the presence of Benteke, who apparently isn't suitable for such a brand of football according to some preconceptions). All of this was mostly because of two key factors.
The rest of this post is for subscribers only. 
[ttt-subscribe-article]