By Andrew Mckay (TTT Subscriber Orton992000).
The Liverpool Echo was prescient in describing George Patterson as "unobtrusive" in 1918, as no other Liverpool manager has left less trace in the history books, despite being the first man to manage the club twice. The incongruity of Patterson as an anonymous pioneer is heightened by the twist that the story of his two terms does not really belong to him at all.
Born in 1887, Patterson had a brief and, according to a later newspaper comment about the "extraordinary number of wriggling bones" he broke, injury-prone career in local football with Orrell and Marine. A March 1916 report further hinted at clumsiness by reporting he had walked into a tree with sufficient force to require stitches. The wound then became infected, so he was lucky nothing more serious came of it, but was nonetheless soon back at his desk. These glimpses of Patterson, which portray him as a big-hearted trier who did not always do as he intended provide an apt base from which to understand his managerial career at Liverpool.
The facts are simple. Patterson was appointed as Tom Watson's assistant in 1908 and so naturally oversaw his role when the great man died seven years later. His promotion to club secretary became official in 1918 and, following Watson's model, encompassed organisational and team functions. The secretary's job was split in two in 1919, with the playing side handed over to newcomer David Ashworth while Patterson kept the paper half. Team duties were again added to his secretarial ones in 1928 when Matt McQueen resigned and this time Patterson kept the dual role for eight years before leaving the manager's one for good in 1936, although he stayed on as secretary.
However, the narrative's neatness belies its failure to explain anything. First, the initial job title did not denote what many today might assume. Envisaging Watson and Patterson as master and apprentice would be understandable but incorrect as club histories do not mention Patterson in that context. References to the team start with Watson and the next one given is usually the senior trainer William Connell. However, a 1914 match programme explained by publishing Patterson's picture with the label "clerk": he was not involved with the players. The manager's role still contained plenty of bureaucracy, so Patterson probably helped with the paperwork Watson did not have time for while dealing with the team and being away scouting.
The closest, literally, Patterson ever got to the team at this time was when he stood in for Watson, in an act of eerie foreshadowing, in the 1913/14 squad photo. However, at first glance his light-coloured summer clothes merge into the players' faded red shirts, rendering him indistinct, so it is only his natty straw boater that picks him out. In truth, George Patterson never photographed well at Liverpool. Fans today unsure of who either Tom Watson or George Kay were would still have little difficulty identifying them in squad photos, as both display a gravitas which draws the eye. Patterson, meanwhile, is just another man in a suit, indistinguishable except on grounds of age from the other suits in the picture. A newspaper's report of the 1918 AGM accurately described him as someone who "does not seek limelight", as he does not come across in photos as trying to project himself. Rather, he looks like the back-office man he always was. Nonetheless, there is something uncanny in the way his destiny can still be read: he suffers the indignity of being chopped off at the end of a row in some pictures and so is not even fully in them, while in the 1929/30 version, which contains an entire row of directors, Patterson's placing on the extreme left is far from the symbolic centre of things.
Then Tom Watson died suddenly from pneumonia in May 1915 and changed George Patterson's future. He became the caretaker of Watson's multi-faceted job, despite rumours Alex Raisbeck, then manager at Hamilton Academicals, was in the running. Patterson's formal appointment in September 1918 satisfied the Echo reporter who commented he had been "well-schooled and will make good", but the basis for this is a mystery and why Patterson, who had had nothing to do with the team thus far, was given charge of the players at all even more so. Promoting the assistant may have been right in theory but in reality it missed the point. Watson's rare abilities to scout talent and organise a team lay far outside the secretary's original job specification but this somehow got lost, as if the unchanging job title was salient. It is easy to visualise the directors being set a Logic poser – "If a successful football manager comes from an administrative position does it follow that all those in administrative jobs are successful football managers?" – and utterly misunderstanding.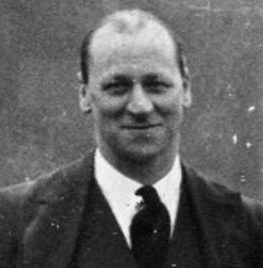 This did not matter to begin with. Formal competitions were suspended from 1915 to 1919, so with results immaterial Patterson's limitations were irrelevant. There was also plenty of financial business for him to concentrate on, such as the visitors' share of the gate being increased in an attempt to assist clubs struggling with reduced attendances and the increased price of general admission following the government's introduction of an entertainment tax in 1917, together with general war-induced economising. If there was ever a time when a bureaucrat could run a professional football club with no harm ensuing, this was it.
The return of competitive matches in August 1919 was another matter. Patterson oversaw eighteen games until December, but only seven were won and Liverpool placed just above the relegation zone when he stepped down in favour of David Ashworth. That Ashworth would rally the team to finish fourth and soon guide them to consecutive championships illustrated the difference between Patterson and a professional. The directors seemed to realise this too as they now separated the two roles of secretary and manager, with the former an official and the latter in charge of the team, thus implying that asking Patterson to do both roles had been a misstep. Even the Liverpool board now understood.
The rest of this article is for Subscribers only.
[ttt-subscribe-article]