By Mihail Vladimirov.
In terms of selections, neither manager sprung any surprises.
For Watford, the main dilemma was which approach to take regarding the wide players – starting with two in-cutting ball-players, or with only one of them, in tandem with a player (Anya) able to provide greater natural width and extra defensive diligence. Either approach would have been sensible, but Quique Sanchez Flores opted for the former, presumably due to its capacity to pack the midfield zone and better resist Liverpool's pressing.
Meanwhile, Klopp had to basically choose who would start up front, a decision which would have an impact on the overall formation and a couple of players' positioning. If Benteke was to continue up front, it would've been likelier to continue with a 4-2-3-1 shape, with Ibe starting on the right. As it was, playing Firmino instead meant Klopp was always going to opt for a strikerless formation with a bunch of ball-players playing closer together through the middle.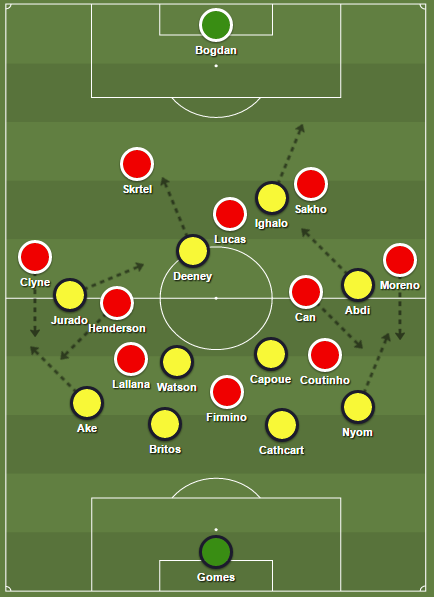 The likelihood of a tactical stalemate
When the exact starting XIs were announced, both teams' probable approaches were easy to guess at. Watford were basically going with 'more of the same', as in continuing with their usual narrow 4-2-2-2 shape, counting on the dual defensive shield provided by Watson and Capoue and with Jurado and Abdi helping clog the central zone and helping out defensively – by making the side compact, cutting off passing angles and tracking back the opposition's full-back – and offensively – by helping move the ball forward on the break, initiating rapid attacking combinations and providing creativity from higher up between the lines.
Meanwhile, following recent poor attacking displays with Benteke in the side, it was always very likely that Klopp would now opt for Firmino upfront instead, meaning Liverpool's XI was also kind of expected.
Both teams' set-ups made it highly likely that they would largely cancel each other out. Both sides had formations and personnel to pack the central zone, where congestion was inevitable. In turn, this meant each team could always guard against what was going to be the opposition's main threat.
The presence of Lucas as the deepest midfielder prevented the centre-backs being exposed and allowed Liverpool to create 3-v-2 against Deeney and Ighalo. Similarly, having players either side of the Brazilian (i.e. Can and Henderson) guarded against the possibility of Watford's narrow wide men overloading Lucas between the lines. All this meant the Reds were well set to protect themselves against the Hornets' double threat and minimise the chances for the home side to create dangerous counter-attacks.
In Watford's case, having their wide men so narrow meant that Liverpool basically having six players through the middle would be less of an issue. In addition, Jurado and Abdi were able to either cut off the supply towards Henderson and Can or stay tighter on them. Then, with forwards dropping deep, the space Watson and Capoue would otherwise have been forced to cover was drastically reduced, so they could focus on patrolling the space between the lines and preventing Liverpool's trio of roaming attackers  playing penetrative passes or interplaying dangerously. This would leave both centre-backs as de-facto sweepers, clearing any loose ball or picking up a ghosting runner without worrying about being too exposed.
All this conspired to make a tactical stalemate highly likely, turning the game into a clash of who blinks first or waiting for someone to do something – individual piece of magic or individual error – to break the deadlock and force the game to open up.
Watford score, all is not lost for Liverpool
As it was, that something happened only a couple of minutes , when Watford opened the scoring from a corner after an individual error from Liverpool's keeper Bogdan.
On one hand the game now become different, as Liverpool could no longer afford to play it cautiously. On the other though, conceding a goal so early in the game didn't really render Klopp's starting XI, formation and supposed approach totally redundant. Watford were always going to continue playing it safe, as if it was still 0-0, without really going into their bunker given the game had barely started. So Liverpool would still need to focus on using their expected possession dominance to build well-prepared and methodical attacking moves in the final third in order to suit the plethora of ball-players and runners from deep who can exchange positions and combine crisply.
The goal didn't change the game too radically. Liverpool weren't forced to drastically alter their approach or deviate too much from the supposed initial aim of dominating with the ball and using smart passing and clever movement to work the opposition around and drag them out of position. As Liverpool were trailing only by one goal and given there was essentially a whole game still to be played, there was no need for the Reds to gamble and go gung-ho right away. There was plenty of time to get back level and take it from there. The visitors simply needed to brush off the disappointment of the early goal, focus on gaining control over the game and look to build from there – which the starting personnel and formation were perfectly suited to deliver.
The rest of this analysis is for Subscribers only.
[ttt-subscribe-article]