By Paul Tomkins.
The role, impact and influence of the modern manager becomes ever more intriguing. Even in just the past ten years we've seen so much change: increased player power, and along with social media, decreased fan patience.
There are frequent hysterias to get rid of managers, but also over their appointments in the first place. Jürgen Klopp has had the temerity to not arrive with a magic wand; a trio of outstanding away displays, the like of which the Reds probably only produced once in Brendan Rodgers' final season-and-a-quarter (the 3-0 at Spurs), have been followed by familiar flaws that have been troubling the Reds for years, often perpetrated by the same players. The only thing you can criticise Klopp for, beyond a judgement call here and there, is not working miracles.
To me, Klopp can still be the Reds' saviour – i.e. the right choice, the man to lead the club to better times. But this is different to him possessing mystical powers. His work won't be helped by the fact that the fanbase can divide itself over something as trivial as a positive move he tried at the end of the West Brom game. Allied to problems with the quality of the squad, there is massive expectation burdening the club, and little patience from the global fanbase; while most who attend home games are passive, where passion once reigned. They may still care as deeply, but now it's about being entertained before any noise is made. Ticket prices don't help, and yet the Premier League is one big arms race, where finances matter (at least they did). But that's another story entirely.
The way it went wrong for Klopp at Dortmund last season (before results improved after Christmas), and the way it went wrong for reigning champion Jose Mourinho this season, and the big fall by Liverpool after finishing 2nd in 2014, are all examples of how things can radically change in the sport, often when there's not necessarily a great change in the personnel. Players may have been lost here and there – even important ones – but after a while it just stops making sense.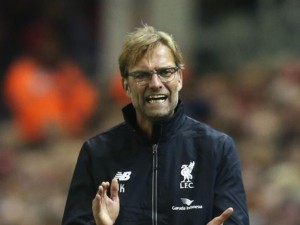 So this is not a piece where I say that Liverpool's players are all "shit" and "rubbish". There is the core of a good young squad, but it's not well balanced, there are injuries, there's not enough pace, and it has been created in accordance with various visions: several different managers going back a few years, a Director of Football, and a transfer committee. All of these men assembled what Klopp inherited, and often with different ideas of what was wanted; and at times, with the manager and the committee having competing or conflicting visions. All of these people were also behind the successes in the current squad, too, but the hit-rate, and the consistency, hasn't been good enough.
Right now Klopp needs is learning about the players, and the league, and needs to have the freedom to try things out. He needs time to build a team in his image, that does the things he wants, rather than trying to make what he has work for him (which is obviously part of the brief, but you can't expect everyone in a squad to be suitable).
Klopp has publicly talked up those he inherited, and he could do nothing else. And some of them he clearly rates. I don't want a manager who comes in and says to the media that "the goalkeeper isn't good enough", or who arrives and instantly bemoans the squad, making excuses. It's his job to make the best of what may well be a bad hand, although that doesn't stop me making excuses on his behalf.
He's not the kind to throw his players under the bus, but it's not his team yet, and it would be irrational to judge him on what we've seen so far. We've seen how good his team can be, when it plays in his image, but consistency is much harder.
He also has to contend with an institutionalised failure, particularly at the back: Martin Skrtel, though at times excellent during his 315 games (as I've said before, has a more mediocre player ever played so many games for the club?), has been an ever-present (and at fault) in too many shaky back-fours to be trusted; ditto Simon Mignolet. Maybe they'll prove me wrong, and I hope so, but we've been seeing these faults for too long. Players make mistakes, but the best ones don't make a habit of it.
At the moment, Klopp can't do much about his first and second-choice goalkeepers gifting game-changing goals at key points in successive games, but the bigger the club, the bigger the goalkeeper's personality needs to be (unless the defence is so good it can protect him). Maybe it needs a change of goalkeeping coach, but an elite goalkeeper would be a big help.
Klopp inherited a team beaten 3-1 at home by Palace, 6-1 away by Stoke and 3-0 at home by West Ham in the four months before his appointment – the kind of stuffings that you'd normally expect the Reds to face over a decade, not a matter of months (or not at all, in the 6-1 at Stoke). You will always get a handful of results each season where your team loses or draws games you think they should win, but being hammered – particularly by mid-level opposition – is a relatively new thing.
Brendan Rodgers was the manager at the time when those hammerings began, while some of his purchases added to the mess. One of the few signings he got right – Danny Ings – was an instant hit this season (before injury cruelly hit), while one of the committee's (Divock Origi) has only "clicked" in the past month.
These are both young players, not weighed down by big fees or big responsibilities. The same is true of Jordon Ibe, another of the players to look good under Klopp, although Rodgers deserves credit in this instance for bringing him through at the right time, after recalling him from his loan spell at Derby (which, quite incredibly, was still less than a year ago).
Perhaps the club is in a similar place to where it was 22 years ago, as the team struggled with so many overpriced Premier League players, whilst the younger stars – including Steve McManaman, Rob Jones and Robbie Fowler – played with more freedom. Of course, the Reds' current teens and early-20-somethings aren't that good, and no one is quite as bad as Paul Stewart, but I feel more faith in the younger players than the older ones right now.
Of the players who are clearly good enough, Sturridge has barely been seen and Coutinho hasn't rediscovered his impressive form under the new manager since a recent injury. If Rodgers' tenure ended with some bad luck on those fronts, Klopp has hardly been blessed with good fortune.
Mamadou Sakho, who was excellent under the German until a knee ligament injury several weeks ago, was rushed back into the first team too soon (due to Lovren's injury) and, partnered at the back by Lucas Leiva in an error-strewn second half, was absolutely all at sea; but at least he seems to have the character. And at least he had an excuse for being off the pace on a bad pitch at Vicarage Road, although his confidence won't have been helped by so many mistakes.
Liverpool simply have too many players who are failing to live up to price tags – Lallana, Firmino, Lovren (before his last few games) and Benteke – although Benteke is still fairly new to the club (albeit stylistically unsuited to Klopp's game), and Firmino is new to England and the club. James Milner was a free transfer but is failing to live up to his wage packet, although as the old saying goes, he had his best game against Watford (i.e. he wasn't playing).
I've long felt that players can only be fairly judged once in their second season, and that's even more relevant to imports. So Firmino, although anonymous in quite a few games, gets some leeway (he's also still fairly young); it took Mesut Ozil, a far more experienced and expensive player, a long time to look the part, after similarly anonymous displays.
However, I've run out of leeway for Lallana and three or four others – but until any of these players are sold I'll be happy to be proved wrong. Because until then they can theoretically turn things around, like other "flops" have in the past, although the odds probably suggest that most won't.
Klopp and perceptions
What worries me is how quickly things go wrong in modern football; or rather, how quickly perceptions change for the worse. What Klopp achieved at both his German clubs took years; they were slow, gradual builds, where time, and transfer windows, allowed him to gradually lift those clubs to far above where he found them. And yet I can sense a "why hasn't he done that yet?"
Did Liverpool bring in the manager who built those successes, to construct something here, or did they just want the part where the titles were won (and not the work that went into it)?
The rest of this article is for subscribers only.
[ttt-subscribe-article]