By Mihail Vladimirov.
Klopp made only three changes following the midweek Europa League clash with Sion. None was a surprise, with Moreno and Benteke replacing Smith and Origi and Coutinho, coming back from injury, replacing Firmino who was given the break his recent displays suggested he is in great need of.
Pulis' WBA presented even less of a surprise in their starting XI. Gardner was expectedly chosen to replace the injured Sessegnon down the right flank. This was the only change as although Yacob was in line to make his comeback following a one-game suspension, he had to miss the game due to compassionate leave for bereavement. As such Olsson remained at centre-back with Evans ahead as the team's defensive midfielder.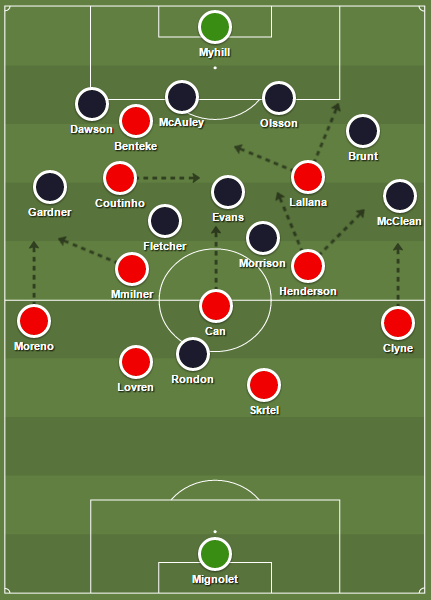 WBA's parked bus not parked very well
Pulis and his widely recognisable brand of football has become a typical feature of the English Premier League landscape ever since Stoke's promotion back in 2008.
Now, after seven years of experience with it, there is no great secret or huge surprise as to what a Pulis side will offer on the pitch, especially against the so-called 'big boys' or in games away from home.
Back in the days of Stoke's first seasons in the top English division, Pulis tried to vary his approach and mix his side's usual sturdy defence with heavy pressing from the front, especially in home games against highly technical teams (like Arsenal), with the simple aim of trying to disrupt such teams' passing flow and overall rhythm and prevent them settling into their customary total domination.
In recent years though, the Pulis paradox is that although he was given access to more money and better quality of players, his approach didn't evolve. Quite the contrary – it stalled, becoming even more rigid and one-dimensional, therefore even easier to anticipate.
However, as was the case with Guardiola's Barcelona, there's a huge difference between knowing exactly what's to come and being able to actually overcome it. Like its polar opposite, tiki-taka, the parked bus strategy when performed properly is one of the hardest things in modern football to deal with. To be executed properly however, it requires an impeccable defensive positioning, a high level of understanding and immense work ethic and concentration levels, with the players being perfectly drilled in their individual and collective responsibilities to completely suffocate and stifle the opposition, utilising pure defensive techniques (tight marking, closing off the space, tackles, interceptions, clearances etc) with precision to quickly and decisively repel every opposition's attempt to attack.
But over the years, the term 'parked bus' has become too loosely used. Instead of it being saved for only those few teams able to really pull it off intended, it started to be too readily associated with any other team that is evidently willing to mainly defend and do it with plenty of bodies behind the ball. But the essence of the term does not simply imply that a team is mainly defending; it hints at how a team is defending organisationally and efficiency-wise. It's similar to the 'tiki-taka' brand – it's not a style where you'd simply need more than 50% possession to show you're actually using it.
In this game, although parking the bus is what WBA clearly tried to do (confirmed by their starting XI, the formation the players lined up in and the way they settled into a deep and narrow defensive shape following kick-off), it's not what they indeed achieved on the pitch.
Unlike during his best years at Stoke, here Pulis' side was – simply said – poor defensively. WBA's defensive shape, although indeed being deep and narrow, was too loose, leaving too many gaps all over the width and depth of their defensive third. There wasn't the usual vertical and lateral compactness, which exposed the players and left them unable to properly track back the opposition's runners or remain tight to attackers.
It was also surprising seeing a Pulis side so subdued and passive in terms of engaging with the ball carrier and minimising his passing options. The visitors gave Liverpool's players too much time to pick out their passes and execute them accurately.
The rest of this analysis is for Subscribers only.
[ttt-subscribe-article]