By Paul Tomkins.
Jürgen Klopp knows that to stand any chance of success he has to have Anfield rocking. He'd already mentioned about fans needing to stay to the end, although not as a criticism – but it seems to have made people justifiably question why they go to all the effort and expense and then walk out after 82 minutes with the match in the balance.
But it needs more. And at the end of today's draw, he dragged the players to salute the Kop, as if to say "thank you" for not only staying but for making the kind of noise that worries the opposition; noise that helped lead to the tide of pressure that told with a 96th-minute equaliser.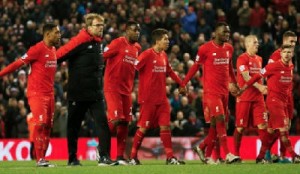 To me, it seemed like Klopp was trying to create a bond between the fans and the players – something that used to exist, but has whittled away over the years, for various reasons. A quiet home stadium can be a hindrance, and he knows it. So he wasn't celebrating getting a draw against West Brom, but saying "This is what I mean". The players looked a bit embarrassed, but maybe they'll understand if, from the next home game, the atmosphere is better from the start.
The players gave their all (it wasn't a typical "tired" post-Europa League performance), and the crowd responded – so why not mark it with something to make it live in the mind? Why not put the tired old cynicism aside and actually find it uplifting?
Klopp's journey
It strikes me that there are various stages to any manager's time at any given club. We all know the talk about the 'new manager bounce', and while that is palpable in some cases, it will never solve the bigger problems – whether you start well or not, if there are deeper issues they will resurface. (For instance, if your goalkeeper has fragile confidence and an inhibited personality, it will probably come to the fore again, sooner or later.)
This article is for subscribers only.
[ttt-subscribe-article]