For both teams this game is of huge importance. The hosts will surely be keen to get back to winning ways and improve on what was an average past few weeks performance-wise. Sooner or later Liverpool will need to show signs of being able to deal with stubborn defences, more so when the crucial Christmas period sees them facing precisely that type of opponent.
Meanwhile, after a stuttering start, WBA have started to stabilise their performances and are now closer to what a typical Pulis side looks like. Their manager will look to preserve his current unbeaten record and look to build on it in the comings weeks as a way to see his side push higher up the table.
WBA's season up to now
The reason for the Baggies' largely unconvincing start of the season was that once again Pulis attempted to evolve his side and mould them into a more attack-minded outfit. The team approached the first few games of the season unPulis like in terms of looking more dangerous going forward at the expanse of defensive solidity and being too open at the back.
Partially, this is logical as Pulis had to justify spending big money on the former Zenit star forward Salomon Rondon, on top of seeing his club standing firm and denying Berahino his dream transfer to Tottenham. However, as happened in Pulis' last two seasons back at Stoke, poor performance and some bad results saw the English manager revert back to his tried and tested formula of packing the defence, congest the midfield zone and look to first and foremost frustrate the opposition before thinking about the attacking side of the things.
Still, after that period of steadying the ship, Pulis made a second attempt to emphasise greater attacking intent shown by his side. For the sixth game of the campaign (away to the struggling Aston Villa), the manager tried to incorporate both a defensive solid structure and enough attacking threat. He came up with a 4-1-4-1 that saw his team have two defensively reliable midfielders (Yacob, Fletcher) with Berahino (off the left flank) and Morrison (given freedom to bomb forward from deep) providing more and closer support to the previously isolated Rondon up front. The following three games (Villa, Everton, Palace) clearly saw improvement in the attacking performance but as at the start, the trade-off was for once again worsening defensive displays.
Once again Pulis' answers was to go 'back to basics' as he reverted to a typically rigid 4-4-2 that defended with eight players always sitting behind the ball, with the front pair trying to do everything by themselves. Two wins against the struggling Sunderland and Norwich was followed by a total home thrashing at the hands of Leicester. It was the game against Ranieri's team that seemingly convinced Pulis that there is no need to experiment anymore. Since then – in the last four games – WBA went back to playing in a 4-1-4-1 formation but in contrast to the previous more fluid-looking incarnation, Pulis is using this formation for its extra midfield presence. The team is still defending in a two banks of four, with two wingers (McLean and Sessegnon) doubling up as auxiliary full-backs when the team is out of possession and Yacob patrolling the space between these two lines to add that additional defensive cover.
Statistically, Pulis' flirtation with a more attack-minded approach saw his team allow almost two clear-cut chances per game – 26 in the 15 games up to now. Yet, the team has conceded 19 goals, which is bang on their Expected Goal rating of 18.3.
Still, despite the obvious attempts to be more proactive and attack-minded, WBA have very bad attacking stats. Pulis' side is currently sitting with the lowest possession average (42.3%) in the league, on top of being the second worst team when it comes to passing accuracy (71.7%). They have scored 14 goals, which is the joint-second worst record in the division. What's more, they've actually over performed the xG model with three goals, as their rating (which is also the worst in the league) suggests they have created chances equaling only 11.1 expected goals.
Anyway, WBA still look like a typical Pulis side. They have registered more wins (3) away from home on top of being the least leaky defence away from home in the whole division (only 5 goals conceded on the road).
How will Pulis line up?
Pulis doesn't have a major injury crisis with Ben Foster the only long-term absentee. But the injury Sessegnon sustained in the last game against Tottenham is a big blow as it forces Pulis to deviate from the shape and personnel that finally brought his team some sense of balance and defensive stability.
Similarly to McLean on the left, Sessegnon has been performing his role on the right flank flawlessly. He was defensively diligent but also posed a threat on the break and was one of a couple of players given the freedom to leave their position and support Randon when the team was in possession.
Without Sessegnon, the WBA manager will have to decide whether to keep the recent 4-1-4-1 formation or go back to 4-4-2. The problem is there is no other player who combines what Sessegnon has been providing both in defence and attack. Callum McManaman can replicate his attacking output as he is a player who can dribble his way forward and roar down the flank before putting a dangerous cross into the box. But he is far from defensively disciplined or diligent enough (which is why he remained on the bench since the opening games of the season). Meanwhile, Craig Gardner – as a natural midfield player – can provide that extra defensive cover, be it to either tuck into narrow positions and help congest the midfield zone or remain deep to help out his full-back. But he lacks anything that Pulis might look to utilise on the break as he is neither the speediest player, nor the most gifted dribbler.
Considering WBA's aim in this game would be to mainly defend and make it hard for Liverpool to attack, obviously it'll make more sense to see Pulis prefer Gardner on the right flank. In that case the Baggies would function mainly as in recent games: count on a solid back four, with Dawson playing as auxiliary centre-back (which is what he is by trade) at right-back and Yacob – returning from suspension – providing the defensive shield ahead. In midfield Fletcher and Morrison unsurprisingly (given the time spent playing for Scotland during the years) struck a nice understanding. The former is there to hold his position more and distribute the ball reliably; the latter is given a bit more freedom to try the ambitious pass and runs from deep.
On the left flank, although a natural winger in his younger days, Brunt is providing the defensive positioning in addition to his ability to quickly distribute the ball forward from deep, often with cross field passes. Ahead of him, McLean will motor up and down the flank – being the team's main ball-carrier option on the break before looking to quickly track back and get behind the ball as soon as the team is out of possession.
This line-up is built to mainly frustrate and make it hard for the opposition to penetrate both through the middle and down the flanks. In attack, WBA will depend mainly on Randon's all-round threat and the sporadic threat posed by the likes of McLean and Morrison from deep. Set-pieces, therefore, should once again play a huge part in Pulis' game plan. As he himself famously said, every Friday is the day he spends with his team only on various set piece set-ups and strategies.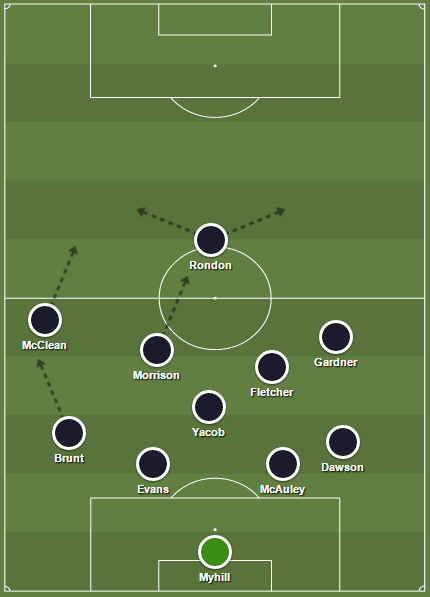 There is the chance that Pulis might decide Berahino is worth reinstating to the starting XI though. He could keep the recent 4-1-4-1 framework in place and switch McLean to the right and play Berahino to the left. WBA's manager's thinking might be that Moreno is the greater attacking threat (especially as the Spaniard has been rested for the Europa League clash), so it's worth having someone who can match him for pace and would track back with him. Gardner would struggle to do that, so in the event Sessegnon is injured McLean is the next best option.
This will open up the spot on the left flank. If Pulis wants to really shut up shop he can play Gardner centrally and place Morrison on the left. But this will remove any counter-attacking threat, which is likely to only invite Liverpool forward and allow the hosts to create and maintain a serious level of attacking pressure. Therefore Pulis might decide it's worth the risk to play Berahino on the left as the player most likely to cause Liverpool trouble on the break. With Liverpool surely to push forward both of their full-backs, there would be plenty of space available for WBA to exploit on the counter. Having Randon to occupy the centre-backs' attention would help Berahino and McLean do the damage down the channels.
To compensate for Berahino's lack of defensive diligence, Pulis might either instruct Morrison to hold his position more and be ready to go wide and cover for the forward; or place Fletcher as the left-sided midfielder to offer that cover naturally.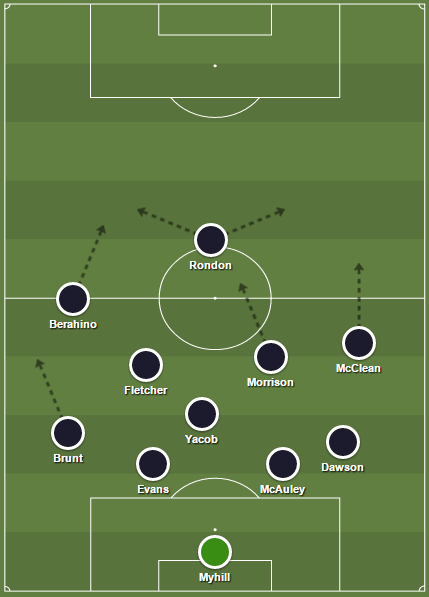 Of course, Pulis might prefer not to risk Berahino down the flank and as such switch to a 4-4-2 formation. With him and Randon forming a nicely complementing front pair, there will be less need for any of the midfield unit to break forward as often to offer extra attacking support.
Obviously the 4-4-2 variant would be riskier defensively as with one less body behind the ball WBA would be a bit more vulnerable. Having Morrison and McLean 'glued' to Liverpool's full-backs, leaving Brunt and Dawson to tuck in while the disciplined midfield pair of Yacob and Fletcher remain deep is a way to compensate for that danger and ensure there is no space around or ahead of the centre-backs. This on top of exploiting all the benefits of having Berahino up top alongside Randon.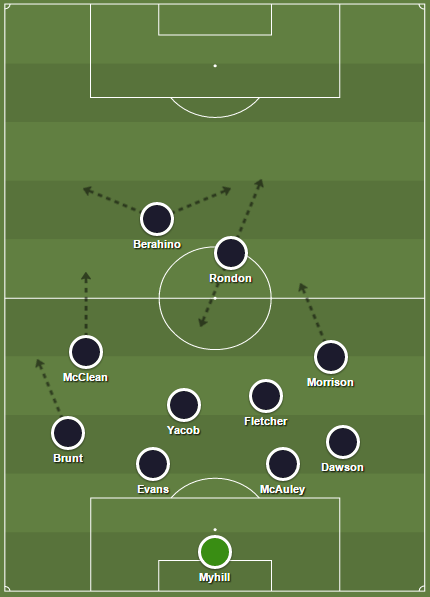 Anyway, no matter the exact formation or starting XI it's hard to imagine a Pulis side coming to Anfield and do something different than simply trying to line up in an organised and disciplined manner and do their best to first and foremost frustrate Liverpool. Unlike other teams, it's less likely to see WBA being proactive from the start and do their best to press the Reds in order to prevent Klopp's players settling in easily into a possession and territory advantage. It's more probable that Pulis will be content to see Liverpool having all the time on the ball, in exchange of seeing them struggle to morph this into meaningful attacking combinations deep in his team's half.
Pulis would also surely be aware that Liverpool are having trouble showing the sort of attacking fluidity and passing fluency they showed in some of the away games; in addition of knowing the crowd will get edgier and more nervous the more time passes by and Klopp's team struggle to create good goal-scoring chances. For that reason, Pulis would surely prefer to ensure his team don't make silly errors and give away an early goal. The English manager would likely count on that the more nervous and tired Liverpool become, the more chances WBA would have to pounce on the break later in the game.
How could Klopp deal with a proper parked bus?
This game represents Klopp's first encounter in his whole career against the infamous typical English Premier League parked bus.
On one hand, this would represent a serious tactical challenge for Liverpool. Not because Liverpool, the club, would for the first time face such type of opposition. More that their manager and his backroom staff are lacking previous experience on that front on top of not having the time to meticulously prepare for that game due to a congested fixture list and latest mid-week game.
On the other hand though, being perfectly aware about Pulis' recognisable brand of football and how exactly he is to come and play this Sunday might have given Klopp, his staff and players the heads up to utilise any available time beforehand to prepare specifically for this challenge. But as ever, it's one thing to know what follows and it's completely different if you'll be able to overcome it. Therefore, the onus will clearly be on Klopp to utilise his tactical nous as best as possible to devise a plan capable to prevail.
As ever, the key will be to ensure Liverpool are possessing the right mixture of diverse attacking threat in all five channels and enough players able to morph the tons of possession into genuinely creative passing combinations. How Klopp might achieve this is what, above everything else, makes this game tactically fascinating.
In recent seasons, the Premier League teams that showed the greatest capacity to deal with the 'parked bus' teams are Arsenal and Man City. Wenger achieved this by playing a fluid 4-2-3-1 with Giroud (up front), Sanchez (off the flank) and Ramsey (generally from deeper in midfield) offering the required attacking diversity while Ozil (from an advanced position between the lines) and Cazorla (from the back of the midfield unit) pulled the strings and ensured the right blend of possession dominance and non-stop supply of creative passes in the final third.
Meanwhile, Pellegrini succeeded doing the same in a slightly different overall shape. His team has typically played in a 4-2-2-2 manner with a diverse but complementing front pair of one physically imposing forward (Dzeko, Negredo) and a roamer floating around freely (Aguero, Jovetic). In midfield, Toure's powerful runs from deep added the third attacking pivot with the players down the flanks rotating between being two moving infield creative ball-players (Silva, Nasri) or combining one of them with a player providing extra diversity by staying near the touchline to further stretch the play and open up the space centrally (Milner, Navas).
Although not having the same top level talent across every position, Liverpool still possess the right kind of type of players to be able to recreate either variant.
Despite lacking a true inside forward in the mould of Sanchez, Klopp could aim to recreate the Wenger model by utilising the Lallana-Firmino duo as part of the attacking band of three behind Benteke. The big Belgian, similar to Giroud, is a great weapon to have against packed defences due to his physical presence and ability to both get on the end of crosses but also be additional provider by joining in the build-up phase and quickly laying the ball for onrushing midfield runners.
Neither Lallana or Firmino are naturals in the inside role, but between the two of them, Liverpool would have players capable to share the burden and offer enough off the ball runs to provide the extra attacking threat, and support the lone striker. Coutinho then can be played off the left flank but given the freedom to drift infield and end up in the space between the lines from where he will need to provide the supply in terms of defence-splitting passes.
In midfield, Can and Henderson seems the best midfield pair looking to provide additional creative help and those extra off the ball runs from deep. To aid to the overall fluidity, the two of them can rotate and take turns with who is to stay deeper and help dictate the play and who will be the one busting a gut to get in and around the penalty area in support. Against a team going to threaten mainly on the break and with balls down the flanks and with long passes to the lone target-man, Liverpool should get away without fielding a proper holding or defensive midfielder. Lovren and Skrtel should have no problem dealing with Rondon, while Moreno and Clyne have the recovery pace to quickly get back and prevent WBA's wingers doing much damage.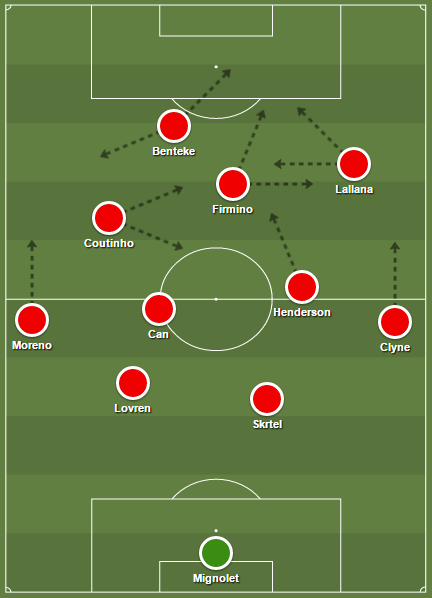 Still, with the available personnel, Liverpool seems better equipped to try and recreate the Pellegrini model within a 4-2-2-2 formation. Benteke and Origi can provide the diverse front pair, while Coutinho and one of Lallana and Firmino can occupy the wide areas but drift infield. Can and Henderson can easily recreate the Fernandinho-Toure pair with the added benefit of being able to swap their roles and rotate who is going to sit back and distribute the ball and who is going to bomb forward.
If Ibe is fit after his mid-week illness, he could be the joker in the pack. With him on the pitch, Klopp could field a line up that perfectly contrasts the WBA's team and puts pressure on each of their players in a manner that is likely to see them crumble.
Ibe can be deployed on the left flank and have a go at the typically deeper and narrow Dawson. The WBA converted right-back will be in the impossible situation to decide whether to remain in his position near the centre-backs and leave Ibe with time and space in the final third, or get out wide and risk being easily burned for pace or dribbled past. With Moreno ready to fly forward and double up to threaten and create a wide overload, WBA's right winger will be tested too. If it's Gardner, Moreno and Ibe could have a field day over that side. On the right flank any of Coutinho, Lallana and Firmino can aim to get on the inside of Brunt and test his defensive positioning by trying to get centrally between the lines. The latter is out of form and already overworked, while the latter has limited time in his legs given he has just returned from injury. It could be that Lallana starts and tries to run WBA to the ground with his roaming and intensity before Coutinho replaces him to try provide that extra creativity later on.
Up front, Origi's pace is what the 36-old and so horribly immobile McAuley hates to face, while Benteke's brute physique is precisely what has been giving the former Man Utd defender Evans the biggest trouble during the years.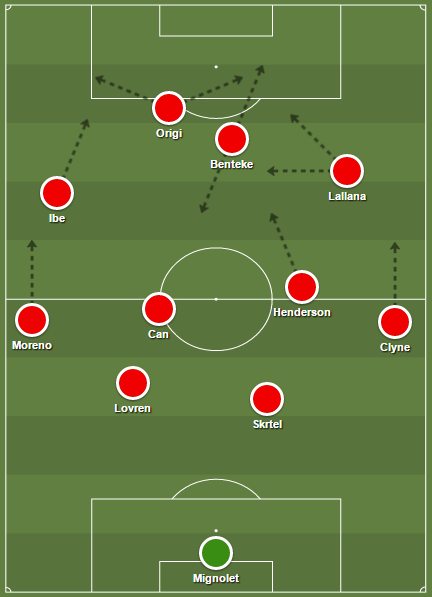 A problem though is that ahead of this game, Klopp made the peculiar decision to fully rest two functional players (Lucas, Allen) but played his two versatile attacking midfielders (Lallana, Firmino) for almost the whole match in a consecutive game, while two of his valuable attacking assets Henderson (off ball runs) and Coutinho (on ball threat) are just coming back from injury and aren't fully fit. Even if the Sion game was low in terms of intensity, this makes Liverpool's preparation far from ideal as it's hard to see how the lack of additional playing time, the lack of time for proper rest and tactical drilling will help the team be ready to overcome the challenge waiting ahead.
This means that as tactically suitable the above variants seem to be, they might not be possible to achieve for purely practical reasons. This means Klopp will have to be extra tactically creative to make his side capable to find the breakthrough against a well drilled and hugely defensively resilient opposition without all of his best attacking players playing together.
With Henderson and Coutinho perhaps kept on the bench, Lucas and Can seem certain to start in midfield. Then depending on whether Ibe is fit enough to start and what formation Klopp prefers, Milner, Lallana and Firmino would need to support Benteke or one of them will be benched to have Origi in attack too.
Going with a 4-diamond-2 is definitely on the cards for Liverpool. Ideally Can could be deployed at the base and use his dribbling and greater passing creativity to help out in terms of the build-up play. Meanwhile Henderson and Milner could play as the shuttlers with them taking turns whether to drift wide and provide extra attacking threat to stretch the play or bomb forward to overwhelm WBA through the central channel. But it's more likely to see Lucas as the deepest midfielder with Can and Milner as the shuttlers. This would make Liverpool less dangerous in the final third and would put extra emphasis on specific tactical organisation. Milner could be used to drift wide to the right and team up with Clyne to provide the wide overload, while Can leaves the left flank free for Moreno and remains central and looking to get in and around the penalty area. In addition the front trio will need to cooperate in a way to see each of them bringing something different to the other two. Origi will have to pull wide to try and stretch the play, while Benteke remains central and is prepared to not only hustle and bustle against the centre-backs but also drop in to allow Firmino/Lallana to get in behind.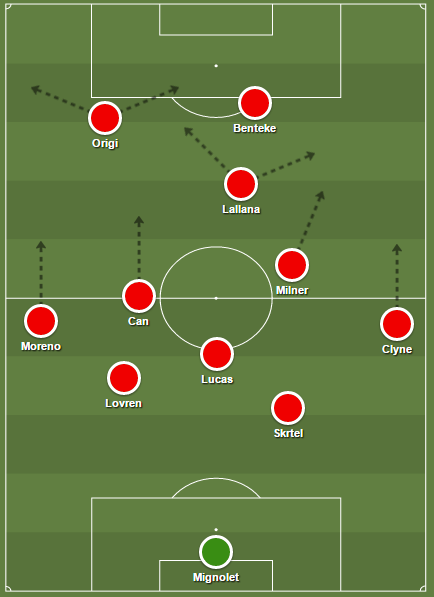 A similar approach will be possible with a 4-2-3-1 formation. If Ibe plays, he and Clyne should be instrumental in overloading the right flank and forcing WBA to move across in support, which hopefully would leave space somewhere else. Then two of Milner, Coutinho, Lallana and Firmino will occupy the other two attacking midfield positions with the player down the left needing to drop into midfield and be a presence between the lines to try and help with the chance creation, while the other remains focused on cooperating with Benteke in and around the box.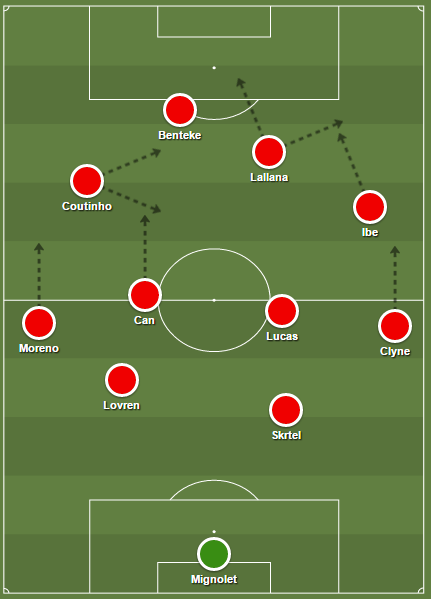 Alternatively, due to Lucas and Can being less able to provide the same attacking dynamism as a potential Can-Henderson pair, Klopp could try to make his side play 'contrasting' players to WBA's in a bid to search for a 1-v-1 game-changing duel. Ibe will need to play on the left up against Dawson, while the player on the opposite flank drifts infield off Brunt.
Summary
This could turn out to be Klopp's hardest tactical challenge yet in his Liverpool tenure. A combination of the nature of the opposition, the lack of fully fit and available best attacking options and the mid-week waste of valuable energy would surely make his job harder and will test his tactical nous to the maximum.
This is if WBA remain disciplined and organised and succeed in defending as resiliently as Pulis' Stoke at their best. Even far from their best shape, Liverpool still possess enough quality to pounce on every lapse of concentration, positional error or any other kind of individual mistake WBA seem prone to make.
The game could be a real slow burner if WBA starts as passively as expected and if any potential Liverpool early onslaught proves fruitless. This will again test Liverpool's physical resources and will put the focus on how Klopp can alter his side to positively influence the game tactically.