By Chris Rowland and Daniel Rhodes.
W/c Monday November 23rd 2015.
Welcome to our weekly round-up, a diary of news and events on the site, matters relating to LFC and the world of football generally.
The Week in Football – Liverpool FC:
Monday:
Simon Mignolet talked about the influence Klopp had before the game but also at half-time during the 4-1 victory at Man City on Saturday evening:
"We did really well and are very pleased with the result. Before the game the gaffer laid out a plan for us and it worked out perfectly.

"What he said before the game was the case. We didn't let them breathe and on the counter-attack we had a chance with the three players up top – Adam [Lallana], Phil and Roberto. They did brilliantly.

"We scored three early goals and just before half-time there was a bit of a setback, but we didn't let it affect us and in the second half we were the better side again.

"The gaffer has worked really hard on that and at half-time he said when you come into the dressing room at 3-1 away to Manchester City, you have to be happy and you have to go out in the second half with a positive feeling.

"That's what we did and we didn't let it affect us. We played our game and scored a fourth goal. We had so many chances to score many more – that's what you want to do when you play Manchester City.

"With the amount of chances we had, we could have possibly scored more goals than the four we did. We're very pleased with the result – we can move forward and try to do the same things next week."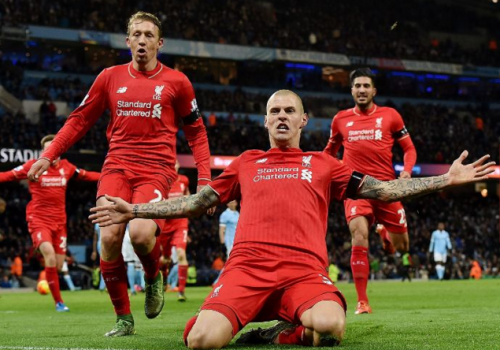 After two consecutive victories, away at last season's top two, Klopp was keen to move on from this and reproduce the performances at Anfield: (Guardian)
"I would love to win a game like this at Anfield. That's the next challenge. We have Swansea coming but I don't know that much about them yet. We lost to Palace so we have to find a solution and we will."

"If you are stuck in the forest and it's dark and you are afraid and someone tells you not to be then it doesn't work. It's your own mind. Only you can affect that. We need the confidence in ourselves – we cannot switch the lamp on and off, on and off. So it's very good against City but we have to work [more]. We are not satisfied. At 3-1 the game could have changed. They went 4-4-2 in the second half and it was difficult."

"We have to be very careful. If something serious happens [to players] then we have a big problem. We have to work, that's all. Somebody asks us if we can go to the top then it's not my problem. I don't think that way. The money is in the Champions League but I can't promise it now. It's hard work. They changed the manager here. It wasn't because of the weather and it wasn't a problem with Brendan Rodgers because he is a brilliant manager. But they had to change something. Only two weeks ago we lost to Palace. I can't say that we are good enough but if you want to write it you can."
Tuesday: 
BBC Sport's Chief Football Writer Phil McNulty discussed how Klopp is changing Liverpool's fortunes (BBC Sport):
Klopp has brought a positivity back to Liverpool, a bundle of energy on the touchline, urging his players forward, applauding the good and reacting furiously to the bad.

Liverpool's players reflected the attitude of their manager at City – perpetual motion, positive and bristling with intent. Manuel Pellegrini's motionless discontent was a sharp contrast.
Simon Mignolet said Jurgen Klopp has hugged all of the players at Liverpool and admits the hugs give him "a good feeling". (BBC Radio 5 live)
Jurgen Klopp has been given a lesson in how to speak 'Scouse' by nine-year-old Reds‬ fan Isaac, in a video the club posted on their official Facebook page. 
Wednesday:
Liverpool and Burnley will present their case regarding the transfer of Danny Ings, 23, at a tribunal next year. The Reds must pay compensation for the striker as he is under 24, and value him at £5m, but Burnley say they previously had a £12m bid from Tottenham. (Daily Express)
Steven Gerrard, 35, will train with the club next week but has ruled out a loan move back to Anfield. Gerrard is currently with Major League Soccer side LA Galaxy, whose season has ended.(BT Sport)
Talking on BT Sport, Gerrard said:
"I'm going to go in for a couple of weeks and work with Mr Klopp so I'm really looking forward to that, to see what he's about and try and learn a few things from him."
Thursday: 
Academy midfielder Will Marsh has agreed a youth loan switch to Sheffield Wednesday until January 31.
Friday: 
Liverpool managed to qualify for the next stages of the Europa League, with a nervy 2-1 victory over Bordeaux at Anfield last night.
Klopp told his post-match press conference:
"I am very happy to have qualified, the team are very happy to have qualified, the club are very happy to be qualified, so you [the press] can be very happy to have qualified!

"[Finishing] top of the table is important, but not the most important thing because there are only good teams in the next round.

"We will try everything when we travel to Sion in two weeks, but there are 50 games between then and now!

"We have to think about Swansea from tomorrow onwards and that's what we will do."

"There were many good things in this game tonight, but some things were difficult,"

"After the half-time score, Bordeaux had to go with a little bit more risk and it was more difficult for us because we lost a little bit of the control in the game. We couldn't close the half spaces in the midfield, we were too wide on the wings or sometimes we were too deep.

"They did well but we knew [about them] before and that it can be difficult to defend against them, so you have to be better with the ball and then they cannot do this.

"The first half was okay, the start of the second half was okay and then it became more difficult, but that's normal with this result.

"It was a big fight, so we're very satisfied because the easy games everybody can win. You have to win the tough games – and it was a tough game. It was a cool night!"
Daniel Sturridge, expected to make his long awaited return in this match, was instead sent for a scan on a new injury – an injured foot – just before the game kicked-off.
Klopp's Pre-Match Press Conference for the Swansea match:
The Week in Football – General:
Monday: 
Speculation increased on Rafa Benitez's future as Real Madrid manager after Saturday's 4-0 defeat at home to Barcelona:
"The Real Madrid president, Florentino Pérez, will hold a press conference at 7.30pm CET this evening in the Santiago Bernabéu following the board meeting," read a statement.
The rest of this round-up is for Subscribers only.
[ttt-subscribe-article]