By Andrew Mckay (TTT Subscriber orton992000).
Part 2
(Part 1 was published last week.)
A valiant attempt at the Double in 1898/99 foundered on an eventual Cup semi-final defeat to Sheffield United, despite numerous Liverpool leads across the four games it took to settle the tie, while the emotional evisceration of travelling to Villa Park for the championship decider and losing 5-0 awaited on the final day. Boris Becker famously rationalised being upset at Wimbledon by pointing out that "nobody died", and while this applied to that season's sporting disappointment someone at Watson's Liverpool soon tragically did.
George Allan had been Liverpool's first reliable goal-scorer, but was already too ill with TB to report for training ahead of 1899/00 and died at just 24 in October. Shockingly, the only unique thing about Allan is that he was still at Liverpool when he did so. Seventeen more former players who Watson managed at Anfield did not see old age and most fell far short of even 40. Most were probably due to the era's more primitive medical science, while Allan was merely one of perhaps six whose demises can be linked to the specific ill luck of living at a time before antibiotics. Two died of complications from ghastly injuries received while playing. Even the total of eighteen does not include three more who did not survive the fields of Flanders. Managers today can scarcely imagine this aspect of Tom Watson's world.
There was nonetheless a bittersweet providence in Allan's death, as his replacement would turn out to be the final piece for the 1901 championship. Sam Raybould, who also competed as a professional sprinter, scored seven in eleven games following his January 1900 arrival and would contribute seventeen league goals to the championship win the following season. The team's main strength, however, was at the back. The title challenge was in the balance by mid-February, as defeat away at lowly Bolton left Liverpool in eighth and nine points off the top, before a storming unbeaten run over the last twelve games, which encompassed nine wins and a notable nine clean sheets, saw Liverpool finish two points ahead of Watson's old team Sunderland. The manager's role was still a nascent one, but the Liverpool crowd who tried to joyously lift the already rather bulky Watson onto their shoulders when the team returned home after the clincher away at West Brom were in no doubt who was behind their team's maiden championship.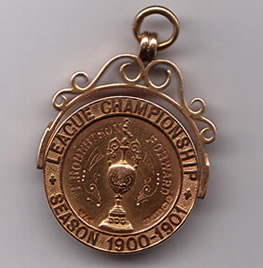 Unfortunately, there were some things beyond even Tom Watson's command as wider circumstances dismayingly sowed the seeds for the team's downfall just as they were winning that title. The April 1901 introduction of the maximum wage restricted the flow of money from Liverpool's large attendances into the players' pockets and so removed one of his main recruiting tools. There was now not as much advantage in relocating to Merseyside as there had once been, so Watson found the transfer market much less hospitable. For three and a half years from May 1900, he only signed one undoubted success (Goddard, the first Liverpool player to exceed 400 appearances), among an uninspiring haul of squad players and outright duds.
The rest of this article is for Subscribers only.
[ttt-subscribe-article]