By Paul Tomkins.
Things had got so dispiriting that Liverpool FC needed a lift more urgently than Harry Redknapp's face*. And the appointment of Jürgen Klopp – confirmed just minutes ago – is the biggest lift the club has had in over a decade.
(*This is one of those lines that I feel must have been written before.)
Indeed, it's the kind of lift that seemed beyond the club's status in 2015. Thankfully some world-class managers don't just want to swan into clubs with £500m sides and essentially become a toss of the coin as to whether they win the league this year or next. And the very fact that Klopp was on the lookout for this type of job makes him an even better candidate. This is not a union forged in pity, nor forced in desperation – although at a reported £7m a year, the club are making it worth his while.
In some ways it's foolish to celebrate the appointments of managers or the signings of players – I always think of 20,000 Newcastle fans turning up to greet Michael Owen on his unveiling, which was possibly the only time they saw him fit. In a way, it's like celebrating the award of a penalty: you haven't scored it yet. You just know that two times out of three it'll hit the back of the net.
When you don't have much recent success to trumpet, and you're running out of inspirational characters, then any kind of hero is to be welcomed. Carragher retired, Suarez departed, Gerrard slung his hook; and so James Milner, a man famous for being unspectacular and steady, was brought in to help fill this void.
So while it's wrong to get ahead of yourself, please allow me these premature ejaculations of the written variety. (I just hope I don't end up with something on my face.)
To me, it feels like Liverpool have replaced an 15-18-goals-a-season striker with one capable of 25-30. There was nothing inherently wrong with Rodgers – he didn't disgrace himself, and he almost became a hero beyond reproach – but as with upgrading a centre-forward or a goalkeeper, you only get a sense of what might have been holding you back once you make a clear improvement. You accept James Milner because he's a good honest player who can do a job, but also because you don't realistically think you can get Toni Kroos.
But in the dugout at least, that's changed.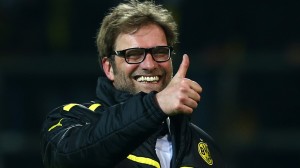 This is like when Rafa Benitez chose to say goodbye to the likeable (but only if he was on your team) Craig Bellamy – a proven Premier League player – for the incredibly exciting Fernando Torres. You'd be happy to have Bellamy in your ranks. But we were bouncing about Torres.
It barely needs saying that Klopp will struggle to break the grip of the four richer clubs, but it's undeniable that he'll give it a damn good try, and it promises to be an energetic ride. And while I've regularly made the "par" argument, the aim is never to settle for par; you have to strive to better it. But if you fail, you need to know that you gave it your best shot – something that didn't happen last season, and didn't appear to be happing this.
Every year it seems that one of the rich four has a bit of a nightmare, with the other three punching the weight of their pay-packets. There's always a chance, but first Liverpool must become better than Spurs. Spurs haven't done anything special to be above Liverpool, at least since they sold Gareth Bale – but they were above Liverpool last season, and they are right now. We can dream of the title, however unlikely it may be, but at the very least let's start punching our weight, and take it from there. Klopp is a huge stride in the right direction.
Mood
The mood on this site has been mixed for years. Not since Roy Hodgson have we had a manager unite us all. We obviously loved Kenny, but his tenure ended on a sour note, and no one was quite sure where the team was headed – so good in the cups, so poor in the league. Which was the real one?
And plenty of people on here liked Rodgers, but there wasn't a ton of love for him. On top of that, there were always the doubts you get with someone who hadn't fully walked the walk – even if he had talked the talked, and then almost backed it up.
Klopptomania
So, what can Liverpool now expect, beyond the initial euphoria? What will Klopp bring? And has he got the right tools in this 25-man squad? Here are some of my thoughts …
This article is for subscribers only.
[ttt-subscribe-article]