By Paul Tomkins.
If you're a Liverpool fan like me you'll probably have read several dozen articles on Jürgen Klopp in the past week, as well as sitting through various YouTube clips and listening to a number of podcasts (including TTT's tactical pod), imbibing every last detail. You might even have had lucid dreams about gegenpressing and giant grinning Germans frolicking in lederhosen (although this last one may just be me).
With the dust having settled on Brendan Rodgers' sacking, and with several days having passed in which to consider what Klopp offers, I thought it was a good time to list the main pros that come with this jaw-dropping appointment; and to be honest, I'm struggling to come up with many cons (although there are some; nothing is ever without its potential drawbacks).
Whilst I had a reasonable idea of Klopp's qualities, and a full awareness of what he has achieved in the game, several details in those dozens of articles and broadcasts have struck me. With the Spurs match only days away, I'll run through what has impressed me.
But beware: no manager can guarantee success, especially when working on a more modest budget. And the start will be tough, with little time to instil his tactical ideas, as the games come thick and fast. However, in theory Klopp's appointment looks a masterstroke.
Liverpool – fresh out of stars – needed some gravitas, and with fans growing frustrated and angry, owners FSG needed to pull a rabbit out of the hat. Let's be blunt here: the club's credibility was sinking like a stone. To some cynics (and after the previous owners, cynicism is to be expected), the work FSG were doing to improve the club was seen as merely setting the scene for a sale, when to me, rebuilding Anfield (for example) was as likely an essential part of making the team stronger (increased turnover means more can be spent on transfers and wages) and the club, as a whole, more successful.
I've no idea on what FSG's long-term plans are, but by appointing Jürgen Klopp they have made the boldest possible statement of intent in terms of trying to win. The more I read up on Klopp, and listen to him speak, the more convinced I am that he is the right man for the job.
(I'd have also been happy with the appointment of Carlo Ancelotti, given his record – even though it was achieved with older players at clubs already geared up for success, and therefore not as suited to the qualities of this young Liverpool squad. Very different managers, of course, but it's hard to believe that after over a decade working at elite clubs Ancelotti couldn't also inspire a group of promising younger players; the best managers must all have transferable skills, and top-notch coaching methods. But Klopp's past experience is more suited to where Liverpool are at, and his personality more in tune with what Liverpool fans prefer.)
And here are some of the main reasons why I feel Klopp can get more out of the current squad than possibly anyone else in the game, and help Liverpool to grow stronger over the next few seasons.
This post is for subscribers only.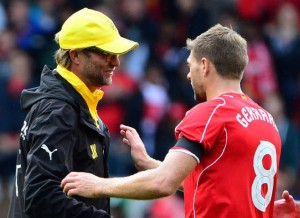 [ttt-subscribe-article]