By Mihail Vladimirov.
SUMMARY
• Utd bossed possession but lacked penetration
• Fellaini's role was pivotal in Utd's inability to penetrate
• Utd made it very easy for Liverpool to defend
• Utd looked to their usual left-sided overload with Depay and Shaw
• Clyne did a very good job on Depay defensively
• Of Liverpool's options, a diamond formation would've been too much of a gamble
• Liverpool opted for a very deep and rigid 4-1-4-1
• Milner and Can could be criticised for letting their opponents get on with their job too easily
• Liverpool offered little attacking threat and were sloppy on the ball
• It might have benefited Liverpool for Ings and Firmino to have swapped sides
• There was not enough support for Benteke, who again looked isolated
• The Utd manager's half-time change, replacing the only player naturally capable of providing the required attacking diversity (Depay) with a typical winger (Young) seemed very peculiar, but it paid off
• Liverpool found it hard switching into attack mode after such a defensive approach once they went behind
Both managers were without key players for what proved to be an underwhelming clash between England's two most decorated clubs.
In Utd's case the absence of key players wasn't necessarily related to injured or banned players per se, though Rooney's absence through injury was a big blow, but more that Van Gaal's squad continues to look unbalanced and lacking some vital ingredients to allow the manager recreate his vision on the field. And without Rooney the attacking options are even more limited. That a target-man type of midfielder played up front highlights the overall problem in the Red Devils' current squad composition. The rest of the side was as expected in this season's usual 4-2-3-1 formation, but having Herrera ahead of the double pivot meant the shape was more of a 4-2-1-3 given his deeper positioning.
On the other side, Rodgers had bigger problems, if for entirely different reasons. On paper the Liverpool squad is tactically versatile with a variety of type of players. But the Ulsterman was missing some really influential players in Henderson and Coutinho, with the absence of Allen and Lallana just adding to the issue in midfield (the long-term injury casualty Sturridge is so often injured that Liverpool should be used to being without him). The only change from the West Ham debacle was Ings for the suspended Coutinho.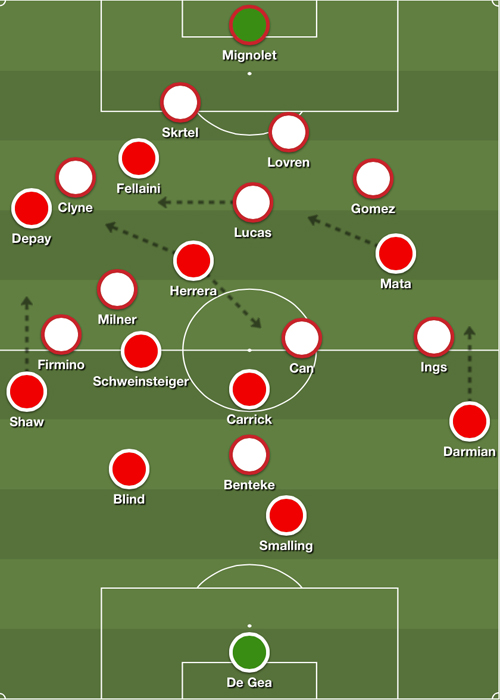 Man Utd lacking penetration despite bossing possession
In a game lacking any kind of excitement – bar the four very good strikes for all the goals – tempo and even the intensity and tension usually associated with this fixture, it's only natural to start with the team that at least was trying to provide some attacking spark.
In contrast to Liverpool's, Man Utd's starting XI didn't allow for any real tactical surprise or deviation from Van Gaal's usual template. The only real tactical point of interest was how exactly Fellaini would be used. As a typical target man, playing with his back to goal, receiving long ball and crosses then laying the ball off? Or as a decoy player using his presence to occupy the centre-backs and drag them around to leave more space for others to exploit?
In reality neither variant was pursued with any consistency or conviction, which added to the home side's overall lack of penetration. Given Man Utd's strong emphasis on possession, there were only very rare moments when Fellaini was fed with balls that suit him. But he's a rather static presence and he didn't roam around intelligently, so couldn't really drag Skrtel or Lovren out of their zones to open up space for others to run into.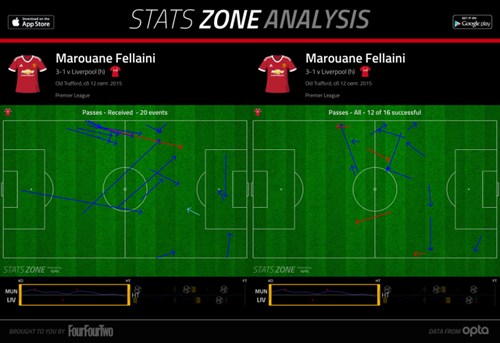 Another reason why Man Utd didn't surprise tactically was that they continued with their typical strong emphasis on going almost exclusively down the left-hand side during their build-up play and in searching for attacking penetration. This is only natural given the type of players playing on either flank.
The rest of this analysis is for Subscribers only.
[ttt-subscribe-article]