By Paul Tomkins.
It was incredibly telling that a lot of the people who've backed Brendan Rodgers snapped after the 3-1 defeat in Manchester. This came from the select band of usually calm heads I follow on Twitter, at a time when the paying fans had already filed out of Old Trafford early.
Perhaps it's not the best fixture on which to make judgements (especially at the final whistle, with no time to calm down); and when two of Liverpool's five league games so far have been away at Arsenal and Man United – tough opposition the Reds have faced with several key players missing. And in the last of my minor caveats before I get onto the big impending 'but…', Liverpool created no less at Old Trafford than the much more expensively assembled home team, who though labelled "crap" by so many people, now sit second in the table – which is where Liverpool could have been with a win.
But … Brendan Rodgers' team has not played even remotely well enough in the five games so far. While five games is a small sample size, it's been four poor or average performances (the display was just about acceptable at Stoke on the opening day), with only one really positive half of football from the 10 played (the first 45 at Arsenal).
The summer was a chance to move on from last season, and regroup, but the poor form in the final months – which I was prepared to draw a line under – becomes relevant again because the same problems are apparent. New players were brought in, new coaching staff appointed, and after five games the mood is right back down where it was after the shocking defeats at the end of last season. The team looks flat and nervous, and is defending as poorly as it did when shipping nine goals in the final two matches to mid-table opposition.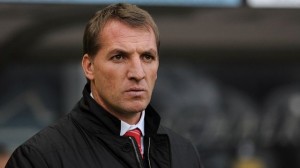 In fairness to Rodgers I felt that he spoke well immediately after the United game, and didn't hide from the problems – the sloppy passing, the failure to create chances. Managers have to finesse things, although he was correct here not to sugarcoat things. But it's his job to fix those problems; indeed, to try and ensure they don't occur in the first place. I hope that he can, but if he doesn't he will obviously be in danger of losing his job.
Once the tide turns against a manager, it really can be 'any time soon'. It feels like that's the case here. There's no sense of belief anywhere around the club right now, with Anfield no longer bouncing in the way that it did two seasons ago. If Rodgers gets the next two games, both of which are at home, then you sense that anything short of six points against Aston Villa and Norwich would send the last remaining fence-sitters over the edge.
Lost?
I don't get the sense that Rodgers has "lost the dressing room", in that I don't think they dislike him or think he's the fraud that so many fans seem to believe. I don't get the sense that they're eager to see the back of him, and are ready mount some kind of player-power coup d'état – although perhaps in part due to the fact that there don't seem to be enough strong/senior personalities in the squad to even try it, even if they were sufficiently disillusioned (who can you imagine leading a coup?). Or maybe the personalities are there, but they just haven't been at the club long enough to feel it's their right to kick up a fuss. (Not that I'm suggesting player power is a good thing, or necessary right now – just that certain Liverpool players of the recent past, along with those at Chelsea and Manchester United, would not be slow to intervene.)
So even though I don't think the dressing room is lost, I do wonder – based on the performances of the past six months, either side of the summer break – if they just aren't inspired by him. Something is missing, and from the outside – we don't witness training or hear the team-talks and tactical instructions – we have to draw conclusions based on impressions, body language, performances, and trying to locate the kind of basic fight you'd expect. And whatever Rodgers is trying to do, it's not working.
Weirdly, I thought that if Liverpool had something like two points from the first five games Rodgers would be gone. But even with seven points it seems that he's on very shaky ground. If his side had drawn at Stoke, beat both Bournemouth and West Ham at home, and lost valiantly at Old Trafford and the Emirates, then it would still equal seven points, but paint a very different picture.
Although it's still early in the season, the problems that turned the run-in into a nightmare are still evident – or, at least, the same number of problems. Weaknesses have been addressed – such as adding physicality up front and a true defender with pace at right-back – but the net result is the same lack of cohesion. The defence is back to gifting three goals in games, and there's no winger on the books beyond the raw Jordon Ibe, and no specialist crossers to play wide on either side (with neither full-back a gifted crosser, either – certainly not Gomez on his wrong foot).
This is all part of football management – the short blanket, and how you pull it one way and it leaves your toes cold; pull it the other way and exposes your shoulders to the chill. By the time you've solved one problem, another has arisen. The best managers stretch things that bit further, but almost all of them lose the fight in the end.
Shelf life
In the history of football there haven't been too many managers who didn't reach the end of their shelf life – indeed, most do so within a few seasons – and maybe it's at that stage with Rodgers. Three years is often stated as a natural end for managers (it seems that way for Jose Mourinho), because all the players have heard everything you have to say by then, and it's hard to be motivated by what you've heard a hundred times before (three years can easily mean 160 games).
But with Rodgers, you can't say that's the case with this squad, as most of the players arrived within the last 13 months. He should be lifting them, and right now he's not. The new players have been sucked into the malaise of last season.
My sense is that someone like Jurgen Klopp would lift everyone immediately. I feel he'd inspire them, and the Kop too. But the question becomes whether he'd be a better fit long-term; whether Rodgers is still the potentially great manager so many once felt him to be, and if, as happened in 2013/14, he can produce a near-miracle out of nothing. (Yes, he had Suarez, but poor managers don't finish 2nd with the 5th-best squad in the Premier League. He also had Aspas, Moses, Cissokho and various others, lest we forget.)
The problem with Rodgers is that the team just hasn't looked anywhere close to that vintage since things fell apart at home to Chelsea in April 2014. The distractions of last season – Balotelli, Sterling and Gerrard – have all gone. But it's got no better.
It's also undeniable that Dortmund totally fell apart at the end under Klopp – his shelf-life reached – with the team facing a relegation battle for much of last season (albeit then recovering well, but only to finish 7th). Now, under Thomas Tuchel, they're top after four games, with maximum points.
Rather than suggest Klopp is not the great manager who won loads of trophies, it shows how a manager's time can come to a natural end. Dortmund are now responding better under Tuchel.
Slack
I cut Rodgers a lot of slack last season as there were extenuating circumstances (sales, injuries and unsettled players), and he was coming off the back of a thrilling season that no one saw coming – least of all me, as someone who was on the critical side of the fence up to that point. But those 101 goals, 26 wins and 84 points seem a long time ago now, and that's the brutal reality of management. You don't get the time you probably think you need, and deserve.
And things do change so quickly in this sport, as can be seen at Stamford Bridge. Far be it from me to dig out a Rafa Benítez quote to come to the aid of his Iberian nemesis, but the Spaniard's line that "football is a lie" seems to ring true now more than ever, when trying to make sense of how the 'preening one' seems to have lost his 'special' powers.
Mourinho usually guarantees clean sheets, at the very least. He'll get you 1-0 and 2-0 wins. Not a lot has changed from his title-winning side in terms of personnel, and yet now they are shipping over two goals per game, and are toothless in attack. The players who hit the ground running last season – Fabregas and Costa (their 'here and now' stars who were the kind of signings 'everyone else should have made') – have faded away miserably. The confidence of winning the title has been eroded by the anxiety that seems to come to teams defending it these days.
Manchester City, the club usurped by Chelsea – but who are looking a sure bet to re-usurp – have never been renowned for their defensive stability, yet they are the first side since Mourinho's 2006 Chelsea to start with five clean sheets. City have not added many of their new players to their starting XI (yet), but the remaining ten regulars are so changed from the team that limply defended their title in the first half of last season.
Pellegrini's City are not what Pellegrini's City were last season, and Mourinho's Chelsea are not what Mourinho's Chelsea were last season. This is why it's sometimes so hard to work out why bad results, and poor runs of form, happen. If you can't make sense of a Mourinho side, and if you have to look all the way down to 17th to find them in the table (and possibly in the relegation zone by the time Newcastle finish their game tomorrow), then football is clearly far more complicated than almost anyone admits, with a whole host of things we struggle to make sense of.
All we can say about Liverpool is that it's not working right now, and hasn't been for a long time.
On balance
Over the past five seasons Rodgers has: overachieved (Swansea promotion); overachieved, in finishing 11th, nine places above the £XI rank of 20th, with the Welsh side; underachieved, in his first season at Liverpool (but which got better as the campaign went on); overachieved, in his second season at Liverpool; underachieved last season (with me having made the par argument about Liverpool being 5th, as expected, before they fell to 6th at the final fence); and currently his side are underachieving, albeit after just five games, with two of them comprising half of the trickiest fixtures of any season (along with City and Chelsea away).
If you did the same for Jose Mourinho it would read no better in terms of meeting or exceeding the expectations of the clubs he managed. Crucially he won the league title last season, but with a mega-squad; both before and after that his Chelsea side have been unimpressive. His stint at Real Madrid was, on balance, neutral at best – one title in three seasons isn't amazing at such a club (ditto with Chelsea this time around) – and he left, as per usual, when all hell was breaking loose. Even so, no one doubts he's one of the best around – yet he's on course for two really good seasons out of six.
Rodgers' time at Swansea is appropriate, but not defining, when it comes to assessing his body of work. Managing Liverpool is harder than Swansea due to the insane pressures and expectations, most of which outweigh reality. Most other major clubs were able to parlay their decades-long superiority into great wealth, but Liverpool managed to screw this up in the '90s, and by the 2000s that boat had sailed. The club's history is overpowering, its fans noisier on social media than they are on the Kop these days. You need someone who can carry that weight – the manager's tracksuit is as heavy as the players' shirts. Carlo Ancelotti would no be fazed, while Jurgen Klopp has the stature to impress and intimidate.
But I certainly wouldn't sack Rodgers for the mere sake of it; it's not as bad as it was under Hodgson, when his job became untenable, and when 10,000 stayed away on Boxing Day. However, if better managers are available and willing to come, then a club like Liverpool has to be alive to that possibility, just as any manager has to think about replacing good players with better ones.
Problems
Rodgers has talent, but he's not done enough in his career to warrant an extended period of underperformance. He talks a good game, which I don't have a problem with (but which irks a lot of fans). But is he transmitting the same confidence and belief as before? It seems not.
I think he can be inspirational – certainly up to a point – but the longer any manager goes without getting the necessary results the more hollow his words start to seem, to players and fans alike. Unlike some managers, Rodgers doesn't have that aura of being a winner that ultimately comes from … winning things. All managers start out having won nothing, but winning things backs up their words. If a friend wants to convince you to climb Everest with him, you'd be more likely to believe in him if he's already climbed Everest.
It doesn't matter to the fans making so much noise (check Twitter, if you dare) that Rodgers was a couple of games away from what I feel would have probably been the toughest title Liverpool would ever have won, playing some outstanding attacking football. They put all that down to Suarez anyway. To them, Rodgers is not a winner, and that's a tsunami of opinion that is amplifying all the time. Right now, Rodgers needs to win every game, and do so in style, to quieten the dissenting voices. That's a tough ask, and why I think things may be getting away from him.
And the personality that his teams have showed in the past – mainly from months 6-24 of his tenure – has looked sorely absent for the best part of 13 months now. I thought it would return this season, but so far it hasn't. At what point do you say that he's the problem? Or if he's not the problem, that he's incapable of solving it/them?
The longer he stays, the less exciting the team seems to become. That may not be all his fault, but then part of that comes back to the controversial subject of the transfer committee, and who is shaping the squad and the team. Are the players not good enough, or just not good enough under this manager, in this system, with this run of form? Has he been responsible for signing too many of the duds, or has he been supplied the wrong players? Is he treating all the signings equally fairly, or showing favouritism? (and let's note here that any manager will pick the players he himself rates, especially if his job depends on results – if he doesn't he's a fool. And in fairness to Rodgers, he has bombed out his own signings, such as Fabio Borini.)
Someone pointed out earlier in the season that this is essentially already Rodgers' fourth Liverpool team. This is not like Shankly or Ferguson rebuilding entire XIs after many years, but down to the faster transition of players in the modern game, allied to Rodgers losing key 'identifying' components of his sides: Suarez, Gerrard (in gradual stages of meltwater), Sterling, and, due to injury, Sturridge.
On top of this, Rodgers has switched formations and approaches numerous times, to the point where you wonder if he's very clever and adaptable (which is at least partly true in how he deployed the talent he was blessed with in 2013/14), or flighty and faddy, and unsure of what he truly believes in – which is getting harder to dismiss. I hate the notion we have in this country of people being 'too clever' (usually fired by people who aren't very smart), but perhaps managers can overcomplicate things. Managers are allowed to change their mind, but it can start to look muddled.
Having been vehemently all about possession, Rodgers became all about counter-attacking and bossing the space. Having not wanted a target-man in Andy Carroll, he ended up with one in Benteke (who, as I've argued all summer long, is actually a much more rounded player than the big Geordie, so this is only a half-valid comparison at best). Even so, Liverpool are neither crossing the ball to Benteke, nor getting up to support and play off him. Sometimes these things take time, but after last season Rodgers doesn't have that luxury. And right now, it's just not clear what type of team the Reds are.
Having been all about exciting football, and style, it's got to the stage where the manager has sold or sidelined the best ball-playing centre-backs he's had, in Agger and Sakho (even then, Agger was no longer physically up to the task – although Sakho's treatment has been more baffling). The centre of midfield is utterly honest but workmanlike, and outside of Coutinho it's hard to see where the spark of genius is going to come from. It's a pretty good squad, and better than quite a few I've seen at the club in the Premier League era, but it does lack a little of the X-factor, and in the absence of killer game-winners, it's not compensating with outstanding teamwork and brilliant passing and interplay.
Even many of Rodgers' most ardent supporters have no idea of what the identity to the current team is. Is this confusion a mixed message filtered through the transfer committee, or is it down to him, in terms of not finding the best blend for the talent at his disposal? And could it be that it's not just the X-factor that's missing, now that Suarez has gone and Gerrard, a faded force, moved on – but also a handful of leaders?
Or have players like Henderson, Sturridge and Coutinho become too important to lose at once? With so many key departures in a 24-month period, are these now the equivalent of Gerrard, Carragher and Torres as the types that you wouldn't want to be without at the same time?
The players bought this summer would be okay – perhaps much better than okay – if they transferred their best form to Liverpool, but as Rodgers said early on, it's a heavy shirt. James Milner was a very sensible addition to the squad, but he appeared to have been promised a central role, something that he hadn't excelled in since the 2009/10 season when playing in a team with lower expectations. That struck me as a little odd.
I like Milner, and he's the kind of player you want in your ranks, but not the type to take things to the next level – and he's not played well enough across all five games from someone who is supposed to be the kind of English bedrock that stops sloppy, lightweight performances. In theory he's a shrewd acquisition, as he adds a lot of experience in what is mostly a very young squad, but he didn't show that against West Ham or Man United. If Liverpool are going to pay big fees and/or big wages to English players in their mid-to-late 20s like Milner and Lallana, then there needs to be fairly instant dividends. These are not 20-year-old prospects with time on their side.
Although the Reds have no undeniably world-class talents right now, they do have some top-class players – up there with the best in the Premier League in their positions – but the three best were missing against United: Daniel Sturridge, Philippe Coutinho and Jordan Henderson.
But still, it's not like there has half a dozen reserves in the line-up. Nathaniel Clyne is clearly one of the best right-backs in the league, and Christian Benteke is definitely in the Didier Drogba mould of a target man with pace who can score amazing goals, and who, to date, has only been troubled by a lack of service, rather than the heavy price tag (albeit a tag dwarfed by Anthony Martial's). And Roberto Firmino has the pedigree to be a big success at the club, although he arrived late due to summer action with Brazil, and has come into a team that are playing like strangers.
Assuming that Firmino adapts to the Premier League and/or Liverpool's game (at this point it's worth noting that apart from Arsenal away you'd perhaps wonder if James Milner had played in England before, had you not known his past), then those six players are all more than good enough. And in theory, Milner should be, too – if perhaps not as the central midfielder he wants to be.
Beyond that it's a series of hugely promising teenagers making the kind of mistakes, or experiencing the dips in form that you'd expect (Gomez and Ibe), and a series of players who are not totally convincing. Perhaps the most crucial of these is the goalkeeper, Simon Mignolet, who has come on leaps and bounds in the past six months, but who doesn't inspire total confidence in the way that elite keepers do. Still, he's no longer the obvious weak link he was in the first half of last season.
In between are players in their early 20s with a lot of potential – Can, Origi, Moreno, Ings (and Markovic, now loaned out) – who perhaps need to be carried a bit better by those currently around them, particularly with the absentees. Indeed, one of these absentees, Jordan Henderson, was himself such a player three or four years ago, needing to be carried along by the senior pros. (They didn't do that successfully enough – in the league, at least – and Kenny Dalglish lost his job.)
Dejan Lovren – one of Rodgers' leaders – has made too many mistakes for anyone to feel comfortable with him, and Martin Skrtel seems to be either really good or really bad, with little in between. If Sakho were to now get a run, it would be hard for the manager to turn around and say he had faith in him all along. I've never had a major problem with Skrtel, who has his qualities, but along with Lovren and Mignolet it doesn't make for a cool and commanding defensive triangle.
In fairness to Lovren he was probably the only Liverpool player aware of the free-kick Man United were going to pull, but his pointing came too late. And the defence as a whole are just not awake to these situations, as seen when being repeatedly picked apart by passes to an unmarked Aaron Cresswell from corners just a fortnight ago. Again, is Rodgers not being supplied with the leaders he wants? Or are the leaders he is persisting with also part of the problem?
It's bad, but…
I genuinely don't think Liverpool are as bad as many are making out. But without half of their six best players, they're certainly giving people like Harry Redknapp room to snipe. Rodgers may argue that he was also without his perceived favourites, Joe Allen and Adam Lallana, but neither has been consistent enough (or consistently fit enough) for me to make a strong argument on that front.
When the Reds have all of their attacking players fit and in form then I believe that a combination of Coutinho, Sturridge, Benteke and Firmino, with Henderson pushing on from midfield, could be truly exciting (especially if Ibe becomes the player I believe he can grow into, and gets added to that list).
But will Sturridge stay fit? Will Firmino transfer his pedigree? Will Sturridge and Benteke work as a pair? And how do you get a balanced team with that lot whilst protecting the back four and looking for sufficient width, especially if Coutinho is in the side?
As with everything about Liverpool lately, there are more questions than answers. And the clock is running down.