By Mihail Vladimirov.
SUMMARY
·         Rodgers reverted to a 3 centre-back formation with  a 3-4-1-2
·         Norwich went for 4-1-4-1 instead of their their usual 4-2-3-1 formation
·         Alex Neil's selection of an energetic midfield scrapper, Dorrans, instead of his main creative spark, Hoolahan, was revealing of his defensive intentions
·         Norwich's wingers, Jarvis and Redmond, went into very narrow positions
·         Despite their defensive approach, Norwich committed bodies forward on the break
·         Liverpool's starting formation was tactically fascinating, if not really efficient going forward
·         Liverpool were strongly biased to the right side, with Can the main benefactor
·         But for all their interesting movement, Liverpool lacked that incision on and off the ball in the final third
·         Liverpool's play was predictable and central-oriented
·         Ings coming on for Benteke gave Liverpool more movement up front
·         Norwich started the second half clearly on top
·         Liverpool had two formation changes following Norwich's equalizer
·         Liverpool's display was idiosyncratic and confusing
Given the hugely rotated match day squad Rodgers used in France, the starting XI for this game was more or less what was expected. But compared to the previous league game, Liverpool were very much changed personnel and formation wise.
Instead of the 4-1-2-3 shape seen at Old Trafford, Rodgers went with a 3-4-1-2, as well as making four personnel changes including handing Sturridge his first start of the season.
For Norwich, Alex Neil made only one change, replacing his veteran playmaker Hoolahan with the extra energy and ball-winning skills of Dorrans. As a result Norwich also started the game with something different to their usual 4-2-3-1 formation, a clear 4-1-4-1.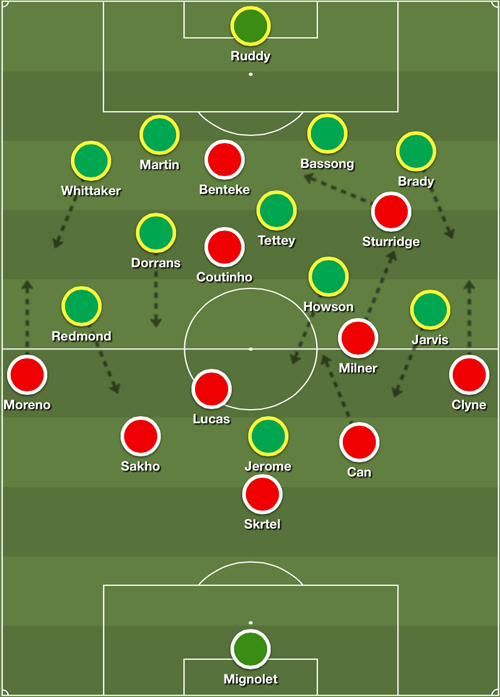 Norwich going defensive
Among others, one of the main stories of the season so far has been how well the newly-promoted teams are doing. But while Leicester are succeeding based on solid defence and clinical counter-attacks and Bournemouth are often praised for their possession and wide play, Norwich are impressing with their overall attacking organisation.
They play in a very continental looking 4-2-3-1, based on continual interplay among the front quartet – central playmaker drifting wide, wide men darting infield, striker moving all over the final third – with the additional support of full-backs bombing forward and often arriving late in and around the penalty area. Central to Norwich's general attacking play is their 33-years old proper #10 Hoolahan. His clever lateral movement is akin to David Silva's and is a  vital element which unlocks Norwich's positional play.
The rest of this analysis is for Subscribers only.
[ttt-subscribe-article]