By Paul Tomkins.
Before the Villa game it felt like the end. That's why I wrote what I did on Friday.
Before getting carried away, it's important to remember here that Liverpool also beat Villa (3-0) under Roy Hodgson just weeks before he was sacked. Hodgson also had a six-game unbeaten run that included a win over Chelsea, before the old problems resurfaced.
So even now it may just be prolonging the agony.
Or it could be the start of a revival.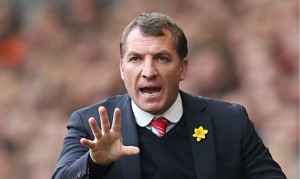 I'm not a clairvoyant – I can just go on what I've seen happen in the past, and how hard it is for managers to win back supporters when things start going wrong. Managers who cling to their jobs tend to lose their grip sooner or later, if only because it's a high-pressure situation where too many people are waiting for them to fail. But all Brendan Rodgers can do now is try to mastermind wins to the point where any setbacks don't feel fatal, and he can ride them out again. Defeat against Everton would perhaps be a setback too far, but at least the Reds can now go to Goodison with grey clouds rather than black ones.
Rodgers' team deserved to beat Villa this afternoon by more than one goal, and yet somehow the visitors, despite looking rather poor, scored twice. The good news is that the home side's attacking verve was once again evident, even if, just like old times, it came with the concession of two goals. But a win is a win.
The return of the Reds' best players will help whoever is in charge – that's always a given at any club. But managers sometimes have to get results without them. That's when they need to be extra clever. It's debatable whether Rodgers did enough with what he had in the past year and half – probably not – but equally, it's hard to lose the players he has, including Sturridge to injury, and keep the team at a high level.
In Rodgers' defence he would want to be judged when Daniel Sturridge is fit – and has helped the England man become a goalscoring phenomenon since 2013. On the other hand he didn't really want him in the first place, and leads to questions about his judgement in the transfer market.
The same applies to Jordan Henderson, who Rodgers tried to sell, but who he then helped become a key player. That tension may never go away. The transfer committee have made their own mistakes (everyone does in the market, as I often say), but Rodgers needs pushing to trust players thrust upon him, whilst not picking up enough quality when he has more say. Yet when on song, his teams play some great football, and in contrast to Roy Hodgson when his Liverpool put three past Villa, that perhaps gives him a chance of winning over the doubters.
And this season is already somewhat insane in various ways. All the bigger clubs are having some weird results. Liverpool are now nicely placed in 7th, although four of the top five are already the same as last season – so it's not that unpredictable.
Educated Guesses
I don't know exactly what goes on behind the scenes, how the players train, what the players think of Rodgers, the true nature of the tensions between the manager and the transfer committee process, and all the other things that are hard to know unless you're part of the club (and if you're part of the club, then you shouldn't really be telling anyone; I'd also like to see ex-players refrain from dishing the dirt as soon as they're out the door in autobiographies that could wait until later in life).
I simply try to read the situation, but always with the caveat that I may be wrong – at best I make educated guesses, with what information I have. I depend on the knowledge of those in the media closer to things, who may be briefed on things, but who themselves may be guessing. And I look at what the performances seem to say.
I try to be fair, but also can't just back a manager blindly, for ever more, whatever happens. However, as long as the Reds are not playing bad football and losing then whoever is in charge has some leeway in my book. I have been won around by Rodgers before and I can be won around again – but each time it probably takes a bit more convincing, and the same probably applies to fans in general. And this time a lot more people seemed to have given up the ghost.
And even if Rodgers gets some good results and performances, could someone else do better? That's a question we all ask, but can only guess at the answer.
Until a manager is actually sacked he has a chance. I've never wavered from my belief that Rodgers is a good manager, nor have I felt him a fraud. He has had to put up with a lot of criticism that has nothing to do with his ability as a manager, and when it gets personal like that I have some sympathy. Indeed, it often makes me want to back him even more, but I don't want to paint myself into a corner. If a world-class manager was willing to replace him, then even after this victory I'd have to think it would be a sensible option. Equally, replacing Rodgers for the sake of it, and then scraping the barrel for a viable successor, would be pointless.
I do think that Rodgers a positive-message manager who sells his ideas, often in a type of management speak that irks many observers. But that doesn't mean he has no smart ideas, or that it's all hot air. That said, plenty of other managers go about things more quietly. Some have good ideas that they cannot get across, which is why they end up failing. Others let their team's football do most of the talking. Hopefully Rodgers can point to consistently impressive displays, which need no explanation or embellishment.
If the fans at Anfield stay behind Rodgers then has a chance, and he has a chance when his team play like this. That support seemed missing in the past two home games, and the writing appeared to be on the wall; but this was a belated reminder of how good a Rodgers' team can be going forward. Whether it came too late, only time will tell.