By Paul Tomkins.
When relationships start to sour there is often a period of denial. Things are going wrong, but you're not quite sure why. You may come close to breaking up, and then make amends, but something is missing.
At the end of last season I argued for Brendan Rodgers to be given a chance to turn things around (although the Stoke defeat, which led to dropping from 5th to 6th in the final table, felt like an infidelity). Having not initially been too excited by his appointment I was won over by the second half of his first season, and then fully converted in his second season. Even his first five games in charge, which yielded only two points, were full of promise, before things limped along until that first January transfer window.
Last season sowed the seeds of some doubt, but a lot of weird stuff was happening: players had left, others wanted out, a legend was 'melting', and there was the harmony-breaker Balotelli; and I've always argued that good managers can have bad seasons. But this now feels more like stagnation.
This season has already been incredibly grim; a continuation of the awful end to last season, despite the chance to draw a line under it. It's yet another slow start under Rodgers, and while that's okay if you excel in the second half of the season to meet your targets, that has only happened once in his three seasons to date. If getting into the top four was the target, then that's further away than it was in August.
It's now 66 games since 2013/14 ended. Aside from a 13-game run in the middle of last season (not all of which was top-notch, but which I found very encouraging), and the thrilling 3-0 thumping of Spurs a year ago, it's been approximately 50 largely poor or unremarkable performances since the start of 2014/15, with perhaps the odd good display here and there. There have been some extenuating circumstances – injuries, departures, 'bad eggs' – but Rodgers is losing the belief of the fans who still backed him, and, you have to conclude from performances, possibly from the players themselves.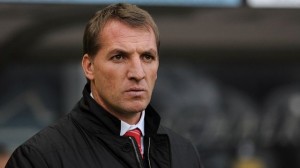 And with just 16 points from the last 15 league games, and the shipping of so many goals, and now the terrible result over 120 minutes against Carlisle (all the worse because it was a strong Liverpool XI), it's hard to say that this is just a temporary dip. It feels like the final days of the tenures of Roy Hodgson, Kenny Dalglish, Rafa Benítez and Gérard Houllier. It feels like David Moyes at Man United, although instead of 81 pointless crosses in a match it's 29 pointless shots from distance.
Indeed, it feels like pretty much all failing relationships: you're holding onto the memories of the good times, and then you realise that they're all in the distant past. You get to keep those memories – their yours, to take home with you – but no longer are you creating any new ones worth retaining.
The eight games of this season is a small sample size, but with new coaching staff and new players, the least you'd expect is some early season optimism, and a bit of energy and aggression. Total cohesion is hard to forge right away, but it's difficult to discern anything of value in Liverpool's performances. If the manager is asking for something from the players, he's not necessarily getting it. Or maybe he's asking for the wrong things.
Some managers are capable of turning around a side's fortunes when all looks lost, and Alex Ferguson was at a similar stage in his 4th season (he also had one 2nd-placed finish, but scraped through in the FA Cup when it was more coveted). Ferguson is the obvious touchstone, but there are far more managers who have failed after being given time – once things look this bleak – than have gone on to be outstanding successes. You cannot stick with managers indefinitely in the hope that they might be the next Ferguson, especially when Ferguson himself had provento be a European winner and duopoly-ender at Aberdeen beforehand.
My guess is that most managers are actually powerless to turn things around. It gets beyond them. The players lose confidence. Everyone knows the manager is under pressure. The crowd turns quiet, and maybe worse, antsy – possibly even angry. The players get more nervous. The crowd gets hostile. The manager looks uncertain. And so on.
Reversals in fortune are not impossible, but it's hard to play well when everyone is under this much negative pressure. (Positive pressure is different: it can still be hard, but the rewards are enticing – go out and win, and you'll be heroes; that's still a kind of pressure, but there's a big reward. At the moment, even winning feels like losing, as it did on Wednesday night. Anything less than a scintillating victory and everyone remains zeroes.)
A big part of Rodgers' appeal in 2012 was his charisma, his salesmanship. He had ideas that seemed bright, but crucially, he could sell them to players as exceptional as Luis Suarez and Steven Gerrard, having already sold them to the owners.
But he needed success to turn those promises – and promises are what salesmanship essentially relies on – into reality. And in 2013/14 he was damned close. But ultimately, despite some good seasons in management in the past five years, he still has no medals to show the players in any demand to be trusted. He was unlucky in 2013/14, if anything, but nearly-men are rarely inspirational.
After last season Rodgers needed a strong start. He brought in a well-respected coach in Sean O'Driscoll, a likeable ex-player in Gary McAllister, and promoted the highly rated Pepin Lijnders, but again, in terms of management and coaching there is no record of top-level success. In and of itself that's not necessarily a bad thing – if the ideas are good enough – but when combined it adds up to promise, rather than proven delivery. Meanwhile, the owners' success is in baseball, and Ian Ayre's success is in commercial dealings.
And on top of this, with Jamie Carragher, Luis Suarez and Steven Gerrard gone, there are no iconic players left. Losing these may not have been Rodgers' fault – Carragher retired at about the right time, Suarez was never going to say no to Barcelona, and the Gerrard situation was complex: he was a fading force who wanted regular game time, and there were clearly communication issues. And one potentially iconic player, Raheem Sterling, also left.
However, no iconic players have been added during Rodgers' involvement with transfers, with Sturridge and Coutinho the two closest to that level – Coutinho could still become iconic – and they are two signed by the committee, before Rodgers apparently gained extra influence. It's too early to say too much about this summer's signings, but aside from a couple of promising displays apiece from Danny Ings and Joe Gomez, little impact has been made. (Nathaniel Clyne has done nothing wrong, mind, and looks a good buy, but the defence has become shaky again.)
It's not easy to add iconic players, of course. But Liverpool's only experienced league winners are Kolo Toure and James Milner, with the latter currently performing like a man who hasn't played at central midfield in five years. There is an encouraging core of 23-and-unders who could become great players – Can, Moreno, Ibe, Gomez, Origi, Ings, Firmino, Markovic (albeit loaned out) and the almost-there Coutinho, as well as some bright teens emerging – but there is not a strong sense of identity about the team right now, and the manager has lost a lot of his hard-won cachet.
If the team could transcend its lack of big names, that'd be one thing. But that's not happening. Meanwhile, managers have walked into other clubs, added a lot of players, and got instant results. At the very least, they have engineered spirited displays with pace and verve.
The Rodgers who arrived – clean slate, bold promises, firm ideas, time on his side – might actually be better for this Liverpool squad than the one who now looks understandably flustered, and undermined by his own recent failures. It's hard for him to deliver genuine positivity right now. Maybe it needs someone with more stature, more gravitas.
The further into the past Rodgers' 'success' recedes, the less authority he projects. (I use inverted commas on success because I think that 2013/14 was a big success, but others will still view it as failure.)
Indeed, Rodgers is almost certainly a better manager now than when he arrived. He has accumulated various experiences, worked with better players, and as long as his confidence isn't dented beyond repair, he can take it into his next job. But at Liverpool his effectiveness is undermined by failed experiments, whether they were good ideas or not.
So it feels like the end, with just the agony prolonged. A convincing victory over Aston Villa might kickstart some kind of revival – and perhaps FSG see things differently to what now seems like a majority of fans – but if feels like time has all but run out. As with the failure of any relationship, the next suitor may prove the beneficiary. Both parties get a clean slate in terms of trust and belief. The problems you had in your failing relationship need not apply in the next one.
Sometimes it just passes a point of no return. The trouble with starting over is that as soon as things get difficult the old gripes come to the fore. Liverpool started over with Brendan Rodgers this summer but now it feels like there's too much baggage. The past is everywhere, and not in a good way.