By Krishen Bhautoo (TTT Subscriber Krishaldo).
We want to know what THEY think too. So Krish asked websites of other PL clubs a series of questions. Here are their answers (nothing from Aston Villa, Leicester City, Sunderland, Southampton, West Ham Utd or Everton): 
How did you think the 14/15 season went for you compared to your expectations at the start of the campaign? Where did it go right and/or wrong?
Arsenal fan Letters from GoonersWeb.co.uk:
I was expecting a more serious title challenge, the car crash of the start to the season was very disappointing but can't argue with the 2nd half of the season, we went on a great run, won some big games – the two results in Manchester stand out – and, of course, won the FA Cup. It went wrong because of the sluggish start but we got it together in time to salvage it and while the lack of a genuine title challenge was disappointing it was a pretty decent season overall.
Bournemouth fan Graeme from TheSouthEnd.co.uk
Before the season started I ran a poll on the site and a top 10 finish was the most popular answer. I was a little more optimistic and reckoned a play-off place was within our grasp. The season started pretty much as expected but after a few months the team started to gel and grow and got better and better. A lack of injuries and a consistent first 11 was the key. Winning breeds confidence and by the end of the season we believed we could beat anyone
Chelsea fan MTF from TheShedEnd.com:
Expected to win the league, but not as easily as we did
Crystal Palace fan Eaglesfan1 from cpfc.org:
Far better than expectations after a poor start, things went wrong when Pulis walked out two days before the start of the season and we replaced him with Warnock, things picked up once we appointed Pardew!
Man City fan Marvin from bluemoon-mcfc.co.uk:
Toure's fall out in the Summer with the club was a problem, and then from the Community Shield onwards it was obvious that the attitude was wrong. Before the season I expected to win the League, so it was a disappointing season
Man Utd fan 2cents from RedCafe.net:
We achieved the absolute minimal of what was to be expected, nothing more. We won a lot of games playing pretty dull stuff until the little run of games we had near the end which secured us fourth. Apart from that, we were kind of fortunate that Tottenham and Liverpool didn't capitalise. Having said that, we were obviously a much improved unit by the end of the season compared with Moyes' year, no more so than in our clashes with the other five teams around us, where we at least held our own in every game.
Newcastle fan Howay from toontastic.net:
Horrific, expected a mid-table finish and we ended up almost being relegated despite having the best coach in the league in charge. It started with entering the season with a thin squad and continued with the appointment of Carver after Pardew walked out, think Ashley gambled on getting McClaren cheaper but it almost cost him. The highlight of the season was the fact that probably the biggest arsehole in the league left for Palace AND they paid money for him.
Norwich fan Din from NorwichTalk.com:
Our final league position was around about where I expected we'd finish at the start of the season. However the 3rd place finish certainly wasn't as smoothly achieved as our position suggested. Appointing Neil Adams at the start of the season proved to be an incredibly bad move, hence why he was sacked half-way through the season, however we got it right in the end by appointing Alex Neil. He performed an absolute miracle to even get us into the play-off spots let alone promoted. It certainly all worked out for the best in the end, in particular as the play-off final at Wembley was easily my favourite day ever as a Norwich supporter.
Stoke fan Sheldon from EighteenSixtyThree.com:
Probably about what was expected from me, really liked the business we did in the summer compared to others (spent nothing really and ended up with a Bojan). Thought we had a decent chance at another final which was a bit disappointing but overall a very decent season which will be hard to improve on.
Swansea fan Harryomatic from TheJackArmy.co.uk
Really well, I think we slightly surprised everyone including ourselves!
Spurs fan Hazza from ShelfSideSpurs.com:
I think that we went beyond my expectations. I would have been happy with a transitional season whereby we were developing a footballing philosophy and maybe needing to take a step back in order to take two forwards. We managed to do that all whilst maintaining a top 5 finish, and may have even improved on that had we been able to to turn a couple of draws into wins.
I'd have liked to have seen a plan B and change things around when games weren't going well for us, but I put that down more to a lack of trust in many of our squad players from Poch, rather than Poch being totally stubborn.
Watford fan Necrobutcher from WFCForums.com:
Early in the season, under Beppe Sannino, I thought we looked nailed on for automatic promotion. When Beppe walked, we hired the pathetic Oscar Garcia and I wasn't anywhere near as confident. Of all the reported candidates for the job, I wanted him the least, because he's a total pansy who quits at the first sign of a challenge. Thankfully he quickly pulled a sicky and never came back, allowing the legend we call Joka to come in and get us playing like the promotion candidates we started the season as.
WAB fan Ghanaian_Baggie from WBAUnofficial.org.uk:
Having finished in the top half several seasons ago, suffering the relegation battle prior to last season seemed to have given the kick up the backside it needed. Several were optimistic that we could go onto another top half finish. Appointing AFI seemed doomed from the start, and despite a minor blip were we did well for a few games, he was destined to get the chop to spend time in the garden. Getting HBW gave us a manager capable of leading the club, and his impact was massive, securing another top flight season.
What are you hopes/expectations for 15/16 and where do you think you will finish in the league? 
Arsenal: We really need to push on this year and properly challenge for the title. It's going to be tough to win it because last season's top 4 are all very strong and the order of those teams is hard to predict. I think we'll finish 2nd or 3rd but reasonably close to the Champions (who, depressingly, will probably be Chelsea). I'm expecting a decent Cup run and in the CL I'm hoping we'll at least get to the quarter finals this year.
Bournemouth: Surely, its 20th, 19th or 18th. That's what all the 'experts' generally say about the newly promoted clubs before the season starts. I think we will need to learn quickly. Our style of play will mean we will score goals, but we will need to learn to defend. I have predicted we are going to get 43 points (http://www.thesouthend.co.uk/blog/afc-bournemouth-the-probability-of-premier-league-survival/). So anywhere from 17th to 12th, I'm going for 16th.
Chelsea: think we'll win it again
Crystal Palace: Expectations are a solid season without having to worry at all about relegation, can see us finishing 8th-12th.
Manchester City: I expect City to at very least challenge for the title and I expect we will win the League. I hope we can go back to Wembley too
Manchester United: Obviously hope to win it, but I think we'll finish somewhere from 2nd to 4th, with a bit of a gap between us and first.
Newcastle Utd: I expect a mid-table finish, pushing into the top 10. We weren't that many points behind 10th or 11th last season despite not bothering playing for about 20 games.
Norwich City: I think we have the potential to finish relatively comfortably, but I imagine that we will be in and around the bottom 5 or 6 for the majority of the season. I think we'll finish somewhere between 12th and 16th.
Stoke City: Hopefully we can improve and maybe challenge for a Europa spot, however it will be extremely difficult and I'd rip your arm off for survival after losing N'Zonzi and to a lesser extent Bego.
Swansea City: I'd like for us to build on the strong season we had in 14/15. Stay in the Premier League (hopefully top 10 again) and with a better cup run.
Tottenham Hotspur: I think we can expect another 5th place finish, but huge progression with regards to developing our own talent. We are shifting a lot of unwanted deadwood, and have hungry youngsters knocking at the door for an opportunity. We have identified our weakness in defence this year and created competition for places in each area of defence, where in the past I felt a lot of players felt they were untouchable regardless f form.
We are still missing a quality striker to operate with or in place of Kane, because Soldado and Adebayor (of late) have just not worked out for us. I would have loved Benteke, but his price was a huge stumbling block. I really like Ings too, so am a little jealous of Liverpool bringing in two players that would have been brilliant for us.
Hopefully we can bring in the likes of Austin and Berahino and really push on and challenge for top 4 right until the end of the season. I'd be delighted with a top 5-6 place and the Europa League though.
Watford: Tenth.
WBA: Hope for a top ten finish, although (if we sell our strikers without adequate replacements) I wouldn't be surprised if we get caught in a relegation battle. We shouldn't ship too many goals, but whether we are able to score enough remains to be seen. I am optimistic though.
Do you have full trust in your manager? To play devil's advocate, what would have to go wrong for him to be sacked
Arsenal: I do trust him although he is very frustrating at times. He's a far better manager than many on here suppose (I don't know quite why this site has become a haven for the Wenger out brigade as it doesn't reflect the views of the wider Arsenal support). If we don't start seriously challenging for the title now then he should be sacked but I don't think he will be unless we fall out of the top 4, which I don't think he will.
Bournemouth: Eddie Howe has proved himself time and time again (we have forgotten his little excursion up North). There is nothing he can do that would jeopardise his position. Even if we finish bottom of the league he will not be sacked. And, who would we get to replace him?
Chelsea: Unconditional support 100%, he knows what to do. Under no circumstance would he get sacked this season (unless a fallout with Roman).
Palace: Absolutely have full trust in Pardew, think for him to be sacked he'd have to be headbutting people every week!
Man City: No I don't rate Pellegrino. He should have dropped Toure very early on in the season and Kompany too. He needs to be stronger eg stand up to the club re the pre-season tours which are ridiculous
Man Utd: Not 100% by any means. I have doubts about how his style works in this league, particularly in terms of creativity, and also regarding his ability to organise a title-winning defensce. Having said that, if he finishes top four again I've no doubt he'll be here for another crack at it in 16/17.
Newcastle: Aye, he's the first bloke we have appointed since Hughton that I feel can actually coach professional football players, it's far too early to imagine him being sacked tbh and we put up with some horrific football under the silver fox so he'd have to be pretty fucking bad to imagine it this season.
Norwich: I have never had more trust in a manager and the coaching staff than I do in Alex Neil and his team. I think the only way he could get sacked is if we were literally about 15/20 points adrift at the bottom of the table by Christmas.
Stoke: Yes, he's got a very good record in the league if you ignore the QPR debacle, only way he'll be sacked is if we go down (would still be surprised if we sacked him) or he goes all Nigel Pearson.
Swansea: I definitely have trust in Monk. He's new and still learning, but seems to have a good sense of how he wants things to be done. We'd have to be relegated for him to be sacked in my eyes.
Tottenham: I am fully behind Pochettino and think he really has the backing and respect of the players. He showed balls to drop some of our bigger earners and throw the likes of Mason and Dier in at the deep end and watch them flourish. I think he'd have to lose the dressing room and suffer very poor league form for him to go, as hopefully Levy is finally looking at the bigger picture and opted for a manager that can develop youngsters and has trust in his scouting network to identify players that he needs but doesn't has at his disposal already.
Watford: What sort of question is this? He's come to us with a very good pedigree. He's no mug, that's for sure. There's no reason for me to say I don't trust him. I don't want to contemplate scenarios where I'd want him sacked, but as a football fan, I'm sure you don't need me to spell it out to you what they'd be.
WBA: Yes, we trust in the HBW. Leaving Stoke, going to Palace and now coming to the Albion seems to have done him good! We could argue that managing the Albion is a step up for him (in terms of club history, and with the impending take over – long term ambitions of the owners?)
It's been an oddly quiet transfer window this summer, but of the business you have done so far, are you happy with the ins and outs?
Arsenal: I'm happy with what we've done, not happy with what we haven't done.
Bournemouth: The ins, Boruc, Federici, Mings, Distin, Atsu, King, Costa are all quality additions and will add to the squad. Most of them are good enough to go straight into the first XI. Which in turn means that current squad players will be upping their game. We have got rid of the obvious, but I think there are a few more who should go.
Chelsea: Would like to see a couple in's, a defender(hopefully Stones) and central midfielder. Wanted a right sided player as well but Moses has pretty much played himself into contention again which I'm happy with
Palace: Think our business has been very good, Cabaye is a quality signing for a club our size and Bamford has looked good in the little I've seen of him (albeit against Conference opposition). McCarthy in goal should battle it out with the other two keepers for the No 1 slot. No first teamers have left (yet!) and we've been able to shift some players who were just sitting in the reserves adding to the wage bill.
Man City: Very happy with Sterling,Delph and Roberts
Man Utd: No complaints either way.
Newcastle: Happy enough but we need another CB to go with Mbemba as I have very little confidence in our CB's, particularly Mike Williamson who looks like he'd struggle in the Conference. We still need wingers as well, they've skated around without making proper investment into the squad for the past few years so we need a considerable amount for the fans to be happy really.
Norwich: To be honest I don't think we needed too many new players. Bring in a couple of players to improve the first team and add a bit of strength in depth in certain positions. I've been pretty happy with what business we have done though.
Stoke: No, sold two of our best players on the cheap, although both in contractual difficulty I still would have liked us to at least put up a fight.
Begovic deserves a chance at a top team, but why he chose Chelsea's bench I will never know, particularly when interest was clearly there from others.
N'Zonzi is the big one though, as said he's pretty much irreplaceable for a club like us. We could never afford/attract someone of his talent level so we will need to replace him with a younger promising type of player.
Pretty happy with the ins, nothing life-changing but all players who I'm sure will do well for us. I think we've got one or two more blockbuster signings in us yet (hopefully).
Swansea: Pretty happy yeah. We've done our business quietly but efficiently, strengthening where need be and letting a few lower level players go.
Tottenham: I am delighted we have managed to ship out so much shit that were draining funds and had been previously hindering the opportunities for players that truly wanted to play for Spurs. In many respects it's selling the likes of Kaboul, Capoue, Paulinho etc all for good money that has been more satisfying than any player we've brought in.
Watford: Very happy. Without a doubt, it's the best crop of players we've ever brought in.
WBA: Mildly surprised with letting Mulumbo go (but he hadn't made himself invaluable over the last couple of seasons) and happy with the transfers in at the moment.
Obviously there is still some time to go, so which player/s would you like to sign, sell and/or which positions strengthened?
Arsenal: We really need a top striker, IMO that's the biggest thing which is stop us seriously challenging for the title.
Bournemouth: Raheem Sterling? Don't think we can afford him. We need a striker, central midfielder and central defender. Who would we like for these roles? Not so sure but wouldn't mind Charlie Austin up front. We could then get rid of Tokelo Rantie, who has never settled at the club and never fulfilled his promise.
Chelsea: Stones and Pedro. Would love a central midfielder but honestly can't think of one that stands out at the moment. Most of the top players seem unavailable unfortunately.
Palace: I'd like to see us bring in another class CB to play alongside Dann, another CF (looks like it'll be Conor Wickham) and possibly another winger.
Man City: I would like Pogba or a replacement for Toure
Man Utd: We need between two and four new players to mount a challenge this year or next – obviously GK when De Gea goes, a CB, a CF, and a creative/goalscoring wide man to replace Di Maria.
Newcastle: Like above, defence needs strengthened, particularly CB but I wouldn't mind a left-back (not really a must though). Crying out for wingers and another forward like Austin would be nice to see. I'd love to see someone pay actual money for Mike Williamson, a packet of space raiders would be a steal for that utter sack of wine. Unless Tiote suddenly remembers he's a defensive midfielder rather than thinking he's Yohan Cabaye he can do one as well. Any leaving would have to be replaced mind.
Norwich: Ideally we'll bring in another centre-back that's an upgrade on what we currently have. We were linked with Van Dijk earlier in the window, which would be fantastic, but that one seems to have fizzled out. Another striker would also be great. Again, we were linked with Rudy Gestede a few weeks ago but nothing seems to have come of it, but he is a player I'd like us to get (he's gone to Villa – Ed). Those are the main two areas I'd prioritise, but Alex Neil has stated that he's after a striker, left-back and back-up goalkeeper, so it looks like we won't be getting a new centre- back. As for players leaving, I'm hoping that we finally get rid of Ricky Van Wolfswinkel.
Stoke: Need a winger massively and a centre mid, if we can get two stonking players in those positions I'd be really happy with the squad.
Swansea: Not sure we really need much else. Ideally I'd like some younger, fresher strikers but I might have to wait a season or two for that.
Tottenham: I'd like to see a holding midfielder, maybe a Cambiasso type to offer great experience to our young midfield for a season, Schneiderlin was my No.1 choice, but obviously that ship has sailed. Cambiasso's input on and off the pitch could be huge in aiding the development of Dele Alli and Winks who will be hoping to breakthrough this season.
Berahino who can cover either wing or upfront and Austin who has proved himself to score at this level for a totally shite QPR team.
Watford: I'm still hoping we can sign Perotti, but other than that, I'm very happy with how our squad is looking.
WBA: Need a prolific striker (so does everybody else), a pair of full-backs who can defend and support the attack, a centre-back who isn't yet in their 30s. We don't need any over-priced has beens.
Speaking of transfers, what was your take on the Raheem Sterling transfer and the way he & his agent forced through the move?
Arsenal: Sterling is a dick, but so are most young players these days – they get far too spoilt far too early and they have made it before they've really achieved anything in the game. And don't get me started about agents. But it's good business for you, he's not worth anything like what they've paid for him.
Bournemouth: Let's start by saying £50m for a potentially 'great' player is not a bad deal and you got a very good replacement (and better goalscorer) for around £44m less. It's very difficult once a player decides he wants to leave, But I reckon his agent was the driving force behind the move. Sterling has been ill-advised by his agent and has made himself look like a bit of a twat. I say good luck to him, I'm sure he will have fun warming the bench and counting his money. And, if he wanted to win the league surely he should have gone to Chelsea.
Chelsea: Hilarious to be honest, but it is what it is
Palace: Sterling is a money grabber like most players and to be honest I'm not sure that he's good enough for City's first team, Liverpool is about his level I'd say.
Man City: I thought LFC behaved really poorly and forced the boy out. Really poor conduct by your management who turned fans on the player. LVG does the same
Man Utd: Not entirely sure why Sterling is being singled out given the types of role models young footballers such as himself have grown up with. It's hardly the worst crime in the world. Liverpool got a great price for him, and City got a great young talent. Hopefully Liverpool spunk all the cash on rubbish like before, and he totally flunks at City.
Newcastle: It has happened to clubs like us for years and I think it'll happen to you more unless your lot break back into the CL, he's a Jamaican, raised in London that came to you at 15, I'm not shocked the claims he should be loyal fell on deaf ears. You got a great amount of money for him, Man City got one of the best young English players around, he got his move to a title challenging club and his agent got a pay day, so if you re-invest wisely it seems to benefit everyone.
Norwich: For a start £50m is too much for him. He's a good player with a bright future I don't doubt that, but I think Liverpool have certainly got the better end of the deal. As for the way his agent forced the deal through, I'm sure that plenty of players do the same but just don't get the same media attention.
Stoke: Absolute disgrace, he's clearly a tosser who's been advised by a tosser. Great deal on your end though, never thought you'd get that for him.
Swansea: In my opinion, he acted like a child throwing his toys out of the pram. But at the same time, there was no need for Rogers to try and force Sterling to sign a new contract in the first place, which was what I think caused the issue. He still had years on his contract and made it clear he would think about signing a new one when he was near the end of his current contract. Trying to ram a new one down his throat was really counter productive I feel. Nobody did well in that fiasco.
Tottenham: I think the fee you received was incredible. I like Sterling but think he is very overrated, for an attacking player his technique is awful at times. He's a serious hamstring injury away from being shite. His pace is frightening though and he gets himself into some brilliant areas which means he will always get chances to score. As a person he comes across as an utter cnut, and I think you are best off without him. I honestly believe so long as he doesn't believe in his own hype and keeps his head down and works hard Ibe will be a better player, he is already technically better.
Watford: Sterling is a jumped up little príck, and he'll probably be playing in the MLS in a few years with a massive persecution complex.
WBA: Not followed it very much, partly because I only tend to follow what is happening to the Albion, partly because I live abroad and so don't get caught up in the gossip and also cause it seemed inevitable he was on his way. I suppose Liverpool now need to spend the money well – but it seems generally in football, big money signings are more frequently a miss rather than a hit.
What do you make of Liverpool's signings? (Joe Gomez, Adam Bogdan, Danny Ings, James Milner, Nathaniel Clyne, Roberto Firmino and Christian Benteke).
Arsenal: Benteke you paid way over the odds for IMO, he's good but not that good. None of your signings have me quaking in my boots, I don't think it's enough for you to get back into the top 4.
Bournemouth: I can't pretend I know  much about Gomez and Firmino, but they look great on paper. Seen Bogdan play and he is a very good keeper. I think Milner and Clyne will prove to be great additions to the squad, not so sure about Benteke. He was poor when I saw him play, but I reckon Rogers will get the best out of him. That leaves Danny Ings who Bournemouth fans know very well. He always looked destined for better things when he was at Bournemouth. He scored great goals then and has only got better. He was a snip at £6m, wish he had re-signed for us.
Chelsea: Big fans of Firmino and Milner. Not seen enough of Gomez and not really sold on Benteke as I don't think he suits your style of play. May end up like Carroll v2? Ings while cheap, not sure he's going to have much influence this season especially if Sturridge gets fit again. Clyne is a good player but doesn't get me out of my seat.
I think you guys have done ok transfer-wise but I don't know if it's going to be enough to get into the top 4.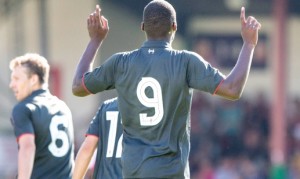 Opinions are divided on Liverpool's new No.9
Palace: I wouldn't be particularly excited about any of those signings as a Liverpool fan. Milner, Clyne and Benteke are all good Premier League players but I'm not sure that they will help you break into the top 4. I'll admit I don't know anything about Firmino but I assume that Gomez, Bogdan and even Ings are players for the bench.
Man City: Milner is good, but similar to Henderson. Don't know about the others. Ings might be very good.
Man Utd: Pretty much what you'd expect from a team in their position – they're hoping that a couple of these exceed expectations/previous form in the same manner the likes of Coutinho and Suarez have in recent times. But there's always the risk, and even greater chance, they'll disappoint the way the likes of Lovren and Lambert have. The only two I'm really familiar with are Milner and Benteke, both solid signings. Have never seen Firmino, Gomez or Bogdan, while Clyne and Ings strike me as completely run-of-the-mill.
Newcastle: Gomez has potential but he won't make much impact for two years or so, Bogdan won't play and is canny shite, Ings is lower mid table level, Milner is a good player and will do well for sure, Clyne is fucking class and comfortably the best English right-back, Firmino was a good buy and if he can replicate his Bundesliga form he'll be a class player for you and Benteke is a cracking striker. Rodgers will need to change his system to make him work so it'll be interesting to see if he does that. The overpaying stuff about Benteke doesn't really matter as you got an inflated fee for Sterling.
Norwich: I think you've done good business so far. Firmino and Clyne are both excellent players who will undoubtedly improve your side, and Milner on a free transfer is a fantastic piece of business. And whilst in my opinion £32m for Benteke is more than he's worth, he's proved that he can score goals at this level, which considering Sturridge's injury problems is invaluable. Ings and Bogdan are good back-up to have as well. Don't really know much about Gomez.
Stoke: Know little about Gomez and Bogdan is obviously not a number 1, like the others though honestly. Clyne is top drawer and Firmino could be a massive player in the league if he settles, bags of talent.
Milner will be your best signing in my opinion.
Benteke could go either way, if he starts well he could score hundreds for you.
Swansea: Usual mix of good quality (Clyne, Ings, Benteke) with random pointless transfers (Bogdan, Milner).
Tottenham: I think you have done some very good business in terms of the players you have brought in, but the money you have spent is a bit risky. Firmino looks good in highlights I've seen, but that means nothing when it comes to performing in the Prem and that's a lot of money to spend on someone unproven in this league. Gomez looks to have a very bright future. Ings and Milner are very good signings. Clyne is a great signing. Bogdan will never play. Benteke is a very good player, but at that price is risky considering his injury history.
Watford: I've got no opinion whatsoever.
WBA: Not much, but then I hadn't given this any thought! I suppose that if your attack is in form, then it'll be tough for the Albion to get a result against you. Who will you leave on the bench? Ings? Benteke? Danny? or is the assumption that you'll never have all 3 fit and in form to play?
Where do you think LFC will finish in the league?

Arsenal: 5th.
Bournemouth: It has to be fifth I reckon. I can't see them squeezing past Arsenal, Chelsea, Man Utd or Man City, even though I would love them to beat Man Utd home and away
Chelsea: 5th unfortunately for you fellas, I just see the current top 4 being of a different class from squads to resources. Your transfer window so far hasn't really shown to me anyway, that you can close that gap
Palace: Can't see you troubling the top 4 unfortunately, 5th to 7th.
Man City: 4th is possible. Utd look like they have messed up in the transfer market again.
Man Utd: 5th
Newcastle: 6th-8th
Norwich: I think you'll spend most of the season challenging for the top 4, but ultimately just miss out. I think you've certainly improved last season's squad with the players you've bought in despite losing Sterling. Personally I don't think that the top 4 of Chelsea, City, United and Arsenal is going to change for a while, especially whilst you have Rodgers in charge.
Stoke: 4th-6th
Swansea: Probably fifth or six. Same as last year.
Tottenham: I think Liverpool and Spurs will be in the mix for top 4 until fairly near the end of the season, but will battle it out for 5th place. I think we will have a more balanced squad by the end of the window If (a big IF) we can bring in a striker and a wing forward so think that will give us the edge.
Watford: Fifth or sixth.
WBA: If you play very very well, and score lots of goals, maybe 4th. Who is your leader on the pitch, who is going to score 30+ goals. So realistically, below Chelsea, Man City, Man Utd and Arsenal. Battling with Spurs, Everton and another team to sort out 5th to 8th
Do you want Balotelli?
Arsenal: Dear God no!
Bournemouth: Is he free? I don't think Eddie Howe would want him even if he was free. He's been checking social media accounts to see if players fit into his ethos. Don't think Balotelli's musings online will help his cause.
Chelsea: Funnily enough I wanted him from Milan before he went to Liverpool, got lambasted by people on here for being stupid. Guess they were right and I really am dumb. But I still rate him as a talent.
Palace: You couldn't pay us enough to take Balotelli off you!
Man City: No thanks. What was Rodgers thinking? He's slowed up
Man Utd: Depends how much you're willing to pay.
Newcastle: Not at all.
Norwich: Get f*cked
Stoke: Get Bent! [I presume he doesn't mean Marcus or Darren? – Krish]
Swansea: Nope.
Tottenham: No thanks.
Watford: Okay. I've got a list of jobs around the house and garden that should keep him busy, and it'll be nice to have my work boots shined every morning while I read my Daily Mail.
WBA: You mean to teach PE at my school? er … no. Oh for the Albion? On loan, with you paying his wages – yeah why not! Seriously. No! Whilst he kept Lambert out of your team last year, I'd rather have Lambert. I think that Balotelli would be best going to play in USA, China, Middle East. Until he gets his mojo back, and re-learns his trade