By Chris Rowland.
It's the next instalment of our symposium panel's thoughts on the season ahead. 
Who will be our most important player?
Martin McLaughlin (TTT Subscriber MartinMcL): Coutinho, see below under 'Surprise Package'.
James Keen (TTT Subscriber jimtheoracle): I always find it tricky to evaluate what we mean by important. Benteke or Sturridge will probably score most of our goals, generally seen as the most priceless commodity in football. But they can't do that without the creators Coutinho or Firmino. Who in turn can't operate without the water carriers who in this team seem to be Henderson/Milner etc and so on. But I maintain that in the last two seasons for the team to play well we have to get the best out of Henderson. I will stick by that view, our new captain has much to prove but his importance to our team is without question in my mind.
Mark Cohen: Many people will tell you that one of our creative players or natural scorers will be the most important player. The thinking is, we were so rubbish in this department last season and any improvement there would make our season in 15-16. I'd disagree. Quality strikers are more or less a binary factor if you are chasing top four. It's either 1, or 0. If you have quality enough to mount a top four challenge, it's 1, if you are Liverpool 14-15, it's 0. This season I make the binary rating for us a 1, as we have four attacking players of definite top four quality (Sturridge, Coutinho, Benteke and Firmino.) The binary rating for the other top four rivals is also 1 though, so there's no advantage there.
James Milner is a big differentiator though. For us especially. Last season our midfield was mostly pedestrian, with a leaden-footed Gerrard mopping up at the back and the limited Joe Allen playing sideways in front of him. Coutinho could drop a shoulder, but had nobody to release after the fact and was often left isolated as he foraged manfully into the final third. Hendo, a player of promise, was clearly afraid to commit himself by busting a gut into the final third as this would likely leave Gerrard exposed so he played within himself, and it showed.
Milner changes this equation by brining limitless energy to the middle of the park. There has been much speculation as to whether Rodgers will line up with a DM in the middle, but he clearly doesn't wish to do so, and when you have players with the stamina of Hendo and Milner in your 4-3-3, who would? Milner and Hendo can run up and down the field for a full ninety minutes and when one of them tires, the incorrigible Can should step up to deputise. Milner's intelligent movement will allow Hendo and Coutinho many more triangles to transition up the pitch. His eye for a pass and his willingness to bring players into the game will be the catalyst for a great season. A Rodgers system requires two things: the technique to unlock a defence, and the guts to go for it. With James Milner being literally thieved off City's books, we now have those exact ingredients.
Anthony Stanley: James Milner. He's been there, he's done it, he owns a rake of tee-shirts.  He can be a catalyst for this young group. He can help to crystallise belief. He's also an excellent player who can run a game with his partner, Hendo. They have a formidable look about them and can bring power, tactical acumen and intelligence to the Reds' performances.
But Coutinho will be the star dust and could complete his evolution to world class level this year. I've a feeling the first few months of the campaign will be slow for the Brazilian though.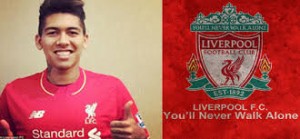 Andrew Beasley (TTT Subscriber Beez): In a new look attack it could be a number of players, but I'm hopeful that Firmino will seize the initiative. He should bring an intensity that was sorely lacking from Liverpool's front line last season.
What position in the first XI still most needs addressing?
Martin McLaughlin: Defensive midfield. Though it won't be as Rodgers doesn't seem to value a defensive player in that position.
James Keen: Centre-back closely followed by left-back. Sakho aside we still have massive question marks over the rest. Lovren and Skrtel seem like they're probably good players but are both capable of such colossal brain farts that it could easily derail our season. If the Henderson/Milner axis in midfield solidifies us defensively we may see a more secure looking centre back pairing. But I still feel overwhelmingly anxious every time the ball goes near our goal. Left-back is more obvious as if/when Enrique leaves we've only got one on the books. Otherwise we're filling in Gomez or Flanagan when he gets back. So in terms of numbers a left-back, in terms of pant-filling fear during games a centre-back.
Mark Cohen: Goalkeeper. Mignolet is not a top four level player, and we wish to end in the CL spots. Again, guys will point to his ability to save as his 'saving grace', but it's another binary thing. If your keeper cannot stop shots hit at him with speed, he has no business being a goalkeeper. All the other top four keepers are very good shot stoppers too, but can also play with the ball at their feet, something Mignolet does an average impression of. He did command his area better as the season progressed, but having your keeper punch everything clear takes me back to high school days when the goals were at least two keepers high, and they were all crap. I always ask myself a question – would any other top four team swap their keeper for Mignolet. Not even close.
Anthony Stanley: The jury is still out on Alberto Moreno and, Gomez aside, there's no alternative at the moment. The former Charlton youngster has done extremely well in pre-season but there's an ocean of difference between a Thai XI and Stoke or Arsenal away. Moreno may kick on this year but the he always looks like he has a mistake in him and his positioning sense is suspect.
Andrew Beasley: How many people said defensive midfielder?! For me, it's probably centre-back; if we could address this by making Sakho permanently fit, that'd be a very good start.
Surprise package – which player will push on more than expected?
Martin McLaughlin: Strange choice but Coutinho. Yes we know he's good, but he's never put up the numbers his skills suggest he is capable of. Two things have happened. Sterling and Gerrard are both gone. The second is we have brought in four attackers in Benteke, Firmino, Origi and Ings. No Gerrard or Sterling makes Coutinho the undisputed player to give the ball to and unlike last year he now has as an array of attackers who actually give him some movement to aim at. He's 23, and if Rodgers has any sense he will build everything around him. He could have a monster of a season.
James Keen: It won't be much of a surprise to anyone but a full season in the first team squad will see Ibe established as a first eleven player this season. He appears to have it all, including a down to earth and realistic outlook. He's strong, technically good and lightning quick. Raheem who?
Mark Cohen: Tempted to say Markovic, as he has such prodigious talent, but I think the answer will be Lallana. Oddly, I believe this transfer to be a big waste of money as Lallana does not integrate with others well at all, his vertical runs tend to take our players out of the game whilst his 'take five touches when two will do', tends to slow down attacks allowing defences to recover. But he is Rodgers' pet project seemingly and, my guess is that when fit, he will be accommodated in the starting line up in most games. As he does have quite a bit of skill, and enjoys getting forward, my counter-intuitive thought, is that, being rated as a poor, expensive purchase will mean that should he get 8-10 goals and a similar amount of assists, he will be considered to have a wonderful season and be recognised as a gem of a purchase, even though he patently isn't one.
Anthony Stanley: Ings may well surprise a few. There'll be relatively little pressure on him – he's not expected to start many games and he seems to have a good mentality. With a little bit of luck he could hit the ground running and if this happens you just never know. My suspicion is that he may build up some confidence and momentum in the Europa League and, if he gets a break in the Premier League, could well shine. Harry Kane took the rest of the league by storm last year. If the right circumstances present themselves, the hard working forward could make a similar impression.
Andrew Beasley: Would it be that much of a surprise if it's Jordon Ibe? 
The rest of this article is for Subscribers only.
[ttt-subscribe-article]