By Mihail Vladimirov.
SUMMARY
West Ham sprang a surprise by opting for a lopsided 4-1-4-1 formation but took a similar approach to their game at Arsenal
Liverpool's lack of width played right into West Ham's hands defensively
Bilic's approach combined solid defending with ambitious attacking
West Ham's  lopsided defensive shape perfectly matched Liverpool and addressed all their threats, while their attacking patterns exploited the obvious gaps left by the Reds
Liverpool's framework looked to stretch the play by creating two wide-oriented triangles, but there were attacking and defensive consequences 
Benteke was visibly isolated
At half-time Rodgers introduced Moreno for Can and changed formation from the initial 4-1-2-3 to a 3-4-2-1
This change lacked tactical sense given the context of the game
Liverpool continued to lack attacking width and diverse attacking threat
Both sides lined up with the expected starting elevens. Rodgers is reluctant to change a team (be it for tactical reasons or as a meaning of squad rotation) that he perceives to have performed well. Meanwhile with several players missing through injuries or suspensions, Bilic had a very limited pool of senior players to choose from.
The only real surprise was the shape the visitors started the game with. It was expected Bilic would continue with the diamond formation he's used up to now, but instead he opted for more of a lopsided 4-1-4-1.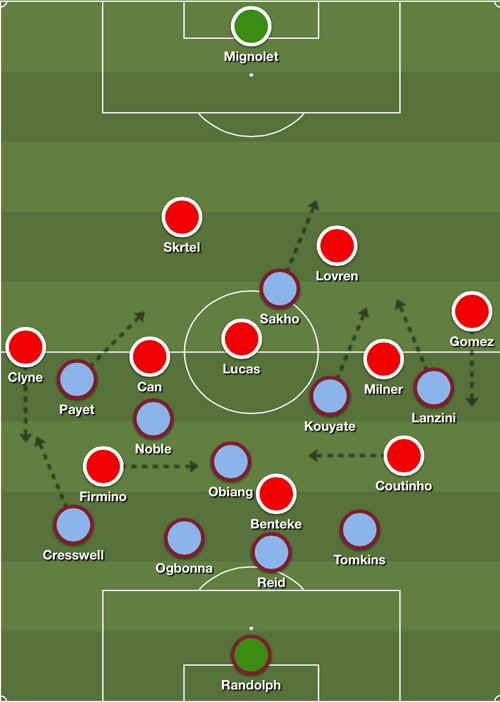 West Ham with the expected approach, despite a different shape
Prior to the game it was expected Bilic would go for a similar approach to the one which saw his team win, albeit slightly fortunately, and keep a clean sheet at the Emirates. With a similar game in prospect, it made perfect sense for the Croat manager to largely keep the same formula. What made such a decision even more suitable was the likelihood of Liverpool playing with a very narrow shape and lack of attacking width.
At the Emirates Bilic focused his side on defending deep and using the selected 4-3-2-1 formation's inherent narrowness to blunt Arsenal's creative passing and as a result minimise their attacking threat. Going forward, West Ham counted on the roaming pair of Payet and Zarate playing just-off Sakho, with the former two providing the mobility and directness on the break while the latter used as the focal attacking point, the target man receiving passes from deep to quickly gain territory and bring others into play.
The exact same approach wasn't possible at Anfield, mainly because of Zarate's injury and Bilic not really having a similar type of player to replace him like-for-like. As such the likelier variant was to use another midfielder (Lanzini) at the tip of the diamond to further bolster the midfield zone and giving Payet greater attacking freedom sitting just off Sakho. This would have resulted in the same congestion through the middle with Liverpool's anticipated lack of width playing right into West Ham's hands defensively.
However, although Bilic named the expected starting XI, he surprised by lining up his team in a slightly different formation. Instead of using Payet and Lanzini in central positions within a clear diamond formation, the Croat manager decided to use a hybrid of a 4-1-4-1 and the 4-3-2-1 seen at the Emirates. Payet was placed down the left flank with Lanzini a bit narrower down the right – clearly as a way to account for the different type of Liverpool's full-backs.
Out of possession, West Ham played in a 4-1-4-1 that actually looked more like a lopsided 6-1-2-1 given the way the Hammers' wide men acted. The full-backs tucked infield while the wingers ahead of them dropped deeper – Payet staying a bit wider, ready to put some pressure on the overlapping Clyne, and on the right Lanzini stayed obviously narrower as Gomez wasn't deemed a wide threat requiring special attention. In addition it was clear how the whole defensive shape was geared up towards the way it was expected for Liverpool to line-up.
Noble was leaning towards the left (Liverpool's right), joining Cresswell who tucked infield and the Payet dropping back to deal with Liverpool's supposed threat of Clyne bombing forward, Firmino in-cutting and Milner roaming forward from his right-of-centre position. That it was Can playing over there – who stayed relatively deeper and wider instead of surging forward – only made the visitors' job to cover that side easier.
Meanwhile, on the left – with both Gomez and Coutinho right-footed and clearly preferring to play narrower off the right – West Ham had Tomkins and Lanzini similarly staying narrow. The presence of Kouyate over that side helped deal with Milner actually being positioned in Liverpool's inside-left channel. Both largely matched and nullified each other.
Then with Obiang staying deep and central, West Ham had the bonus of a 'spare' defensive player who could quickly move across whenever needed or simply stay just in front of the centre-backs to shut down the space between the lines.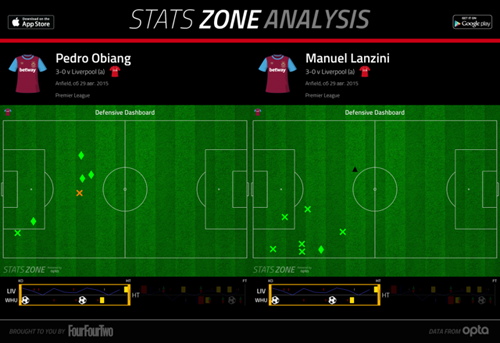 Bilic's comment after the match that his team parked the bus but left the handbrake off was a perfect illustration of how his approach combined solid defending with ambitious attacking. Whenever his side regained possession they were quick to counter-attack, committing enough bodies to make each attack threatening. Based on the profile of his players and the lopsidedness of his formation, it wasn't a surprise to see the main patterns involved overloading the central areas, with only Cresswell providing width with his overlapping runs down the left. But this was the perfectly suitable way to exploit Liverpool.
Payet and Lanzini were both quick to push infield and exploit the space either side of Lucas, creating that 4-3-2-1 attacking shape. The former did so with his mazy runs on the ball, the latter with his surging off-ball runs. In addition, Kouyate was typically willing to quickly run forward from deep, offering yet another central body to exploit space through the middle and supporting Sakho who occupied the attention of the two centre-backs.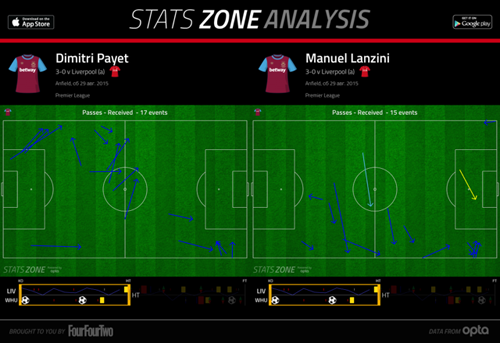 Interestingly, West Ham were clearly aiming to attack predominantly down Liverpool's right flank, despite there being more space down the opposite flank, in behind Clyne who was constantly motoring forward. Perhaps Bilic saw the Gomez-Lovren side as the more vulnerable and easier to exploit. In a way this is logical as Gomez is obviously the rookie and not even a natural full-back, compared to Clyne who has incredible recovery pace and is defensively tenacious. On top of that, Lovren was the centre-back easier to bring up the pitch to leave space in behind.
The rest of this analysis is for Subscribers only.
[ttt-subscribe-article]