By Paul Tomkins.
For starters, Brendan Rodgers is not a 'fraud', and I have no time for people who suggest that he is. Also, Liverpool's position in the table doesn't make for terrible reading after away visits to Stoke and Arsenal. And four games is too early to make conclusively damning judgements, especially when everyone seemed pretty happy after three games.
And yet despite all that, the West Ham performance and result has set alarm bells ringing. As with the 6-1 defeat at Stoke, it's the kind of result that just should not be happening; the kind that leaves a sick feeling in the stomach. As far as this season goes it's a one-off, but there were too many such reversals towards the end of last season. I had hoped that such unfamiliar results would be consigned to the past with the turnover of players, and the removal of certain distractions, but no, it's gone and happened again.
I can accept Liverpool occasionally losing at home to mid-table opposition, because that happens from time to time; it happened to Ferguson's Man United every now and then, and it's even happened to Real Madrid and Barcelona over the years. But having been beaten 3-1 by Crystal Palace at the end of last season, to lose 3-0 to West Ham with just a lucky victory against Bournemouth in between causes me a great sense of unease. It's not panic stations – but it's certainly not the kind of result you can just brush off.
It's good to win when you don't play well, and Liverpool did just that in the first home game. Some rust was to be expected, and new players can need time to gel. But you have to build on that luck by playing better the next time. If anything, Liverpool played worse.
Over the years the Reds have lost 'should win' games at Anfield when they've battered the opposition, but against West Ham there was just nothing positive at all to take away. While West Ham didn't exactly pepper Simon Mignolet's goal, they thoroughly deserved their victory, even if the three-goal margin was perhaps generous. But what was galling was that however many West Ham deserved to score, Liverpool deserved to score zero.
The luck Liverpool rode against Bournemouth and Arsenal – two good opposition goals chalked off and one offside Liverpool goal awarded – is what all clubs need every now and then. But to follow that luck with a 3-0 defeat at home to a team aiming for mid-table is just not excusable. Liverpool also arguably had the luck of the decisions against West Ham, with Mark Noble's sending off hard to fathom, but rather than use the 10 vs 10 to push on and put the Hammers' reserve keeper under pressure for the final 10-15 minutes, there was nothing; indeed, the visitors killed the game. And rather than be a bastion, Anfield was emptying.
I can see Rodgers' logic in keeping the same team (indeed, same 18) after a good result and excellent performance at Arsenal, in terms of rewarding the players who tried so hard, and trying to keep confidence up. But this game showed that keeping the same side can be largely meaningless in those terms. Liverpool looked neither motivated nor confident. That doesn't mean they were badly prepared; but it makes it hard to argue to the contrary.
Now, my sense is that the team are suffering some nerves at home, with the expectations higher and the crowd more restless. But it has to be dealt with; the only other team to win by three goals during the Premier League era was Chelsea, as reigning champions.
By keeping the same side, Rodgers was choosing the players tasked with doing one kind of job at the Emirates, to which they seemed suited, to do a totally different kind at Anfield. That doesn't mean that the same players can perform in different ways, but it does raise some kind of questions as to a possible flaw in the approach.
And while struggling to create chances and score goals, loaning out Lazar Markovic seems a little perverse, even if he is perhaps too timid at this stage of his career to impose himself. The loan may do him good, but with Jordon Ibe struggling, and Adam Lallana perpetually injured, it's another decision that could come back to haunt the manager.
That said, I liked the summer work – most of the transfers made sense on individual levels, and the change in staff seemed an upgrade. But it's perhaps too much of an English/Premier League vibe – not just the players, but with the coaching staff too. I know Rodgers is keen to prove that British players and coaches are better than they're given credit for, but my main concern is that Liverpool win football matches.
I honestly don't see prior Premier League/English football experience as important (from having assessed thousands of transfers), and West Ham were quite happy to embarrass the fully acclimatised Liverpool team (bar Roberto Firmino) with the aid of Pedro Obiang, Dimitri Payet, Manuel Lanzini and Angelo Ogbonna, all foreign and brand new to English football, and all at very reasonable prices. While it's too soon to judge the long-term success of these imports versus Liverpool's players with prior Premier League experience, they certainly didn't look like they didn't "get what our league is all about".
As I said last week, Joe Gomez was due a dip, and it happened sooner than expected. But he's a class act – no doubts there. And Christian Benteke had shown a well-rounded game in the other matches, albeit one starved of decent service for the most part. While he has done well enough, the worries about how Liverpool would supply him seem valid; my assumption that the team would be geared up differently in order to do so is starting to look a bit wayward.
I don't expect crosses at every opportunity, but against a deep defence, where he can't use his pace, Benteke needs something in the air. Last season Liverpool seemed to only take long corners, with few big targets to aim at, and yet now with a supreme aerial threat they've started taking short ones, and then cocking them up. It might be useful to work a different angle, but if the ball doesn't end up being delivered at all it's a waste of time.
There's no arguments over the overall usefulness of James Milner, and Nathaniel Clyne is one of the best defensives full-backs we've had in years. And yet the point of such solid signings was to avoid 3-0 humpings at home. If Liverpool's side had contained Obiang, Payet, Lanzini and Ogbonna and got beaten 3-0, people would have said it was the lack of Premier League experience, as well as the lack of heart associated with overseas players.
I was all for Rodgers being given another season, and it would be daft of the owners to give him that time then pull the plug after the first bad result from four games. But equally, the manager cannot afford to carry such crushing defeats. He doesn't have the credit in the bank with the fans for that – and even his supporters, amongst whom I count myself, are not going to excuse results that fall well below what is acceptable. Bad results happen; thrashings should not, whether away at Stoke or at home to Crystal Palace, and now West Ham.
Rodgers is no fraud, but he will have known only too well that he had a lot to prove this season, and due to its depressing nature, it's taken just one game to undo a bright start to the season.
If Rodgers is on thin ice – everyone knew he couldn't carry too many terrible results after last season – then the weight of Dejan Lovren is what might just break it.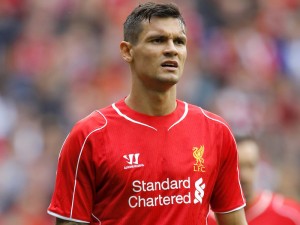 I do have a little sympathy for Rodgers here, as Lovren started the season well, and was clearly organising a back four that kept three consecutive clean sheets. And throughout 2015, Liverpool had shipped far fewer goals per game with him in the side compared with Mamadou Sakho, who most of us prefer as a player.
But it's either bad luck, or to be taken as some sign of complacency, that no sooner does Rodgers praise the Croatian defender in a press conference that Lovren reverts to being dragged wide and making terrible howlers. Slips at the back happen; horrible defending should not. In trying to be something he is not, Lovren undid all the good work and is now back to being nervous, and totally untrusted by everyone in the stands – a guarantee to transfer itself onto the pitch. He may return to doing the basics in the next match, as Jamie Carragher advises, but what damage has this done to his confidence? (Oh, and by the way, going onto social media to abuse him isn't going to help – and that applies to any player at your club.)
And while the comedy capers return at the back, the frontline is not functioning properly.
This may just be a blip for Liverpool, but then I said the same too often last season. With so many tough games in the early months, the home matches against Bournemouth and West Ham had to be won – and only one was. That's a lot of pressure, but that comes with the territory.
The good news is that Liverpool are level with Arsenal, and are well ahead of Chelsea and Spurs. We'd all have taken that if offered, but it shouldn't detract from the Reds' problems. And with the Europa League coming up, on top of several hellish away games, it could prove to be a sink-or-swim time for the manager and his team. They certainly need to knuckle down, and the only way this weekend's result becomes even remotely acceptable is if the players resolve to guarantee that it never happens again. If it's used as the biggest wake-up call of recent times, then I can live with that. If this proves to be just a blip, then all well and good.
Of course, Jose Mourinho, with all his championships and with a far more costly squad, is showing that strange things happen in football. He's not become a useless manager across four games (five with the Community Shield), and yet the balance of his team, without a lot of changes, has gone totally awry. Even without changing managers, and bringing in a raft of new players, it shows that things can just stop making sense.