By Mihail Vladimirov.
A win here will result in Rodgers equaling Liverpool's best Premier League start of a season with ten points from four games. Another clean sheet will also saw the Reds keep their fourth in a row for the first time in four years (since Dalglish's second stint at the club). Or in other words – Liverpool will have made an excellent start to what is perceived to be a crucial period for Rodgers, something which will without doubt be a huge psychological boost for the manager and his players.
Meanwhile, after the promise of the opening game at Arsenal (which was as much down to Cech's suspect goal-keeping as to the overall good defending), Bilic's side has slipped to two very disappointing home defeats against two of the promoted sides. What was worse than the results itself was the very poor performances of his team – both defensively and offensively. The team's defence looked almost amateur-like, shipping in six goals and conceding seven big chances among several other very presentable opportunities. Attacking-wise, the team scored four goals in both games but only one came following a good combination play (Payet's against Leicester) with the other three coming from a penalty and directly following throw-ins.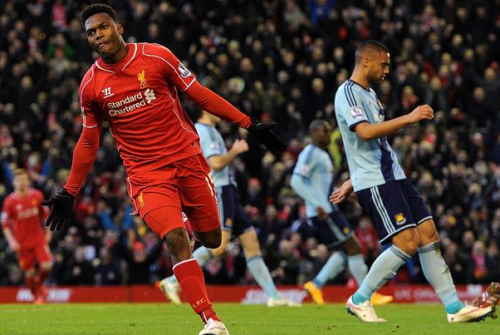 Team news
Rodgers verified he will be choosing from the same pool of players as in the Arsenal game. Which means very few, if any, changes are likely to be made.
On the other side, Bilic is in the unenviable position of having several important first-team players unavailable for various reasons. His first-choice keeper (Adrian) and right full-back (Jenkinson) are suspended for this game with the only other senior full-back O'Brien highly doubtful. Meanwhile, the team's attacking options are heavily restricted with no less than three first-team players going to miss the game. Valencia and Zarate are injured, while Carroll has just started training so is at least a couple of weeks away from acquiring the right level of fitness to start an official game. The good news is that Bilic confirmed Sakho – who was initially doubtful for the game – started training on Friday and has at least 50% chance to start the game.
On top of all this, Kevin Nolan was released by mutual content, leaving the side very short of senior players for this game, and indeed for the season ahead.
Bilic's West Ham up to now
After taking over Sam Allardyce, the former Besiktas manager kept the 4-diamond-2 shape as his first-choice formation. In a way this was the most logical thing to do, given the make-up of the squad. There is notable lack of wide men (more so after the surprising sale of Downing to Middlesbrough) so it's hard for any 4-1-2-3 and 4-2-3-1 alternatives to be introduced as the default formation. Also, the presence of plenty of target-men like forwards and combative (or at least not very creative) midfielders, means the diamond formation is a suitable choice, at least until the squad is refreshed with a couple of new additions.
However, there was a notable shift in the overall mentality of the team, with reduced defensive stability but also an increase in the will to play the game in a more cultured way. Interestingly though, although starting the first three games with the same formation and only a couple of personnel changes (all enforced due to suspensions or injuries), Bilic's team featured in three very different games tactically and context-wise.
Away at Arsenal the team opted for a very deep and compact 4-3-2-1ish formation, using the roaming Payet and Zarate just off Sakho. Unsurprisingly, West Ham were soundly outpassed, but their formation gave them enough midfield presence to help largely nullify Arsenal's creative passing in addition to using their front three breaking forward dangerously and exploiting the space left either side, ahead and in behind Arsenal's centre-backs with Monreal and Bellerin bombing forward keenly.
In the next game against Leicester, West Ham immediately found themselves in the reverse context given Ranieri's team pitched-up with two very deep and narrow banks of four, happy to cede possession. Bilic's diamond formation (now featuring two attacking full-backs with Jenkinson replacing Tomkins on the right) had all the possession (racking up the largely unprecedented 70.4%) but little creativity and overall penetration. This was manly because of a lack of a natural ball-player in the team. Noble is a fine passer, but he is far from the typical playmaker and is someone who thrives mainly with pinging long passes to a breaking attackers and not a player who has the vision and flair to break down packed defences. Similarly, the former Marseille man Payet is more of a dribbler, a player who is at best cutting on his strong left foot to have a go at the goal, and not a hugely creative #10-type of player who can pull the strings from between the lines.
With both Cresswell and Jenkinson motoring forward down the flanks – in order to provide the much needed attacking width – Leicester had the perfect opportunity to break forward 2-v-2, using their mobile duo to constantly stretch the play and constantly work the ball into threatening positions in the final third.
The third game – the home clash with Bournemouth – saw West Ham participate in yet another different tactical context. Right from the start of the game, Eddie Howe's direct and wide-oriented 4-4-2 (similar to the one seen the previous week at Anfield) completely destroyed Bilic's narrow diamond. The Cherries' energetic opening (again, similar to the one in their game at Anfield) sucked the hosts in an obviously unexpected whirlpool, resulting in West Ham unable to get to grips with the game, despite their 4-v-2 midfield advantage. This was mainly because Bournemouth aimed and succeeded in playing down the flanks, where their 2-v-1 (and often 3-v-1 if one of the forwards or the central midfielders drifted wide) tore apart West Ham's defence and created a succession of goal-scoring opportunities, two of which were taken to given the visitors a fully deserved 2-0 cushion at half-time.
It was only the half-time move to a 4-1-2-3 formation (a move which was also made in the Leicester game) which brought West Ham back into the game, leveling at 2-2. But then again, poor defending and Bournemouth hitting the next gear saw West Ham stumble to another home defeat.
How West Ham might line-up?
It's easy to imagine this game being very similar to West Ham's trip to the Emirates in that Liverpool would most probably enjoy possession and territory domination for large parts of the game. This means a similar approach might be something Bilic has in mind.
Keeping with the 4-diamond-2 formation (or it's first cousin, the 4-3-2-1 one) is logical for the time being for West Ham in that they lack wide men, in addition to having only one natural fit full-back for this game (with Tomkins yet again expected to deputize for the suspended Jenkinson). Also, in case Rodgers keeps his side unchanged (something that is very likely), Liverpool would be quite narrow too, as only Clyne from all the four wide men is natural at bombing down the flank, with the other three all preferring to cut infield and influence the play via taking part in short and sharp passing moves.
The above makes playing with a formation that inherently promotes midfield stability and counter-attacking abilities a very sensible tactical decision. The midfield trio of Obiang sitting ahead of the back four, flanked by Noble and Kouyate can patrol the midfield area well enough while the addition of a third centre-back across the back four means an extra body who could defend narrowly and keep the holes across the defensive third largely plugged.
Up front, the main dilemma for Bilic will be the exact format of the front trio. With Liverpool expected to dominate possession and territory and their probable line-up able to boost no less than five midfield players, the Croat manager might prefer to put another natural midfielder at the tip of the diamond and further solidify the middle third. The Argentine is the type of player who doesn't specialise in either aspect of the midfield play – he isn't a true playmaker, nor an able ball-winner. His presence though might be key in occupying Lucas in order to cut off the primary source of a vital link-up play between Liverpool's defence and midfield. The obvious aim would be to force one of the other midfielders to drop in deeper and compensate, which will mean one less player getting into advanced positions for West Ham's defence to worry about.
If Lanzini is played, this will leave Payet to partner Sakho (or if he isn't fit enough to start – Maiga). Such a front pair has the good complementary style to at least worry Liverpool. The former is a player who thrives on quickly exploiting space on the break, given his pace and trickery. His roaming style suits the need to play him centrally and float around in a search of gaps and with the aim to exploit the space left around Liverpool's centre-backs. The latter (be it Sakho or Maiga) is very much a target man but with the added benefit of being a bit more mobile than your typical English target man. He can allow West Ham to hit long balls from deep (as it happened at the Emirates) and quickly get up the pitch on the break, with the likes of Payet and Kouyate quickly getting forward in support to receive any knock-downs and lay-offs.
The make up of Liverpool's XI will mean Bilic will have another dilemma to solve. With Clyne expected to bomb forward while Gomez keeps a relatively deeper and narrower position and being more interested in maintaining possession than providing an attacking cutting edge, Bilic will have to decide how exactly he is going to construct his side. The primary options are two – either to have someone able to cover for Clyne's forward runs and leave his attacking players down the opposite channel (to try and overload Gomez) or try to exploit the space left by Clyne and put his counter-attackers over there. The latter might yield greater attacking benefits but with the obvious trade-off of potentially leaving Liverpool's right-hand side (more so with the added presence of Milner) having a field day going forward. As such the former scenario is more likely, as it's the more balanced – defensively solid enough without compromising the possibility of having a clear attacking route.
Noble will have the important role to support Cresswell and not leave the full-back easily isolated 2-v-1 against the advancing Clyne and the roaming infield Firmino. Meanwhile, the presence of Payet and Kouyate can unsettle Gomez by overloading Liverpool's inside-left channel on the break. Payet can float to the right before looking to cut infield on his left, as such occupying the attention of Gomez with Kouyate looking to bomb past Can and exploit any vacated space. Meanwhile Sakho can look to work the opposite channel and battle with Skrtel, forcing Lovren to move across in cover, leaving even more space for the Kouyate-Payet pair.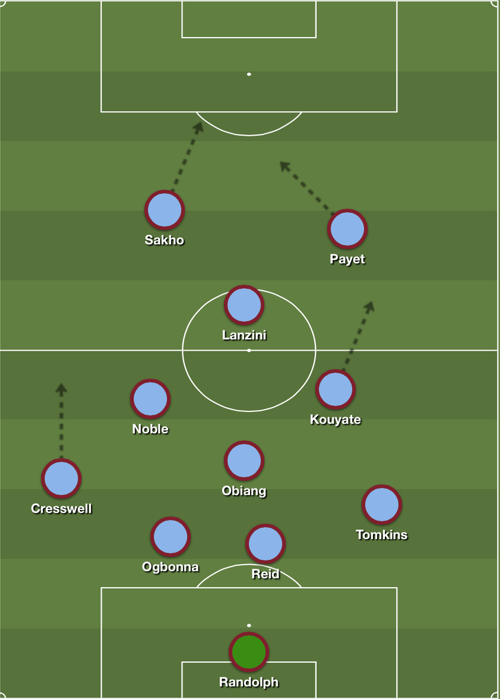 The other main alternative ahead of Bilic is to switch to a clearer 4-diamond-2 formation with the aim to increase his counter-attacking options. With Maiga replacing Lanzini, and Payet put at the tip of the diamond, the visitors can boost an attacking trio that in tandem can work both channels and the space between the lines. This move will have obvious attacking aims but could be also made with clear defensive goals in mind. By having such a dangerous front three, Bilic might be hoping he will indirectly force Liverpool to leave Lucas and Gomez deeper (in order to have the numerical advantage and compensate for Lucas' lack of mobility that can easily be exploited by Payet). As a result Liverpool will have to attack with fewer players with one of their midfielders often dropping deep to pick up the ball and bring it forward as a way to link up the play.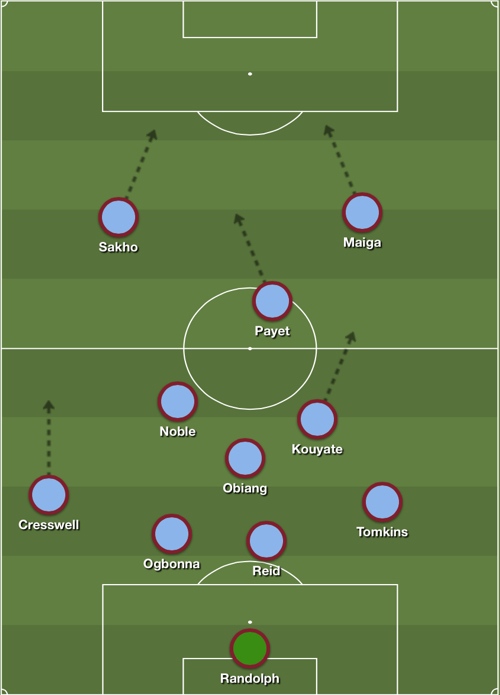 The final possible variant ahead of the West Ham manager is to ditch the diamond formation and start with the 4-1-2-3 he reached to in the second halves of all the matches up to now. The idea could be to have a 4-1-4-1 formation that is able to match-up Liverpool more naturally and account for the type of their players both through the middle and down the flanks.
Jarvis would come in down the left flank and be given the task to track back Clyne's runs, leaving Cresswell to stay narrower and work in tandem with Obiang to cover for Firmino's infield  runs and Milner's likely to bomb forward. On the opposite side Tomkins can use his expertise as a natural centre-back to either try to stick tight on Coutinho or stay deeper and narrower to try to minimise the free space the Brazilian would have to hit his trade-mark through balls. Ahead of him Payet's roaming movement and tricky dribbling could be used to try to unsettle Gomez with Kouyate watching out for Can when out of possession but then quickly looking to burst past him whenever the ball is regained and a counter-attack is 'on'.
Such a 4-1-4-1 seems to have the tools to at least try and cover for Liverpool's threats with enough attacking weapons to try and catch them on the break. In contrast to the above diamond alternatives, the 4-1-4-1 has greater natural width in addition to the potential danger created by Payet and Kouyate, which might result in better service and support, respectively, for whomever of Sakho and Maiga starts up front.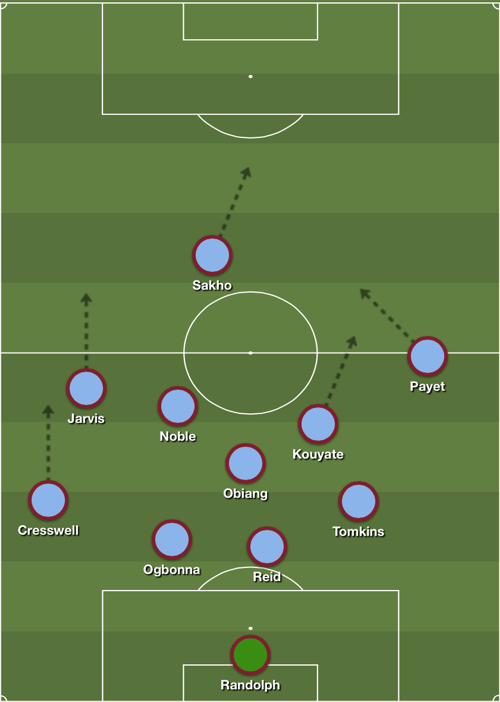 If Rodgers keeps his side unchanged
It seems highly unlikely Rodgers will attempt to change his side, not least because without Henderson, Lallana and the reportedly going out on loan Markovic, there is less scope to tactically maneuver with his starting XI. However, with West Ham expected to approach the game in a similar manner to the Arsenal clash, there will be obvious need for the manager to tweak his side for purely tactical reasons. This is because, unless the home side are happy to rely mainly on their greater individual quality to win them the game, the on-paper key barometer for how well Liverpool are about to open up their opponent will be their ability to stretch the play (both laterally and vertically).
With a starting XI that on paper would play very narrow – mainly due to Gomez staying deep and narrow, both Coutinho and Firmino preferring to tuck infield and occupy central positions, Benteke still to work the channels efficiently – the manager will have to devise movement patterns that are able to stretch the play while allowing his players play their natural game without enforcing something that is alien for them.
The logical way to achieve the need for lateral and vertical stretching within a naturally narrow formation is to put a bias towards one of the flanks by trying to overload the space over there. Obviously, with Liverpool's right-back being the more adventurous one, that is the side suitable for such a strategy. The presence of Milner over that side will also have a hugely important role in the whole process, as with Firmino looking to drift infield, Milner will have to drift wider. This will allow both the extra attacking width and 2-v-1 overloading process on West Ham's left full-back, in addition to encouraging the type of movement whirlpool that would see players making opposite runs to confuse and confuse their direct markers. This, eventually, should force other players to come over to cover, which in turn should leave more space for players coming off the opposite side (i.e. Coutinho and Can) that extra bit of free space to help work the ball into dangerous positions and offer more support to Benteke with bodies floating closer around him.
As noted earlier, in any diamond formation it's likely to see Noble given the brief to help out Cresswell, which means Milner making runs to the flanks to allow Firmino the reverse movement will be needed to create a 3-v-2 overload. Such an overload may prove Liverpool's only source of tactical advantage with Tomkins potentially negating the space for Coutinho and Kouyate doing a good job of stopping Can being influential higher up the pitch.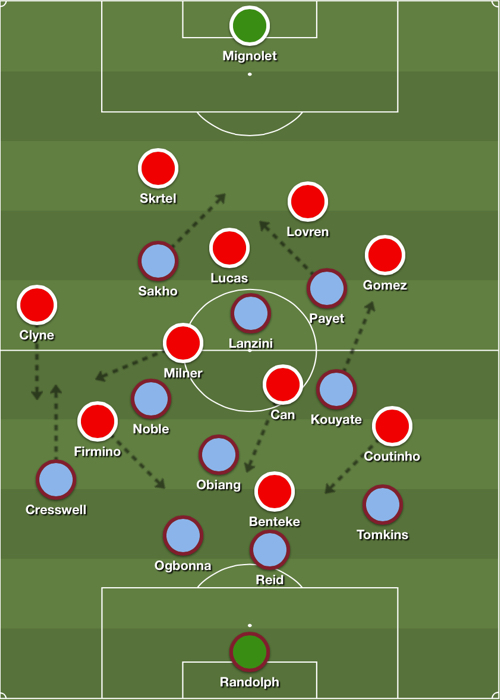 Personnel changes for greater tactical threat
However, such a positional overload on the right side might cause West Ham troubles, it's easy to imagine a scenario of this being Liverpool's only resource of attacking threat simply not being enough to carve West Ham open repeatedly, to then hope for the creation of genuine goal-scoring opportunities. As such the manager could be better advised to consider introduce key changes to his starting XI to increase the overall threat of his side.
Liverpool are more or less guaranteed possession and territory advantage due to West Ham, essentially, parking the bus and hoping for the occasional counter-attacking opportunity. This means a case could be made that there is no need for both Gomez and Lucas in the starting XI. The former isn't going to greatly contribute going forward, while the latter's lack of mobility makes him not a very good shield to the centre-backs against a team that is likely to attack in a direct manner with balls pumped from deep and with his likely direct opponent buzzing around at great speed. As such, space opens up for Moreno and Ibe – two mobile, direct players who can contribute in the achievement of greater attacking width. The other benefit is that it opens up space for Can and Coutinho in the midfield three – the former is much more adept than Lucas to bring the ball forward with greater urgency and attacking intention, while the latter is better equipped than Can to influence the play from between the lines, more so given the presence of Milner who already offers the off ball surging runs of Can.
Such a potential XI will be able to stretch the play down both flanks – the potential 2-v-1 overload on the left in addition to the already mentioned 3-v-2 overload on the right. Ibe isn't in a good form, but playing against a natural centre-back as his direct opponent might be just the tonic he needs to kick-start his season. His powerful runs and quick feet should be too much for Tomkins to handle 1-v-1. With Moreno powering forward from deep Kouyete would have to do a similar job to Noble over that side and constantly pull wide to help his full-back. This should, logically, create more space for the midfield three through the middle. Here, with both Can and Coutinho in midfield, the team will have greater vertical threat, both on and off the ball, which should also help benefit Benteke by forcing West Ham defence to pay attention to more threats, coming from all angles.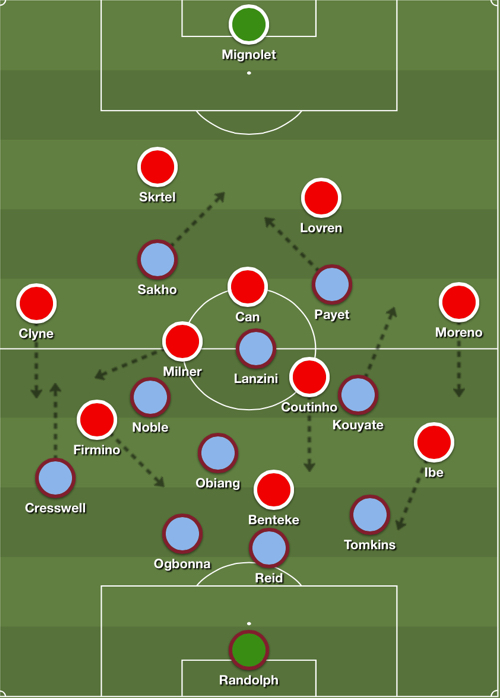 Summary
All in all this is expected to be a relatively easy game for Liverpool. However, there is also the potential this game could be far from a routine win, especially if the team underestimates the opposition or plays with any sign of complacency.
Such troubles would only be exaggerated if Liverpool's starting approach or potential in-game changes don't allow for enough tactical threat, especially when it comes to the ability of stretching the opposition in all directions. As Arsenal discovered, having total possession and territory dominance over West Ham might not be enough, if the system in play inhibits the required movement whirlpool to go with the fancy passes. As such Liverpool could be better employing the wide and direct approach of Bournemouth, only slightly in a slightly different formation and with much better performers.