By Chris Rowland.
… our transfer business, that is. For this summer Symposium, we thought we'd ask our panel of chin-stroking ponderers – well the ones who didn't send automated out of office and away on holiday type messages anyway – what they thought of the signings we've made and whether there might still be more to come. Here's what they had to say: 
Jon Rushton: I went into this summer hoping that we wouldn't try to do too much in the transfer window. Last season suggests that one player can make a difference (in this case, Suarez) – whereas multiple additions can move a team back into transition. I was very much hoping that we'd focus on doing one thing well in the window, rather than trying to solve every problem in the squad. The priority in my opinion was clear – we scored roughly half as many goals compared to the previous season (whilst conceding roughly the same amount). That needs to improve.
Yes our chance creation also dropped – but I would argue that creating a chance does involve two things; a player kicking a ball into space, and another player running into that space in a way that threatens the goal. It is hard to create chances without the latter. Balotelli proved an unmitigated flop, Borini refused to move on, Lambert lost his legs and Sturridge spent the season in a constant state of optimistic recovery. There's no doubting the creative ability of Henderson and Coutinho, and I believe that Lallana is a shrewd acquisition hobbled by his first spell of injuries in a long time.
So, in that context – we've probably done just a little more business than I would have liked to have seen. But, equally, that has been unavoidable due to circumstance. Gerrard had to go, in my opinion – and bringing in a replacement was therefore necessary. Milner strikers me as a superb pick-up – adding in some of the experience and character that we are losing, but also offering high quality in work-rate, defensive contribution, creation and goal threat. I also don't think anyone would complain about Glen Johnson being allowed to run down his contract, and in Clyne we surely will have improved our first-choice right-sided full-back. Brad Jones departed, and so Adam Bogdan arrived. The world shrugged its shoulders. Factor in Ings (presumably for a departing Borini) and we seem deliberately and intelligently to have targeted players at the end of their contract to achieve value for money for this quartet of players. Smart – and something to consider in future windows.
With Sterling suddenly developing a weak immune system, an inflated sense of personal worth and a ludicrous market value, he was always likely to depart, and we've decisively brought in the very exciting Firmino. Again, probably a necessary piece of business under the circumstances, and having the not dissimilar Coutinho already in the team does take the pressure off Firmino in terms of needing to deliver immediately. Firmino is probably ahead of Sterling in terms of current ability, or at least finishing ability – and only time will tell if Firmino settles well or if Sterling goes on to become one of the best in the world (right now, he is one of the best of his age – and we have a lot of that).
So now we hit the meat of the window for me – have we bought well in terms of goals? In comes Divock Origi, a player of massive potential. Whilst Chelsea are happy to rely on veterans for their squad striker positions (Drogba, now followed by Falcao), I think Liverpool are correct to look to have players of potential as their third and fourth choice strikers (factoring in Ings as well). Perhaps they might prove more patchy over their first season or two, but they have the potential to go on and become something special in the long run. Everyone wants to see Liverpool targeting top talent before they become known to the world, and that involves both patience and risk-taking. Origi is very exciting and looked the real deal at the World Cup, playing with composure, but will probably take time to show his true worth.
And then that leaves the biggest deal of the lot – Christian Benteke. I was dead set against him at the start of the summer, but a whole host of conflicting and valid opinions have left me realising one simple truth: I've no idea. The definite positives in this window overall have been the smart and intelligent buying of certain players at very cheap value due to short contracts (Milner, Ings, etc), and then the willingness to pay some extra money quickly and decisively to secure number one targets in other areas. Including Benteke. It seems a lesson has been learnt. At his best, Benteke could be the next Didier Drogba – at his worst, he's proven to be able to score a goal every other game for one of the least creative teams in the league. I'm approaching with cautious optimism. I'd love to see him succeed.
I think we've done more than enough business this window – time to see if it pays off and ship off some deadwood. As a whole, will these new acquisitions be enough to catapult the Reds back into the top four positions? I don't know – but I am genuinely optimistic that we should be vastly improved compared to the stodgy football that we saw last season. We've got some massive games early in the season – bring them on, I say…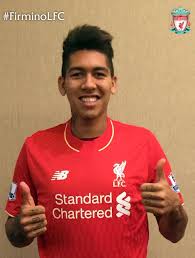 Chris Rowland: First, I have no qualms about any of the signings so far, there are compelling cases to be made for every one of them. Perhaps depressingly, I started by looking at the money. How much spent, how much recouped or likely to be recouped, therefore is there likely to be any left?
So we've forked out £32.5m for Benteke – no complaints about that, that's at least what proven first-team-ready strikers cost these days, and he's only 24 – £29m for Firmino, likely to be about £8m for Ings, £12.5m for Clyne, £3.5m for Gomez, Bogdan and Milner on frees. I make that £85.5 million one pound coins we've had to find from down the sides of our rather capacious sofa.
On the incoming side of the balance sheet, we've had £5m for Aspas and £4m for Coates. It's likely we're going to receive another £3m for Lambert this week, and feasibly another £15m-ish for Borini and Balotelli, maybe more. Balotelli is the thornier issue – a situation he won't be entirely unfamiliar with – in terms of finding a buyer and deciding a fee. You could make a case for anything between 0 and £20m. Two Spaniards, Luis Alberto and Enrique may also pass through the fast revolving Anfield doors, a moment the latter would surely capture on Instagram. Alberto's already out on loan, but If a deal were on the table …
Gerrard and Johnson have freed up lots of salary, and Jones a little bit. And then there's Sterling – with a fee of £44m rising to £49m, with QPR set to receive 20%, that's £35.2 + £4m for us.
So that's a total of £62.2/£66.2m coming in, based on all those assumptions, which don't look miles out. All of which would equate to a net spend of £25.3m/£21.3m, depending on which figure you take.
Now pre-window, I saw the figure of a net spend of £35m widely discussed, emanating from the ITK community -they know who they are, and so do we. So if they really are ITK, we could have another £10-£14m to play with. And if that proved to be true, I'd spend it on a left-back.
At the moment, at left-back the only cover we have for Moreno – and I'm not fully convinced by him – is Jose Enrique, and I'm at least equally unconvinced he's long for this world at LFC. Flanagan can cover there too of course, but he's not going to be available for a while as he recovers from another operation on his knee, and we're not sure whether he's going to be the same Jon Flanagan after this long out and this much surgery. At least at right-back Wisdom can cover for Clyne, as well as Gomez, whose pre-season friendly displays so far suggest he could be a viable option already, McLaughlin and the aforementioned Flanagan. If we opt to play with wing-backs, that's a different set of calculations, of course.
I'm ruling out signing a Defensive Midfielder because (a) there's not enough left for a decent one and (b) I don't think one is identified as a requirement.
The rest of this article is for Subscribers only.