Attack
By Chris Rowland and Daniel Rhodes.
With the  arrivals of Danny Ings, Roberto Firmino, Divock Origi and very likely one other – Benteke, Higuain, a rabbit out of a hat? – there's more hope of a reversion to 2013/4's riches rather than last season's painfully pinched austerity. To balance that there's the small matter of Raheem Sterling to be resolved.
Remember we're only featuring players who made at least five competitive starts (an appearance of 45 minutes or more) for the Reds' first team last season – so no Ings, Origi or Firmino. And Aspas has already been sold to Sevilla for about £5m, so he's out of the picture too.
The rest of this article is for Subscribers only.
[wcm_nonmember][ttt-subscribe-article][/wcm_nonmember][wcm_restrict]
Season Performance Stats:
(I've included the previous three years, as well as Ings and Benteke, for further context)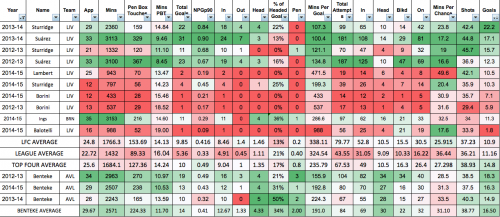 Raheem Sterling / Age on 1 September 2015: 20/ Contract expires: 2018
Reasons to keep: Raheem Sterling is probably one of the best prospects in world football – though he may be a few years and some committed learning away from genuine world superstar status. To my mind he's never really been a true winger, and is best suited to a free central role where he is adept at dropping into pockets of space between the lines. He has shown versatility in playing in various roles for Liverpool, and is surprisingly strong given his slight frame and lack of height. Above all, he has pace; devastatingly so in those all-important first few yards, and in his case from pretty much a standing start, dropping his shoulder and just surging away from opponents, leaving them trailing in his wake. His smooth gliding run is a pleasure to behold – when it works out and he isn't dispossessed or shown into a cul-de-sac. With Sterling you get both, and in true Forrest Gump style, you never quite know which one you're going to get. He works and presses hard when he can be bothered, but it's increasingly looked as though he isn't – and there's the dilemma. Do we want to keep a talent who'd rather be somewhere else? As OptaJoe pointed out: only two players (Hazard 99 &  David Silva 86) created more chances from open play than Raheem Sterling (75) in the 2014-15 PL. That's quite some company for a 20 year old in a struggling side to keep.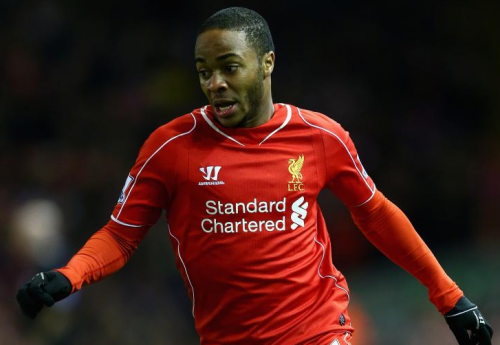 Reasons to offload: He's not the finished product by any means. He's probably not as good as he and his agent think he is. He has a tendency to run into trouble, his decision-making is questionable – pass when he should shoot and vice versa – and his finishing can be dire. He can drift in and out of games, and like much of last season, appear fairly uncommitted.
As mentioned earlier, he has the ability to achieve global superstar status. He also has the potential to drift into under-achieving anonymity in the Shaun Wright-Phillips style, or become better known for his performances off-field rather than on it. He may achieve more column inches through his personal life than through his football. The reality may lie somewhere in the midst of that lot.
Verdict: SELL
[poll id="319″]
[poll id="320″]
I come to this verdict reluctantly, because nothing would please me more than him to come out and say openly that he's settled his differences with Liverpool, has happily signed a new contract and can't wait to continue his career development under Brendan Rodgers. But that's not a day  can see coming anytime soon. I think he has made his decision, so it becomes a question of how much we can get for him, bearing in mind QPR are justifiably due 20% of it, and whether he goes to a PL rival or we can persuade a foreign club to remove him from opposition ranks. Couldn't Rafa find us £50m for him?
Daniel Sturridge / Age on 1 September 2015: 26 (his birthday!) / Contract expires: 2019
The wonders of 2013/14, the injury-hit mess of last season – will the real Daniel Sturridge kindly stand up? He's going to miss a slice of the start of this season too as he recovers from that surgery in the US. What we hope is that he recovers fully and quickly, gets up to match fitness as soon as possible and starts doing what he's very good at – being a striker – without any niggling 'fast twitch' anything-at-alls. We need him fit and firing as soon as is humanly possible. He's now reaching the age and the stage in his career where he should be getting up to his max. If he can achieve that, it could be sumptuous to behold.
Reasons to keep: The 21-goal Sturridge of last season showed that at his best he can be a match for any. He can score all types of goals – curled finishes into top corners, close range tap ins, headers, the sublime delicate chip (WBA at home last season), the lob (Everton last season), the assured finish when latching onto a Coutinho through ball. He has pace and acceleration, can beat a man and his passing can be decent too. He can drift wide or drop deep to link up the play in the middle of the opposition half. Just £12.5 million for his services looks like theft.
Reasons to offload: There's one obvious one – his injury record. Last season was a car crash for him from that point of view, and the overhang will stretch well into this season, as he's not expected to be available till October-ish. In other words, he'll miss a whole series of our season-shaping away games. We need this corrective surgery to have worked. One other concern – a slight air of inflated ego/show pony about him, an inclination to let his head drop, sulk when  subbed off or just be a bit lazy and selfish, and shoot when others are better placed – in many ways a sort of Balotelli-lite! 😉
Verdict: KEEP.
[poll id="321″]
[poll id="322″]
A no-brainer really. At his best Sturridge is at the top of his trade. Now's his time to start cementing club legend status, at Fowler/Owen level. Though I doubt he'll ever be as popular as the former.
Mario Balotelli/ Age on 1 September 2015: 24/ Contract expires: 2018
Blimey, what to say? Somewhere, whirling around the chaotic core, there is a supremely gifted footballer in there. Even we have seen brief glimpses of it, in the red shirt. So far, neither Rodgers, Mancini or a host of other managers has managed to bring it out on anything remotely resembling a consistent basis. He's a conundrum alright, is Mario. But that's hardly a major discovery.
Reasons to keep: Somewhere in there, he has it all to be a complete modern striker. Strong, athletic, physically imposing and powerful, a superb first touch – when it's not lousy – decent in the air, with a shot like a mule, a self-belief that could very easily be mistaken for arrogance, a brilliant penalty-taker in that he doesn't seem prone to the same nerves as other mortals, a danger from free-kicks… after all, plenty of Italian national team managers have been prepared to risk him being their main striking outlet, as he was for the Brazil World Cup.
Reasons to offload: At his worst he can seem lazy, petulant, disengaged, self-obsessed rather than team-focused, an accident waiting to happen, a sending-off seeming almost inevitable, a personal battle with an opponent subsuming the wider picture of the actual match itself … His decision-making can be awful, his tracking back whole-hearted but woefully ineffectual – sometimes it might actually be better if he stayed upfield where he can make a nuisance of himself at their end rather than ours. And his strike rate …
Then there are his absences, which haven't always seemed adequately explained. What does 'illness' mean? If as some have suggested it may be mental healthy issues then he has my and presumably everyone else's genuine sympathy. He certainly does seem to exhibit some of the 'too high then too low' mood swings of bipolarity, but that's only guesswork.
With a fit Sturridge, Ings, Origi, Firmino and presumably one more first-team striker, what room or need is there for Balotelli?
Verdict: SELL
[poll id="323″]
[poll id="324″]
I'd love to be wrong about this one, I want to like him, I want to see some dividend for all that talent. If I truly believed we were going to see it, I'd change the verdict …
Fabio Borini / Age on 1 September 2015: 24/ Contract expires: 2017
During his loan period at Sunderland in 2013/14, the Italian scored 10 goals in 40 games and made himself a real fans' favourite. And they weren't just any old goals; they were goals in cup finals, derbies and crucial relegation battles. This is clearly a player who thrives on the big occasion, and you must have that quality to succeed at Anfield.
So where is it? What's stopping him doing at Liverpool what he did at Sunderland?
I think Borini will prove an excellent squad player next year, perhaps nicking a point or two from the bench or occasionally coming in to . , and as  progressed, he added goals to the mix.
Reasons to keep: He has showed during his time at Liverpool that he has good, intelligent movement. He's tenacious and hard working. He showed at Sunderland he can score goals in big games. He can play in a wide role in a front three.
Reasons to offload: Basically, he comes up short on all the key metrics. He's not particularly quick. His first touch is poor and he's a bit of a lightweight. He isn't going to lead the line. Worst of all, his goalscoring threat for Liverpool has been negligible. In fact he doesn't offer that much threat to the opposition at all – does any of them see him on our bench with a heavy heart? Do opposing players or fans swallow hard when he comes on? Do any of us feel a sense of excitement at what he might bring to us?
If those are all no's, then he has to go.
Our Verdict: SELL
[poll id="325″]
[poll id="326″]
Rickie Lambert / Age on 1 September 2015: 33/ Contract expires: 2016
Lovable cuddly Rickie, scouser Rickie, finally got his dream move to the hometown club he's always supported after his rags to riches tour around the lower leagues and non-league. Except the old adage 'be careful what you wish for' reasserted that it's rooted in truth.
Lambert looked more like a little boy lost than a triumphant prodigal son returning home where he belongs. That shirt weighed heavy on him, and in truth he looked like he filled it rather too amply too (OK, pot, kettle .. but I'm not a pro footballer! 😉 )
Reasons to keep: Sadly I can't really find one. Caring for the club isn't really enough. Ok he can bring other players into play, he's got a decent touch for a big slow striker, etc etc. In truth he's not a bad footballer.
Reasons to offload: He's too slow (and at his age unlikely to get any quicker), he can't get behind defences, he never gave us the Plan B option we supposed he was bought for, he was never remotely as effective as he was at Southampton, he's dropped out of the international picture, and now he's likely to drop out of the Liverpool picture too. Villa as part of a Benteke deal and Pulis' WBA are rumoured to be possible destinations.
Verdict: SELL
[poll id="327″]
[poll id="328″]
We may like the guy, but there is no conceivable way of us playing, with the current manager and the current squad of players, that will accommodate him.
Divock Origi/ Age on 1 September 2015: 20/ Contract expires: 2019
In truth we don't know that much about our new Belgian international striker – except that he IS a Belgian international striker, and often gets selected in a squad that also contains attacking talent such as Lukaku, Dembele, Mirallas, Chadli, Fellaini, Batshuayi – and Benteke. Oh, and we signed him a year ago for £10m and immediately loaned him back to Lille for the season, so in that sense he's not 'new'.
Reasons to keep: He's young, he's lightning fast – and you immediately think of Coutinho and now Firmino through balls – and he's very promising. And he did score a World Cup goal for Belgium. He can play wide on the right as well as through the middle, where his pace can give full-backs a problem.
Reasons to offload: Forget that L'Equipe thing where he was selected in the Worst Ligue 1 Team of the Year. He was playing in a poor Lille side, he was 19 … but his strike rate stats are not particularly impressive. He can look clumsy, awkward, unsure of his positioning and what runs to make. But when he does decide, he gets there fast!
Verdict: KEEP
[poll id="329″]
It would be mistaken to think this player is the finished article. What that will be, only time will tell, though some judges in the game believe he could be very good indeed. If it's a question of horses for courses, and finding the right environment for you and your style of play, let's hope he finds the Anfield going to his liking.
So, all that leaves our attacking options looking like this:
Sturridge, Origi, Ings, Firmino and one new signing – a proven striker, ideally with a sprinkling of stardust to replace our departing problem child.
SELL: Sterling, Balotelli, Borini, Lambert.
[/wcm_restrict]