By Krishen Bhautoo (TTT Subscriber Krishaldo).
Now that the season is (thankfully) over, I thought we could have a look at some underlying numbers in brief details to see how we compared to others in the league and those around us to perhaps get a grasp of where things went wrong, although I think we all know!
Nonetheless, I'm a stats and numbers man so was happy to do a little digging and have a look at what they may tell us.
To start off I've decided to look at Goalkeepers. It's notoriously a difficult position to measure with stats as one goalkeeper may face ten shots and concede five, whilst another may face ten and concede none. The second 'keeper sounds 'better', however we don't know the quality of shot or the quality of the shot taker. But here are the numbers anyway: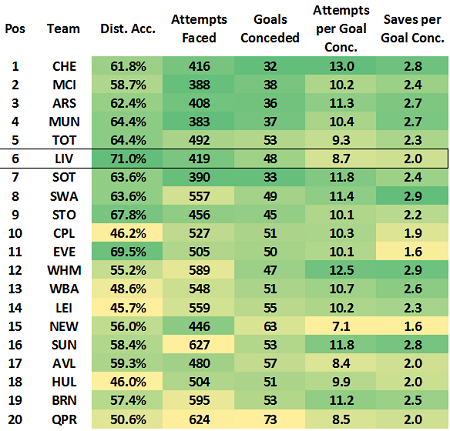 Apart from distribution (which we know was mainly short passes), we come off quite poorly here.
Attempts per Goal Conceded sees us at the 4th worst team in the league (marginally ahead of Villa and QPR, but quite a way ahead of Newcastle).
A similar story for Saves per Goal Conceded. We come in the bottom 7 in the league, sharing a save rate of 2.0 per goal with Hull, QPR and Villa, a touch ahead of Palace and a way ahead of Newcastle and Everton who share 1.6.
The rest of this analysis is for Subscribers only.
[ttt-subscribe-article]