By Mihail Vladimirov.
SUMMARY
Three team changes in Liverpool's 4-1-2-3 shape
QPR changed from their recent lopsided 4-4-2 to a lopsided 4-4-1-1
QPR's choice of personnel left them lacking mobility at the back
QPR made a good positive start
The away team started giving the ball away cheaply
Liverpool attacked predominantly down the right with Can supporting Sterling
Liverpool improved after scoring but lacked penetration
There was little end product from Sterling in many promising situations
Can, Sterling and Henderson failed to vary their movement on the right hand side
Liverpool had too many players dropping deep and looking to play the final ball, and not enough making incisive runs
Liverpool's play and overall dominance was easy on the eye but flattered to deceive
At half-time Ramsey made a drastic alternation, when Yun replacing the injured Caulker led to a change of formation to a 3-1-4-1-1 with a back three, a midfield diamond and wing-backs
But QPR still lacked support for the front players, with Fer and Austin still isolated
Liverpool were now overloading the space down both flanks, but to little avail
The game went flat for the last 25 minutes
Liverpool deserved their win but their  display from open play left a lot to be desired
With Sturridge and now Balotelli out injured and Lucas and Gerrard returning, there would clearly be some changes to Liverpool's line-up. Rodgers opted to make three. Gerrard replacing Allen was more or less expected given there was no way the captain would sit out his penultimate Anfield game. Lallana replaced Ibe with Lambert making his first league start since the start of December (his most recent start being the FA Cup clash with Wimbledon a month later) to replace Balotelli in Rodgers' 4-1-2-3 shape.
For QPR, Ramsey made some interesting decisions. He kept the same line-up as in the last two games with the only change being that Fer, returning back from injury, replaced Zamora, who now had injury troubles of his own. This necessitated a change in the formation as the recent lopsided 4-4-2 gave way to the now lopsided 4-4-1-1.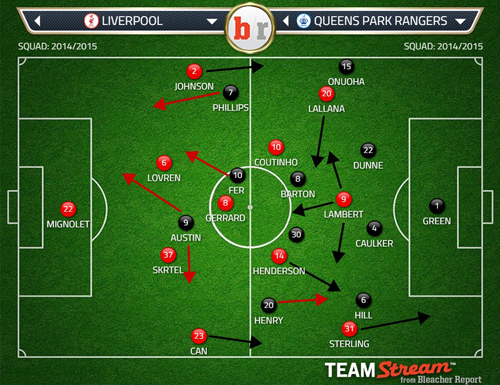 QPR start brightly but quickly lose their way
Ramsey's decision to name largely the same starting XI, especially keeping the lopsided two banks of four and effectively changing only the structure of the front pair (now a centre-forward with an attacking midfield tucked in behind rather than a front pair) was the first main tactical talking point of the game.
There was nothing wrong in the formation per se, but with that personnel it was the visitors were largely handicapped given the one so-obvious area of weaknesses it provided – it made little sense to persist with such slow personnel against a team that has some of the very best dribblers and most mobile attackers in the division. More so when the manager wasn't forced to make such a decision, given he had fit and available personnel able to provide better mobility.
It was possible for Ramsey to start with a much more mobile back four using Yun and Isla at full-back with Onuoha partnering Caulker. Instead of Henry, Ramsey had the option to play Kranjcar or Hoilett if he was keen to keep Fer in support to Austin, or at the very least switch to a 4-1-4-1 with Henry ahead of the back four and Fer in that narrow wide left position, if the manager wanted to name this starting XI.
Having Hill at left-back and Henry as the left wide midfielder, with Dunne kept at centre-back, created that obvious problem down the left flank, where there was neither a mobile full-back to stick tight to Sterling, leaving Henry to tuck infield and help centrally, nor a mobile wide man who could help track Sterling back to leave Hill staying narrow and plugging the gaps across the back line. Given the obvious danger of Sterling – with Can keenly supporting from behind – not only did Henry continually have to get back and help out Hill, which left gaps through the middle, but QPR's left flank had personnel Liverpool could easily exploit.
The rest of this analysis is for Subscribers only.
[ttt-subscribe-article]