By Chris Rowland and Daniel Rhodes.
W/c Monday March 30th 2015.
Welcome to our new weekly round-up, a diary of news and events on the site, matters relating to LFC and also the world of football generally.
The Week in Football – Liverpool FC:
Monday:
Raheem Sterling, 20, will turn down a £180,00-a-week new deal at Liverpool, said the Daily Mail.
But Jordan Henderson insisted there should be no concerns regarding his new contract at Anfield (LiverpoolFC.com):
"I love playing football for Liverpool and I want to be there for many years," the 24-year-old commented.

"In terms of my contract, I think everybody else will make a big deal of it but for me it's just letting my agent and the club deal with it and whenever it gets sorted, it gets sorted.

"All I want to do is my best for club and country. At Liverpool we've got fantastic players, real quality players and a lot of potential.

"We're a young team and I think there is great potential and a big part of us wants to be winners and winning trophies. I really feel we can do that."
Luis Suarez posted a picture on Twitter  after returning to Anfield for an all-star charity game. Suarez said "Unbelievable to be back at Anfield and surrounded by great players… Here a picture with the greatest one!" with him next to Steven Gerrard.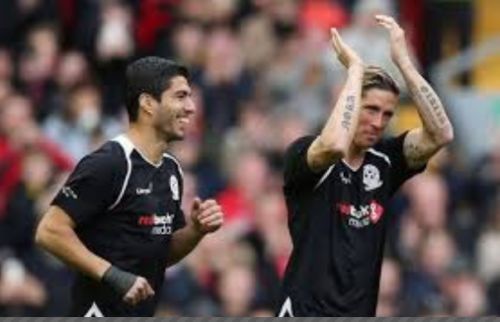 Suarez also said Liverpool is the only team he would play for in England if he ever returned to the Premier League (BBC Sport). He told Liverpool TV:
"You never know in football what the future holds but if I ever play in England again I will play for the Liverpool team and not another team.

"I've missed the fans. They know they are in my heart."
Admitting 'it felt like I'd come back home', Xabi Alonso tweeted a picture from the match, as did his team-mate and former Liverpool goalkeeper Pepe Reina.  Another former Anfield favourite, Fernando Torres had a message for Liverpool fans after making his emotional return to Anfield for the All-Star charity match on Sunday:
"Thank you for singing my song again."

"It's difficult to explain what you feel when you are at Anfield and you can play a football match here. It's difficult to explain when you are in the home team – it's a bit different when you are in the away team.

"Today was a day I'll never forget, for sure. It was so emotional to play with my teammates again; we had a great time playing together here for Liverpool.

"And especially the reaction of all the supporters. Everybody knows Liverpool fans are different class. Today is a day to remember for me. I am lucky to be able to be here and I just want to thank everybody for their welcome."
Luis Garcia's return to Anfield: (LiverpoolFC.com):

It's fair to say Liverpool supporters hold a special place in their hearts for Luis Garcia – and the man himself admits it's very much a mutual feeling.

The Spaniard returned to Anfield on Sunday to take part in the All-Star charity game and received a rapturous reception from a crowd of close to 45,000.

It wasn't the first time Garcia has played in front of the Kop since departing the Reds in 2007, but nevertheless, he was still overwhelmed by the welcome he received once again.

"I said from the first day I left the club, there was a connection with the fans and myself," the 36-year-old told Liverpoolfc.com. "I am watching all the time – I watch all the games.

"To feel the support of the people every time I come to Liverpool, or from the Tweets I receive, what can I say? I love them – that's all I can say!"

Garcia was one of a number of former Liverpool stars to grace the Anfield turf one more time, some of whom were making their first return to L4.

He added: "It was an amazing feeling to be back. I was speaking with Xabi and Dirk and they wanted the chance to say goodbye to the supporters. It was brilliant.
Mario Balotelli, who scored in the match which finished 2-2, took a selfie with Didier Drogba and Thierry Henry and posted it on his Instagram page. 
And Jamie Carragher, who picked one of the teams, conceded on Instagram he had been 'nutmegged' by Suarez during the match.
The Football Association will not be permitted to lay a wreath to mark the 30th anniversary of the Heysel Stadium disaster when England play Italy in a friendly in Turin on Tuesday. (BBC Sport).
Juventus, who will host the friendly, said they appreciated the gesture.

However, they do not want to detract from their own planned memorial in May.
Tuesday:
Liverpool will not sell Raheem Sterling this summer – even if the 20-year-old refuses to sign a new contract. (Daily Star) 
Liverpool will not sell England international Raheem Sterling this summer – even if the 20-year-old refuses to sign a new contract. (Daily Star) 
Liverpool are pushing striker Daniel Sturridge, who pulled out of the England squad with a hip injury, to declare himself fit for Saturday's Premier League match at Arsenal. (Daily Express) 
After captaining a team in a charity match at Anfield at the weekend, Liverpool skipper Steven Gerrard let his hair down with team-mates past and present, posting pictures with Pepe Reina, Dirk Kuyt and Philippe Coutinho  from the night out that followed.
The rest of this post is for Subscribers only.
[ttt-subscribe-article]