By Mihail Vladimirov.
SUMMARY
Once again Liverpool started poorly
Their starting approach lacked clarity
There seemed to be an absence of concrete strategic objectives and tactical patterns
This big tactical capitulation effectively handed the game to Arsenal
Coutinho and Markovic struggled positionally to support the wing-backs
Liverpool were extremely sloppy in possession
In contrast, Arsenal started really well
Arsenal pressed brilliantly and their very high defensive line helped minimise the ground they needed to cover and press into
Liverpool started to grow into the game
Arsenal lost their composure and started to surrender possession
Then Arsenal resumed control and Liverpool became passive again
Liverpool's second-half switch to a 4-1-2-3 was arguably correct
But the personnel changes were less easy to explain
Henderson's wide role was confusing and adversely impacted on his ability to run from midfield
Arsenal still looked more dangerous
Only after Arsenal's second enforced substitution did Liverpool claim any initiative in the match as Arsenal changed to more counter-attacking strategy
Liverpool struggled to create opportunities
Overall it was hard to take any positives from the performance
With several players missing, Wenger named the expected side with Cazorla preferred in the starting XI over the alternative Walcott. But the French manager sprung a surprise by playing the Spaniard deep in midfield with Ramsey pushed down the right flank in Arsenal's customary 4-2-3-1 shape.
On the other side, Rodgers' line-up didn't contain any major surprises. With Lallana out of the match squad and Sturridge logically not risked from the start, Markovic got back into the starting XI. Similarly to Arsenal, the main question – and sort of a surprise – was where exactly the Serb and Henderson would start in terms of positioning. Eventually it was Markovic in the front three and the vice-captain down the right flank.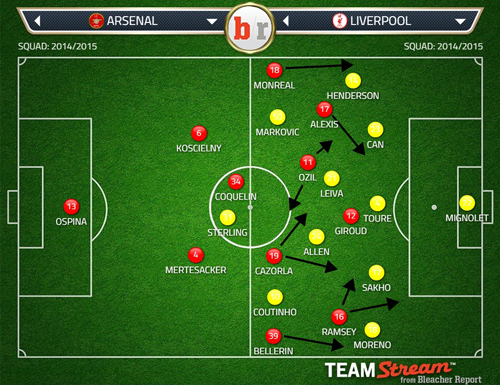 Liverpool again starting poorly
This game saw Liverpool starting very slowly once more, even if the starting formation and personnel suggested it could have been much different. The way the team lined-up meant there was a solid midfield base, allowing the wing-backs to join the front three and press freely from ahead without worrying too much about being picked off on the break.
The presence of both Lucas and Allen allowed Liverpool to either have two zonally covering holding midfielders positionally able to close off the space between the lines and always have one of them ready to drift wide and cover the flank if the opposition was counter-attacking there. Alternatively, these two players could have been given diverse defensive duties to better suit their qualities and current fitness status. Lucas may have been given either the marking job on Ozil or told to stay put ahead of the centre-backs with Allen using his mobility to close down the midfield perimeter and do the majority of the leg work.
Either variant would have allowed Liverpool's front five (front three and wing-backs) to press, with the team having two main variants as to how they could have done so. The first option was to see the team concentrating on cutting off the passing angles for Arsenal's recycling six (back 4 and midfield pair) in the early build-up phase, by occupying the space in between and forcing them into errors and poor passes leading to opportunities for the Reds to quickly break forward. Alternatively, Rodgers had the option to instruct his team to initially drop off and flood the midfield zone to lure the opposition to spread out in transition and leave space in behind the full-backs and around their holding midfielder, then focus on sudden fierce midfield pressing with the chance to see his mobile players quickly exploit the substantial space there would be left for them.
But neither of the above scenarios happened, resulting in the visitors making yet another very poor start to a game seemingly lacking any clarity in their starting approach. The on-going absence of any visible signs of concrete strategic objectives and tactical patterns led to either non-existent or poorly executed overall pressing. The sporadic individual attempts of doing so from the front players just added to the feeling of overall lack of clear purpose on that front. This contributed to poor starting intensity, which in turn completely let the opposition play their natural game.
There is the argument that Liverpool's starting XI wasn't really able to play a containment type of game. All of their players – arguably bar only Toure and Lucas – are naturally more comfortable defending on the front foot and not asking to execute a 'back to the wall' defensive method. Add to this the obvious lack of sufficient defensive drilling in how they are supposed to perform in a parking the bus way to suit their overall passivity and it wasn't surprising to see Liverpool struggle to such an extent. This is why seeing Liverpool start the game as passively could be termed as a big tactical capitulation which simply handed the game to their opponent. Considering Arsenal's attacking quality this was surely a very bad idea, to put it mildly.
Although the team visibly tried to drop back in a deep and compact 5-4-1 shape when out of possession, Liverpool defended very poorly in the early stages when they were put under intense pressure from Arsenal. Coutinho and Markovic were quick to challenge their direct opponent and get stuck into tackles, but positionally they struggled to support the wing-backs, now dropping as full-backs. This meant Moreno and Henderson were often too easily overloaded which in turn allowed Sanchez and Ramsey to get narrow and help Giroud continually stretch the back three unit. Meanwhile, the two holding midfielders struggled to cope with two such roaming and creative players between the lines.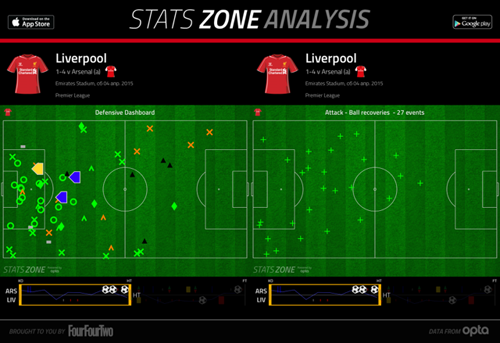 Liverpool's poor defending wasn't the only reason why they struggled to get out of their half, and at times even defensive third. Their failure to relieve the pressure was also due to being extremely sloppy in possession whenever they managed to get on the ball. A series of poor passes simply gifted possession back, allowing Arsenal to maintain their initiative and keep their momentum going, which in turn enabled them to pin Liverpool back too easily.
Lucas and Allen playing in the same line and not offering the required kind of splitting movement didn't help on that front either. The two struggled to offer the much needed options ahead of the back three for Liverpool to stand a chance of playing it out smoothly.
The fact neither is as capable a long passer as Gerrard and Henderson further added to the issue here, as their persistence in continually using short passes played into Arsenal's hands and made it easier for the home side to close them down efficiently. As a result both players lost the ball in very dangerous positions, allowing the opponent to quickly construct threatening attacking moves.
The rest of this analysis is for Subscribers only.
[ttt-subscribe-article]