By Paul Tomkins.
Last weekend's charity game, while essentially meaningless in sporting terms, provided a fascinating glimpse into what might have been. The beauty of 'what might have beens' is that you can never disprove your belief; the downside is that you can never prove them to be true, either.
My sense is that between 2009 and 2014 Liverpool had more than enough talent to win the league; the problem was that a near-perfect squad was never assembled at one point in time. Liverpool finished 2nd in 2009 with 86 points and 2nd in 2014 with 84 points, but neither squad compares with the mega-squads seen at other clubs.
Indeed, money from selling some of the stars on display was necessary to purchase others; and yet, had the club had the financial might of Chelsea or Manchester City, we might have seen Suarez, Torres, Alonso and Gerrard all in the team together. Pepe Reina may not have lost his mojo.
Perhaps the difference between the richest three clubs and the likes of Liverpool, Arsenal and Spurs is the difficulty the latter group has in holding onto their best players; the rich three are top of the British food chain, while the next three clubs are there to be picked off. It's interesting that Chelsea's 2005 side was still mostly in place five years later, with the average age of the team rising from a healthy 25 to a very heavy 30. The same thing has happened to Manchester City over the past four years.
If you go back to my piece that introduced the theory of the Title Zone, you'll see that at no point in time was Liverpool's squad or £XI* ever expensive enough to be even close to the eventual champions, dating back to 2004/05 (* the cost of the XI over 38 games, inflated with TPI.) The graphs from that piece are reproduced below.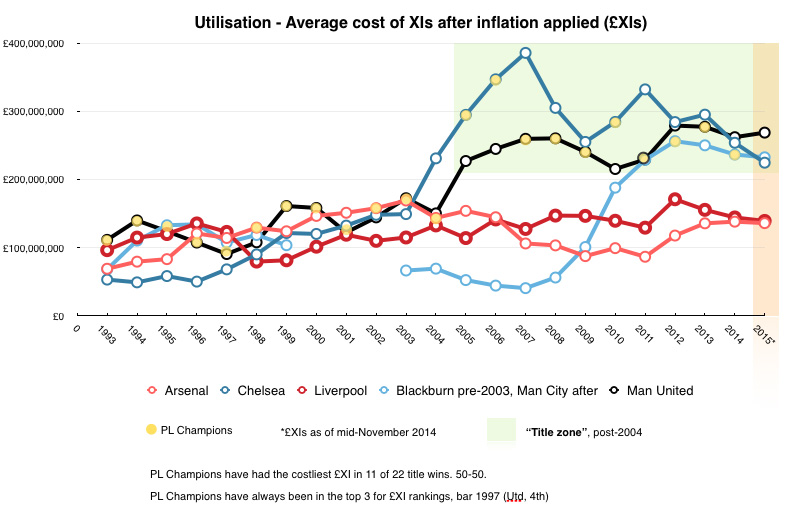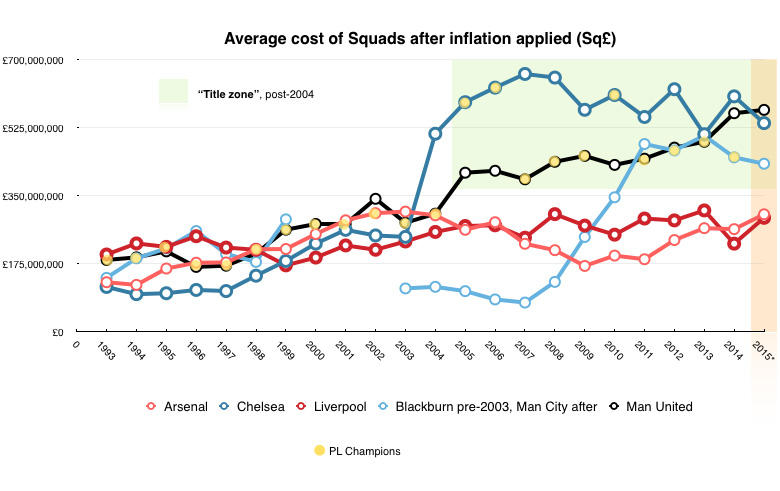 City and Chelsea could afford to keep players until they lost their legs, whereas Liverpool had to sell to reinvest, and be wary of losing value on players who were being coveted by richer clubs; £50m for Fernando Torres was a masterstroke in hindsight, but what if he'd stayed at a club where he was valued? Would his form still have crashed, or did the £50m fee, and the change of environment, add pressure?
Of course, it didn't help when £35m was invested in Andy Carroll, but add Suarez and it came to just £7m over what Chelsea paid the Reds for their Spanish no.9. That £57m investment turned into £90m, with a title-challenge thrown in. But of course, we'd all love to know if Torres, had he stayed, could have partnered Suarez in a title challenge.
While some of those on display on Sunday were perhaps too old to feature in a mythical title-winning team, it's interesting to imagine how the elite players may have gelled into a Liverpool XI. With this in mind I decided to try and work out if I could put together a theoretical Liverpool squad (and best XI) that could match the values of those in the Title Zone.
This article is for Subscribers only. 
[ttt-subscribe-article]