Involved: Chris Rowland, Daniel Rhodes, Damien Parsonage (@damienpar), Simon Steers (@sisteers).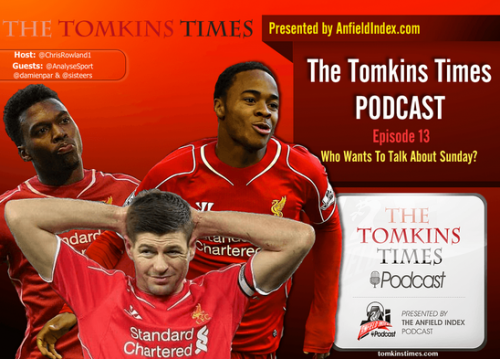 Topics: Anyone want to talk about Sunday? The optimistic build-up. Swapping Sturridge for Sterling up front. Although the Red Devils dominated most areas of the match, they still created very little. The huge gaps in the middle of the field. A lack of pressing recently. Nullifying Sterling and his lack of support. Was it the Van Gaal or The Monk Plan?
Has there ever been a game with a more negative total outcome? Especially when you consider the injuries. Avoid falling into the trap of ruling out fourth off the back of one defeat. Avoiding the Gerrard incident. Literally stamping your mark on a game. Gerrard acting on behalf of the fans' first-half frustration. Did the referee see the incident? Is it worse if he doesn't see the incident, as in Skrtel's case?
Sterling, wages, the wage structure and Liverpool current approach. Do increased wages for one player have any impact on team spirit? What is Sterling's true value, and how would you structure a performance-related contract?
'Parochial saturation' as a Liverpool fan. The quantity and quality of content available nowadays and keeping up with other teams' players. FIFA scouting by the kids. "Nobody told me this was a podcast…"