By Mihail Vladimirov.
SUMMARY
Swansea's diamond line-up
Liverpool initially opted for a 3-4-2-1
Lallana and Sterling swapped positions
Swansea started passively
The way Swansea used their diamond formation was more of a 4-3-1-2, with Shelvey and Ki staying behind the play
Swansea's formation mirrored Liverpool's all over the pitch, enabling them to nullify Liverpool's main threat, their front three
But Swansea lost some attacking penetration as a result
Why Rodgers moved Sterling out wide
Coutinho and Lallana got closer to Allen and Henderson
Shelvey and Ki then started playing higher up the pitch – more dangerous to Liverpool
Rodgers' decisive half-time change to a 3-diamond-3 formation
This out-of-the-blue switch was tactically fascinating and very smart
Swansea struggled to cope and Liverpool took control
Gerrard's introduction on 64 mins also helped Liverpool
Swansea fell apart after Liverpool's goal
Liverpool saw the game out comfortably, showing tactical intelligence and were savvy in managing the game
This was a classic game of two halves
Neither manager sprang any surprises in their starting XIs. For Swansea, Fernandez missed the game due to family reasons which necessitated Amat to start next to Williams at centre-back. The rest of the side was as expected with Monk lining-up his side in a diamond formation.
Rodgers too made only one change to his usual 3-4-2-1 formation, with Sakho replacing Lovren on the left of the backline unit. The only thing close to a surprise from either manager was Sterling and Lallana's positions being swapped, with the latter now playing at wing-back (in the past two games the former was preferred for this position).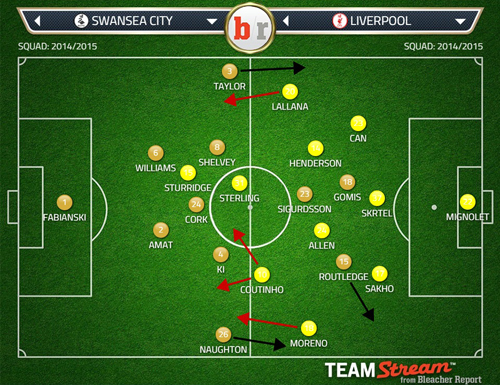 Swansea's passive early diamond 
One of the main tactical talking points prior the game was whether or not Monk would be brave from the start and ask his players to press Liverpool's narrow shape in the same way as against Man Utd's diamond a few weeks ago.
As it was, bar the sporadic individual efforts of their front players, Swansea didn't really approach the game with the same pressing vigour. The main reason was due to how exactly the home side was set up (more on this below) – they simply didn't have the bodies to occupy Liverpool's central back five players to initiate such a fierce pressing from high up. Instead, due to their congestion of players in deeper zones, Monk's team was very much able to shut down the centre and counter-press to quickly regain the ball, making it hard for Liverpool to progress the ball dangerously further up the pitch.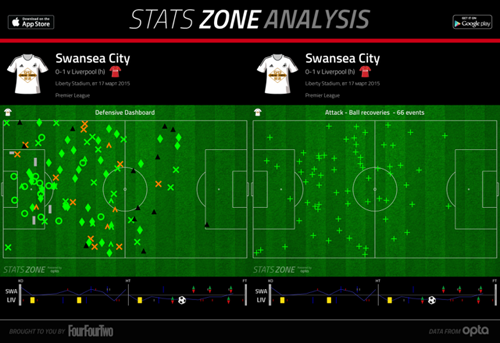 This article is for Subscribers only.
[ttt-subscribe-article]