By Krishen Bhautoo (TTT Subscriber Krishaldo).
As we know only too well, Daniel Sturridge got injured whilst on international duty. It wasn't from an innocuous challenge, nor by an awkward fall, but during training. After a friendly match. A training session that he wasn't even supposed to be involved in if Mr Hodgson and co had listened to the training advice given by the Liverpool backroom.
A 'routine' injury that should have been resolved in a few weeks resulted in a five month lay off – and he's still not back to his best.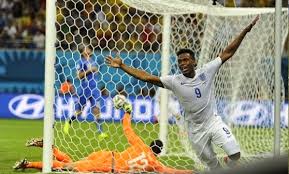 Give us a break
Sturridge isn't the only example, and it isn't a problem limited to LFC. De Gea recently dislocated his finger playing for Spain. In October, Arsenal lost four players to injury due to internationals.
What is worse, the respective associations don't always have to even pay compensation. From InBrief.co.uk:
Following agreements between FIFA, UEFA and the European Clubs Association (ECA) when players playing for clubs are injured on international duty during major tournaments then the national governing body will be required to compensate the club which the player plays for.

The limitations on this rule are that it only applies to injuries suffered in the final stages of an international football tournament and not the qualifying stages. Therefore if a player playing for England is injured during the World Cup the Football Association will have to compensate the domestic club but would not have to if the match was part of the qualifying stages of the World Cup.
What if it is a minor injury?
If the injury is deemed minor by the national team medical staff and the national team has another match during the period when the squad is together it is the decision of the national team as to whether the player plays in the match.

The club can make their feelings clear to the national team but the final decision on whether that player plays in the international match will be the final decision of the national team. When this scenario occurs and the player aggravates the injury further is when much of the tension between domestic clubs and international clubs becomes apparent.
This tension needs to be alleviated.
How can any club look forward to an international break (unless one of your key players is already injured and isn't going, giving him more time to recover but you also run the risk of having players returning injured)?
What is the solution?
What I propose is a shifting of the current schedule. As it stands, there are four international breaks. One (pointlessly) three games into the season in September, one in October, one in November and finally one in March.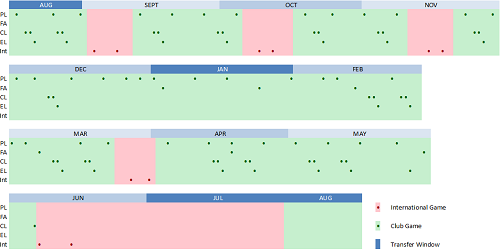 These breaks are largely useless. Whilst they allow the national players to meet up, train and create some bond, how much training and tactical work can you do in this time before the players return to their clubs and have to unlearn it all? How close was Harry Kane to a call up the previous three breaks and now he is virtually a guaranteed starting player?
What should be a priority is getting the best and most efficient use of the time together (both for club and country), and being able to pick players who aren't just in a purple patch (Andros Townsend) but who have consistently proven over a season (Kane – so far).
As it stands, countries like England have qualifying groups before they get to enter a tournament. For both the World Cup and European Championships, England had/have 10 qualifying games, along with a few friendlies to help pay for Wembley allow the squad to gel and/or acclimatise to a hot country as with the friendlies in USA.
As mentioned previously, we can have a 're-jig' of the current schedule to allay some of the discord between team and nation. I mainly looked at the Premier League matches, and the rest of Europe would need to follow suit for it to work, but it isn't beyond the realms of possibility if it benefits all those concerned. This is how I propose it works: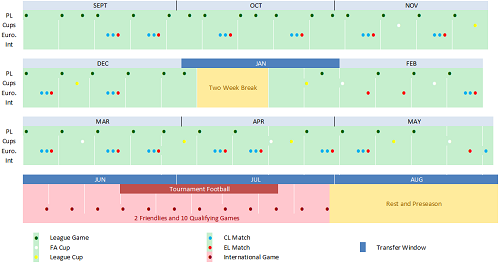 I understand that it is quite a busy table, so I'll highlight a few main points:
There is ONLY club football between the beginning of September to the end of May

The Premier League (and presumably Football League) introduce a two week break after the Boxing Day/New Year's Day fixtures – also disposing of the game in between
There is a maximum of two games per week even if you get to the final of every cup competition
In an ideal world, I'd have loved to move the Europa and Champions League matches to alternate weeks to cure the Thursday-Sunday-itis, but it just doesn't work with countries like Germany having a six week winter break, so not enough time to play the games. One thing that the PL could do is help those in European competition and allow more flexibility of moving/swapping fixtures depending on when a team is playing home or away in Europe.
Also, it does look a tad close between the end of the club season to the start of the national team games, but the first two of them will be friendlies and the league games will have finished nearly three weeks before they actually start, with only teams in cup finals playing after.
So what are the benefits?
The Clubs – Their players aren't taken away, improperly managed and returned injured/tired or having to fly halfway around the world.
The Players – They aren't required to un-learn and re-learn systems and formations several times a season in a short period – plus if bigger national squads are allowed, more players may get a chance. Not to mention a mid-season break to refresh and spend time with friends and family.
The National Teams – National managers will get a longer period with their players to train and bond the team.
The FA – For England in particular, I joked that the friendlies were a way to increase revenues to pay for Wembley. If it is in fact true, then the FA have a world class venue to use for eight months a year without having to consider the condition of the pitch too much. NFL games, Rugby, Boxing, Monster Trucks, Concerts, etc, could be hosted almost all season without having to leave vacant time prior to matches to allow the pitch to recover four times a year.
The Fans – I've never been a massive fan of the national team. Too much hype and not enough product, but if the entire qualification process took place over 9-10 weeks, I could follow the narrative and really get into it. It's like watching the best film in the world, but in four separate section over nine months – it just wouldn't be as good. We also get meaningful football every summer, as opposed to some of the dross that is trotted out.
There are a few flaws though (and I'm sure more that I haven't considered):
Players will have to spend much of the summer away from home in the qualification process and training with the team. It's not like they are driving from Melwood to Formby, they'll likely be based at St George's Park in the Midlands. That's not to mention being away for tournaments. Most with young families probably wouldn't want to spend that much time away, especially while their kids are off school over summer.
The pre-season and rest period before the season start may not be adequate either. Brazil 2014 finished on 13th July, whilst our first game of pre-season against Brondby was just three days later on the 16th, with the first PL game on the 17th August, so it isn't insurmountable with some players getting more time off, but will this result in poor starts every season for the entire league? And not just after major tournaments? There is always the option of removing or shrinking the January break.
There is also the consideration of Non League Day. When international football is on, fans of the bigger clubs are encouraged to visit their local non league team. I was talking to someone at Bedford Town (my home club) and he said that Non League day made a significant difference to income on those days, something they will need if they lose a court case over a tackle and incur costs and damages of £250,ooo with their insurance only covering up to £100,000  (perhaps Mr Sterling could help out ;)). I digress slightly, but in the multi-billion pound television deals, smaller clubs can be left in the wake of the big boys doing what is best for them.
As I said, there are surely more considerations to take into account that I haven't thought of. Sponsors may have their say that Mr Rooney is only wearing a polo shirt with their logo on a few times over a summer rather than over the season. Will attendances/viewing figures drop with 12 games over a short space of time?
But I hope I have had an idea that could in theory work. Time will tell if it is implemented, but I won't be holding my breath.