By Paul Tomkins.
Much was made of Spurs' young side last night but Liverpool's, even with Steven Gerrard in midfield, and Raheem Sterling out injured, was virtually as young. Both line-ups averaged around the age of 24. These were two skilful, high-energy sides.
A couple of years ago I gave up religiously watching Liverpool's youth team, as I figured it just got me excited about a future that may never happen. I'd already made numerous proclamations over the years about the next big thing, only to show a penchant for premature exaggeration. At times it's hard to avoid extrapolating a young player's form into a fruitful full-blown career.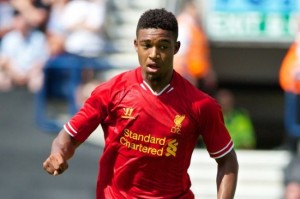 Paul Anderson, currently doing well at Ipswich, is still not even a Premier League footballer at the age of 26; nine years ago I thought he'd be the Reds' next star. He's had a good career, and he's only just reaching a player's peak time – and Ipswich may be promoted this summer – but not quite to the expected level. Various imposing young centre-backs have looked the part, only to fade away in what is possibly the toughest position for youngsters (defending improves with age, and the experience of reading a game; big lads, or quick lads, excel as boys, but then being big or quick isn't enough on its own in the man's game). Jack Robinson and Jon Flanagan had featured a few times under Kenny Dalglish, when the Reds experienced that phenomenon that all clubs do – a new manager gives the kids a chance (because he has less to lose at that point) – and looked set for bright futures, only to then disappear soon after. Flanagan's surprising revival last season sums up the difficulty of judging youngsters, particularly defenders.
Little over a year ago – early December 2013 – I was starting to wonder if Raheem Sterling would become the next to disappoint. There was no doubting that he was good enough to be a Premier League footballer, but he was merely holding his own. That was no great surprise at his age, as he got used to the demands of regular first-team football, but you wonder about unfulfilled potential. I was fortunate to be at the game against Norwich, remembered for Luis Suarez's incredible four goals, but also notable for Sterling finding his confidence.
Jerome Sinclair was another; Liverpool's youngest ever debutant at 16, then seriously injured and almost forgotten – and yet time is still on his side. Samed Yeşil, 21 this spring, was another who looked set at 18 for the big time.
At the start of 2013/14, after a promising preseason, it looked like Jordan Ibe was going to usurp Sterling, but then Ibe fell away; a loan at Derby – where one fan said after his early games that he was a waste of a shirt – showed he was maturing nicely.
The last player I enthused about in the youth set-up was Sheyi Ojo, aged around 14 or 15 at the time. Sometimes a particular game will tell you nothing about a certain player – or suggest the opposite of the truth, if they have an uncharacteristically bad match when you just happen to watch. (I have to add here that Paul Pogba didn't impress me at all in one reserve game against Liverpool, and look at him now.) But it's probably harder to be fooled into thinking that someone is exceptionally gifted if they're actually just average. They could of course be having the game of their life, where everything comes off in a way that it never has before and never will again. But Ojo had a real air of class about him a couple of years ago, something that didn't strike me as a fluke.
One thing we've yearned for is a production line, and in terms of tricky winger talent, that's what we have. Rather than locals, it's three young southern-based players brought in for fees at around the age of 14/15 that have come through the ranks. However, Welsh international Harry Wilson, now 17 (I know, time flies), has been with Liverpool since the age of eight. (Within a couple of years the onus will be on Rodgers to devise a system with left-winger, inside left, right winger, inside right, false winger, inverted winger, converted winger, subverted winger, bi-curious winger and the newly devised goalkeeper-cum-winger.)
As well as the flood of tricky wingers, some midfield strength has come through in the shape of Jordan Williams and the precocious Jordan Rossiter. (Where once we talked of a team of Carraghers, there could literally be a team of Jordans at this rate.)
Then there are the young players – currently 22 or under (which means most still qualify as U21s) – who have been purchased. They are not just regulars in the XI but often amongst the best players in a side that is the most in-form in the Premier League form guide (just not yet the league table itself).
But how does the current crop compare with other eras in the club's history, when collections of similarly-aged players were in the side or about to force their way into the squad? Is this really a special time?
This post is for Subscribers only.
[ttt-subscribe-article]